THURSDAY 1.14
Seinfeld Live
Iconic comedian Jerry Seinfeld is back on stage with a microphone in hand. The space that launched him into a prolific career has called him home, center stage. Seinfeld will be making a local stop this week, and his show at Abravanel Hall is already sold out. Best known for his self-titled role in the long running television sitcom, Seinfeld, co-created by him and fellow comedian Larry David, Seinfeld proves he can still pack a venue.
Growing up in New York City, Seinfeld performed in theatrical productions and open mics throughout college. His big break came in 1981 when he was invited to perform on The Tonight Show With Johnny Carson. Shortly after his appearance, he was contacted by NBC and asked to present ideas for a sitcom. He and David went on to create a show that ran for nine seasons with a concept about nothing other than the ordinary life of a group of 30-something friends who lived in Manhattan.
The simple concept ended up being a genius idea, and in 2002, TV Guide named Seinfeld the "greatest television program of all time." After Seinfeld went off the air in 1998, he vowed to never create another sitcom. He later returned to the acting arena, so to speak, in 2007 when he co-wrote and co-produced the animated film Bee Movie.
Seinfeld is also slated to perform once a month at the Beacon Theatre in New York during 2016. (Aimee L. Cook)
Seinfeld Live @ Abravanel Hall, 123 S. West Temple, 801-355-2787, Jan. 14, 7 p.m., sold out at press time. ArtSaltLake.org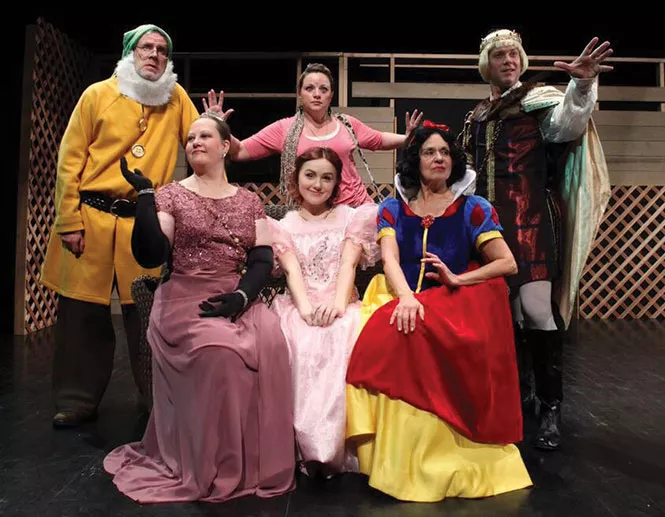 THURSDAY 1.14
Wasatch Theatre Co.: Vanya and Sonia and Masha and Spike
Anyone with siblings can relate to Wasatch Theatre Co.'s production of Christopher Durang's Chekov-inspired play Vanya and Sonia and Masha and Spike. The title characters, with the exception of Spike, have bickered their entire lives—and haven't stopped, even as middle-age, single adults.
For the most part, they're miserable. Sonia (Karrie Ann Ogilvie), the adopted, oft-forgotten sister of Vanya (Jeffrey Owen), and Masha (Cathy Ostler) never truly grew up. After their parents died, she and Vanya stayed in their childhood home which Masha, a successful movie star, pays for. When Masha comes to visit with her new, young boyfriend, Spike (Allen Smith), for a neighbor's party, Masha threatens to sell the home—which was prophesized by the cleaning lady Cassandra (Kathryn Wilkins). Add in Nina (Ashlynn Brooke Anderson), a young aspiring actress, and it's a house full of unique personalities.
Vanya and Sonia and Masha and Spike starts out at a slow pace, but director Brian Pilling builds it to an epic freak-out. Each of the title characters has a unique turning point, the most compelling of which comes from Sonia who, after dressing up for the party as the Evil Queen from Snow White—as portrayed by Maggie Smith attending the Oscars—gets asked out on a date the next day. Ogilvie, Owen and Ostler capture the essence of unhappy siblings forced to grow up—something most people have to figure out at some point. (Missy Bird)
Wasatch Theatre Co.: Vanya and Sonia and Masha and Spike, @ Rose Wagner Center, 138 W. 300 South, 801-355-2787, Jan. 7-30, Thursdays-Saturdays, 8 p.m.; Saturday matinees, Jan. 23 and 30, 2 p.m., $15. WasatchTheatre.org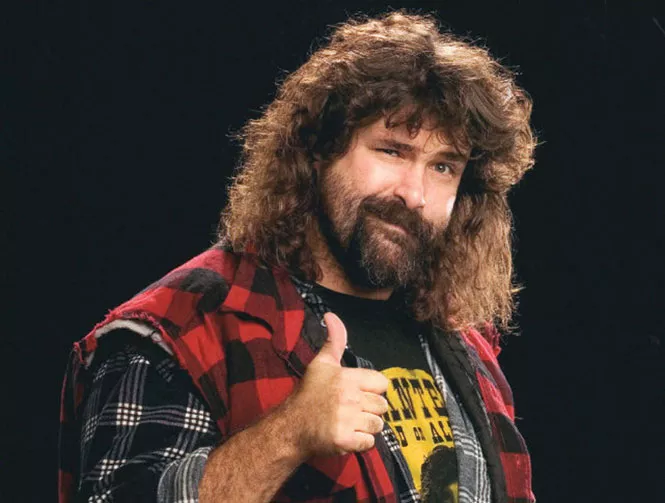 FRIDAY 1.15
Mick Foley
The Hardcore Legend, Cactus Jack, Mankind, Dude Love. Whatever name you know him or love him best as, Mick Foley left an unmistakable, blood-stained mark on the world of professional wrestling. Most know him from diving 15 feet from the top of a cage and into a table against the legendary Undertaker, and, to a lesser extent, as the guy who fought Terry Funk in a match with C4, barbed wire and thumbtacks decorating a ring in Japan. But however you think about his wrestling career, the three-time world champion remains a force to be reckoned with.
After years of putting his body through brutal matches across the globe, for every promotion under the sun, Foley ended up pursuing several different outlets including becoming a best-selling author, voice talent, actor and, currently, standup comedian and spoken-word performer. Much in the vein of Henry Rollins, Foley travels around sharing anecdotes about his career and life experiences. The time he lost part of his ear, seeing a porn star working with a knee brace, hearing a U.S. President going over his catchphrases, life as a father and family man, and many other stories from his decorated wrestling past all make their way into his shows.
Foley will perform twice at two different Wiseguys venues: Ogden on Friday, then south to SLC on Saturday to command the new downtown stage. One food or drink item purchase is required with each show. (Gavin Sheehan)
Mick Foley @ Wiseguys Ogden, 269 25th St., 801-622-5588, Jan. 15, 7 & 9 p.m., $25; Wiseguys Downtown, 194 S. 400 West, 801-532-5233, Jan. 16, 7 & 9 p.m., $25. WiseguysComedy.com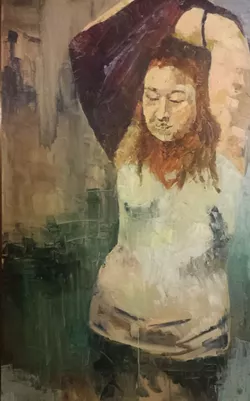 FRIDAY 1.15
Carina Barajas: Objects and Self
The objectification of woman in society is an indelible issue, not only because of its outward manifestations, but also because of its subtle influence on women to self-objectify, and allow their self-images to become entangled with social and cultural expectations. Salt Lake City artist Carina Barajas, a senior in painting and drawing in the University of Utah's College of Fine Arts, uses the art of portraiture to confront these issues.
In portraits of herself and other women ("Self-Identification" is pictured), Barajas utilizes every artistic element—color, composition, texture and brushstroke—to create a remarkable overall depiction of female identity. Figures of women sometimes meld into background colors, denoting their objectification as objects in the room. Sometimes downcast expressions suggest moods and narratives of being subjected to societal roles. Even skin tones—blotchy or blurred or even discolored—suggest an ambiguity about identity. There's tension in the portraits: Do the subjects have insight into their objectification? They also stand in contrast to the commonplace depiction of women as idealized figures.
Barajas is an artist of Basque and Mexican descent, and traditional female roles in those cultures have to be taken into account when viewing this exhibit. But her approach to depicting female identity is subtle and that serves to make it more powerful. An artist's reception will be held Jan. 15, 6-9 p.m. during Gallery Stroll. (Brian Staker)
Carina Barajas: Objects and Self @ Mestizo Institute of Culture & Arts, 631 W. North Temple, Ste. 700, Salt Lake City, 801-596-0800, Jan. 15-Feb. 12.
THURSDAY 1.14
KRCL "Music Meets Movies": Lemmy
When legendary band Motorhead cut short its performance at The Complex in August—with frontman Lemmy Kilmister citing both a bad back and problems breathing due to the altitude—there was no way of knowing that it would be the last time a Salt Lake City audience could ever see Lemmy perform. On Dec. 28, the singer passed away from cancer.
Fortunately, in addition to all the music still left behind for fans, there's another permanent record of Lemmy in all his mutton-chopped, Jack Daniels-chugging, chain-smoking glory. Greg Olliver and Wes Orshoski's 2010 documentary Lemmy explores the life and legacy of the man, spanning his 40-plus year career and interviewing musicians like Slash, Dave Grohl, Henry Rollins and Mick Jones to capture his influence on—and maybe even creation of—heavy metal for generations to follow. Pay tribute to the majesty of Lemmy, and learn a few things you might never have known before. (Scott Renshaw)
KRCL "Music Meets Movies": Lemmy @ Brewvies, 677 S. 200 West, 801-355-5500, Jan. 14, 7:30 p.m., $10 or 2-for-1 with KRCL member card, 21+ only. Brewvies.com