THURSDAY NOV. 5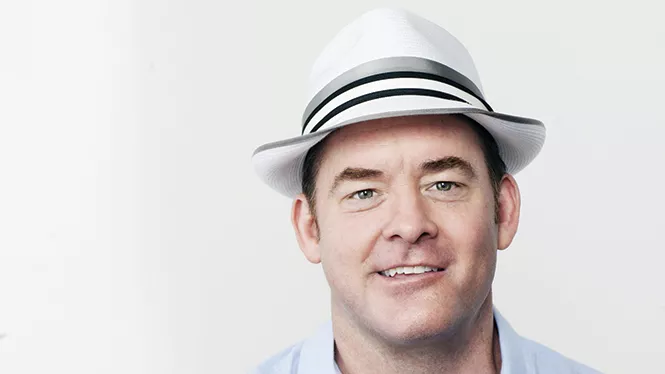 David Koechner appears Nov. 5-7, Club at 50 West.
David Koechner
Though you may recognize him best as 10-gallon-hat-wearing sports reporter Champ Kind from the Anchorman films, or as inappropriate traveling sales rep Todd Packer from The Office, David Koechner is also one hell of a standup comedian. The Second City alum was also part of the Saturday Night Live cast in 1995, notably as one of the British Fops (with Mark McKinney). After one year there, he joined the sketch crew for Conan O' Brien's then-late night talk show on NBC. Working with former SNL writer Dave "Gruber" Allen, the two put together the musical comedy act The Naked Trucker and T-Bones Show—with Koechner singing and Allen playing guitar in the nude—which eventually became a Comedy Central show. After Anchorman, Koechner's film career took off with roles in Talladega Nights: The Ballad of Ricky Bobby, Snakes on a Plane and Thank You for Smoking. His performances earned him notoriety in the 2000s for being a part of what media dubbed the "Frat Pack," along with actors like Will Farrell, Steve Carell, Ben Stiller and others for his outrageous style and choice of characters. Koechner's stand-up set breaks away from over-the-top characters, combining music, outrageous tales and true stories about his life—everything from drinking early in the day to shitting out a squirrel. And if you're lucky, T-Bones may make an appearance, singing some brand new tunes for your enjoyment. This is a chance for you to get Koechner at his finest and most comically intimate. (Gavin Sheehan) David Koechner @ Club at 50 West, 50 W. 300 South, 385-229-1461, Nov. 5-7, Thursday, 7 p.m.; Friday-Saturday, 7 & 9:30 p.m.; $15-$20, 21 and older. 50WestSLC.com
THURSDAY NOV. 5
Phil Epp's "Moonrise With Horses #1"
Phil Epp
Artist Phil Epp has lived in the Great Plains most of his life, surrounded by vast prairies, monumental skies, horses—the life and the animation of the vast region. Epp's paintings—currently on display in an exhibition at Modern West Fine Art—reach endlessly into the atmosphere with limitless space. He opens a similar space within each painting, extending the immense scope of each canvas. This ambiance and a vast imagination find their way into his painting. "My paintings reflect this celebration of open sky and landscape, with a hint of human occupation," Epp wrote in a statement for the exhibit. "My intention is to engage the viewer in this isolation, but not dictate response. I strive to incorporate timeless universal icons into the landscape." He is an artist with an invitation for the viewer to connect the art of his canvases with personal experience. Ultimately, this is part of the fullness and richness for Epp and the viewer. "Moonrise With Horses # 1" (pictured) is a magnificent view with a broad plateau setting for a darkened silhouette of horses caravanning against a mammoth moon. In this astonishing panorama of quiet profundity and immensity, the viewer is readily engaged with these impressive elements; however, these "universal icons" are more than just painted canvas, but incorporate the essence of the "human occupation." This invites the viewer to experience the parading horses, a magnificent moon, an infinite starry sky and space, but also, tranquility, peace, calm, expansiveness, endlessness and universality itself. (Ehren Clark) Phil Epp @ Modern West Fine Arts, 177 E. 200 South, 801-355-3383, through Nov. 17. ModernWestFineArt.com
THURSDAY NOV. 5

Carrie: The Musical (Utah Rep) runs through Nov. 8.
Utah Repertory Theater Co.: Carrie: the Musical
Stephen King's novel Carrie has been made into two movies (the 1976 version was a success, the 2013 film wasn't) and two stage productions (with the first bombing in 1988 and a hit revival in 2012). Any production company wanting to bring Carrie: the Musical to life is taking a gamble. Utah Repertory Theater Co. took that chance and it pays off—big time. From the moment audience members walk into the theater—a converted storefront at the Gateway Mall—audiences are dropped right in the middle of the aftermath of Chamberlain High School's senior prom. Told in flashback from surviving student Sue Snell (Emilie Starr), she reveals the brutal bullying of outcast Carrie White (Natalia Noble, pictured, with cast) led by the vicious Chris Hargensen (Skye Dahlstrom). Carrie's attempt at finding comfort from her religious zealot mother, Margaret (Rachel Shull), reveals Carrie's telekinetic powers. Sue realizes the harm she's caused Carrie, and convinces her boyfriend Tommy Ross (Brock Dalgleish) to take Carrie to prom—where Chris's evil revenge plot backfires. Johnny Hebda's direction makes excellent use of the space by incorporating the audience into the action—playwatchers are made feel like they're students in the school. Noble and Shull shine together as daughter and mother, while Dahlstrom's nastiness counters Starr's vulnerability as a reformed bully. With so many great performances and exceptional music, Carrie: the Musical is one night not easy to forget—especially for those seated in the blood "splash zone." (Missy Bird)Utah Repertory Theater Co.: Carrie: the Musical @ The Gateway Mall, 90 S. Rio Grande St., 435-612-0037, Oct. 30-Nov. 8, Wednesday-Sunday, 7:30 p.m.; Saturday matinee, 2 p.m.; Sunday matinee, 3 p.m.; $15-$20. UtahRep.org
FRIDAY NOV. 6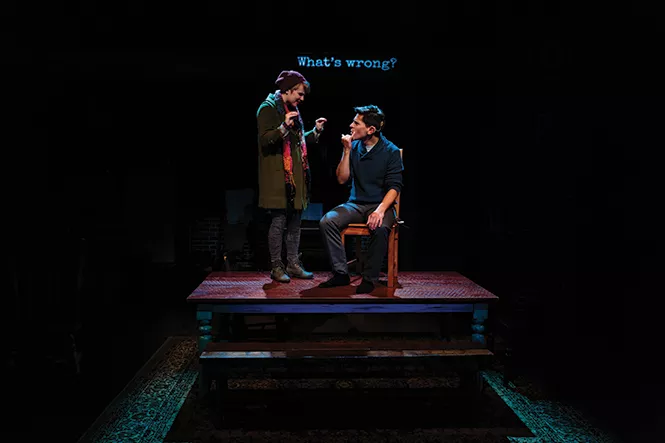 Amy Ware and Stephen Drabicki appear in Tribes (SLAC) through Nov. 15
Salt Lake Acting Co.: Tribes
Our seemingly innate need to divide the world into "us" and "them" is fascinating material for artists, and playwright Nina Raine takes a caustically funny yet emotional look at the subject in Tribes. Yet her most intriguing discovery may be how surprisingly fluid those divisions can become. The story opens in the home of a British family, where three adult children—Daniel (Matthew Sincell), Ruth (Alison Lente) and Billy (Stephen Drabicki, pictured above, right)—are now back living with their parents, Christopher (Paul Kiernan) and Beth (Sarah Shippobotham). They're a dysfunctional tribe all their own, but Billy—who is deaf—finds a unique companion in Sylvia (Amy Ware, pictured above, left), who was raised hearing by deaf parents, but is herself losing her hearing to an inherited condition. Raine's script finds some satisfying character comedy, particularly in the bombastic Christopher (energetically played by Kiernan), while struggling a bit more to understand the mental illness that plagues Daniel. But ultimately she's more interested in the shifting dynamics between the characters as they try to define where they belong, and with whom. And director Alexandra Harbold accentuates the play's ideas beautifully with effective use of music and sound design, and inventive supertitle captions. From the family's secular Jewish identity to the question of the costs and benefits of immersion in a deaf "community," Tribes digs deeply into which self-identities matter most to us, the communication barriers that divide us, and how hard it can be to reach for what we have in common, rather than what makes us different. (Scott Renshaw) Tribes @ Salt Lake Acting Company, 168 W. 500 North, 801-363-7522, Tuesday-Sunday, 7:30 p.m.; Saturday matinee, 2 p.m.; Sunday matinee, 1 p.m.; through Nov. 15, $25-$39. SaltLakeActingCompany.org
SATURDAY NOV. 7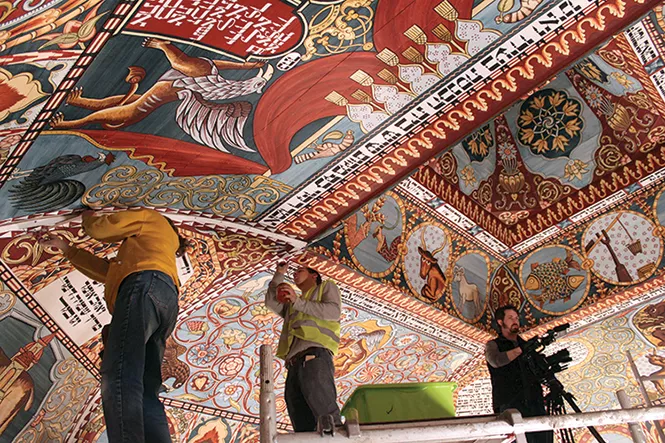 A scene from Raise the Roof
Jewish Arts Festival
From entertainment to food, this fun, informative and creative eight-day event is a testimony to Utah's thriving Jewish community. Hosted by the Jewish Community Center, the festival gets underway Saturday with the one-man play Kaddish, performed by Jake Goodman, which tells a story of life changes and survival. Dinner will be provided by Mazza, and is included in the price. The movie series begins Sunday begins with Raise the Roof (pictured), a documentary about a Polish synagogue—burned by the Nazis—brought back to life by a team of talented craftsman and volunteers. Dough, on Tuesday evening, addresses overcoming prejudice and finding help in unexpected places, and is coupled with light snacks and a challah demonstration provided by Avenues Bakery. And on Thursday, Deli Man tells the story of Ziggy Gruber, owner of a popular Boston deli; Feldman's Deli will be there to sate your inevitable post-screening hunger. Then come for the Hanukkah Market on Sunday, where you'll find local vendors sharing Jewish foods, arts and crafts. (Aimee L. Cook) Jewish Arts Festival @ Jewish Community Center, 2 N. Medical Drive, Nov. 7-15, SLCJCC.org/community-events/jewish-arts-festival