THURSDAY 10.1
Repertory Dance Theatre: Ritual
Dance draws inspiration from many sources. In Repertory Dance Theatre's season-opening performance, Ritual, four works find their inspiration from places and cultures as complementary and contradictory as Israel and Lebanon, as traditional and ancient as the Pueblo Indians.
Dabke (2013), from Israeli choreographer Zvi Gotheiner, takes its name from a traditional circular line dance, people linked hand to shoulder stomping out rhythms, often performed at weddings and celebrations in Jordan, Lebanon and Syria. Controversy followed the premiere of this piece, regarding the appropriation of traditional Arab movement by an Israeli choreographer. But Gotheiner interprets the movement—complicating the steps and patterns and allowing dancers to break off and reform new circles—with reverence, and in the final solo he gives, a nod to the passion and vision of those who fought in the Arab Spring.
Three other pieces complete the program. Molissa Fenley's Energizer (1980) is described as a marathon dance. Densely set with movement patterns, the piece is structured on vertical, diagonal and horizontal axes along which the dancers repeat their steps and gestures in seemingly endless variations. The New York City premiere of Elisa Monte's Pigs and Fishes (1982) was danced by the famous Alvin Ailey company. Monte said her piece "symbolizes some of the basic things of life; if you live on a farm, pigs and fishes are all you may need." Chant (1967), created by RDT founding member Tim Wengerd, explores the subtleties of movement and emotion found in traditional Pueblo dances he witnessed as a youth. (Katherine Pioli)
Repertory Dance Theatre: Ritual @ Rose Wagner Center, 138 W. 300 South, 801-355-2787, Oct 1-3, 7:30 p.m., $30. ArtTix.org
FRIDAY 10.2
Salt Lake City Performance Art Festival
For this third year of the Salt Lake Performance Art Festival, founder Kristina Lenzi—herself an internationally noted performance artist—informs us that this year the festival becomes international, with Swedish performance artist Gustaf Broms. "It's not certain what he's going to do, but he likes to put natural objects like birds nests on his head," she explains. His work is curiously titled "Am I an Immaterial Being Having a Physical Experience, or Am I a Physical Being Having an Immaterial Experience?"
Performance art isn't necessarily what you might think, judging by the name. Rather than staged theater pieces, Lenzi says her philosophy in curating the event is "real people doing real things in real time." These works are spontaneous, unrehearsed and designed for observers to take away a memory or experience, with the feeling that, for a short while at least, the lines between art and life have been blurred. Her own piece "Clans" will present her in the library's elevator, reading from Philip K. Dick's novel Clans of the Alphane Moon, about mentally ill settlers on the moon, to help bring attention to the issue of mental health.
Locals include noted artists Shasta Fletcher Lawton, Dawn Oughton, Gretchen Reynolds, Jorge Rojas and Heidi Moller Somsen. Several renowned out-of-state artists will also perform, including Sandrine Schaefer, Tony Schwensen and Bryce Kauffman (pictured). Schaefer's piece "Wait/Weight" will utilize a revolving door to address the subject of body image. All the performers are intent on "keeping it real." (Brian Staker)
Salt Lake City Performance Art Festival @ Salt Lake City Library, 210 E. 400 South, 801-524-8200, Oct. 2-3, 9 a.m.-5 p.m., free. SLCPL.org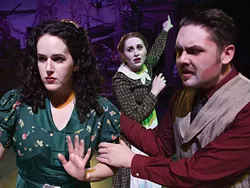 FRIDAY 10.2
Sackerson: Bride of Frankenstein
Movies made into plays and musicals are a dime a dozen, but they're usually adapted to fit the stage. That's not the case for Sackerson's audacious production of Bride of Frankenstein. Director Christopher Layton Clark uses the dialogue, music and sound effects from the 1935 film as the backdrop, and that doesn't mean the actors are speaking the dialogue; they're actually lip-synching along with the classic film.
This unusual tactic is a huge gamble. If even one actor's timing is off, it's obvious to the audience. When they're on, it works really well and is entertaining to watch. This goes for the sound effects, too, which were sometimes live and sometimes pantomimed with the audio.
The first 30 minutes of Mary Shelley's (Heather Murdock) story is difficult to hear or understand. Both Dr. Frankenstein (Alex Ungerman) and his monster (Kris Paries) are alive, and all Dr. Frankenstein wants to do is leave the evil business of people experimentation behind and marry his bride Elizabeth (Alexis Boss)—until mad scientist Dr. Septimus Pretorius (Bob Nelson) kidnaps Elizabeth and forces Dr. Frankenstein to create a new creature as the monster's female companion.
Whether you're familiar with the movie or not, Bride of Frankenstein is such a classic, it's easy to figure out the basics, even if it's not always easy to make out all of the dialogue (which sounds like it's coming from a VHS recording of the movie). Still, Sackerson's tenacious attempt at doing something different sets this production apart. Just bring a cushion—the seats are pretty hard. (Missy Bird)
Sackerson: Bride of Frankenstein @ 1030 S. 300 West, Oct. 2-19, Thursday-Saturday & Monday, Oct. 22-31, nightly, 8 p.m.; Oct. 30-31, 11 p.m.; $12-$25. Bride-of-Frankenstein.com
FRIDAY 10.2
Darryl Erdmann, Chad Farnes, Kristina Lenzi
Brigham City-born Darryl Erdmann possesses one of the most refined styles of abstract expressionism among local painters. His acrylics recall the heady days of abstraction in the 1950s and '60s, with his emphasis on color, space and line. Local art patrons recall his now-defunct Chroma Gallery in Sugar House, which, as the name implies, was also known for showcasing colorful artworks. His own works bring to mind Robert Motherwell in compositional style, and Frank Stella in some of his color choices, but they also reference the natural world.
Showing alongside Erdmann in the main floor gallery at the Art Barn are oils by performance artist and painter, University of Utah and Weber State University adjunct professor Kristina Lenzi, who adds suggestive color and whimsy in her works such as "Apparition of Miss Piggy Before Kermit and Yoda." The title of the show featuring Erdmann & Lenzi, Counter Points, highlights the multiple ways their works might speak to each other.
On the gallery's lower level, Chad Farnes uses tape on panel with remarkable results in "Tape*ography" to bring a sense of naturalism and even ecology to an unlikely medium ("Redwoods" is pictured).
The gallery hosts an opening reception Friday, Oct. 2, 6-8 p.m. The exhibits will be open for Gallery Stroll Friday, Oct. 16 and Nov. 20, 6-9 p.m. Gallery talks by the artists are set for Tuesday, Oct. 13, with Erdmann and Lenzi at 7 p.m. and Farnes at 7:30 p.m. (Brian Staker)
Darryl Erdmann, Chad Farnes, Kristina Lenzi @ Finch Lane Gallery, 1330 E. 100 South, 801-596-5000, Oct. 2-Nov. 20, free. SaltLakeArts.org
MONDAY 10.5
Michael Northrop: TombQuest Book 3: Valley of Kings
The world of publishing for kids—in an age of omnipresent connected electronic devices—isn't just about the books any more. Successful series like The 39 Clues have pulled youth-skewed book series across platforms, creating online continuations of the stories and characters to build engagement.
New York Times best-selling young-adult author Michael Northrop (Gentlemen) stepped into this world this year with the TombQuest series. The fantasy adventures follow a boy named Alex and his best friend, Ren, who have to stop the evil beings unleashed upon the world after Alex's mother uses the ancient Egyptian Book of the Dead to save Alex's life, also resulting in her disappearance. The third installment sends Alex and Ren to Egypt itself to continue the search for Alex's mom and defeat one of these "Death Walkers." Meanwhile, online, you can create your own Egyptian tomb rigged with traps and challenge friends to come out unscathed. (Scott Renshaw)
Michael Northrop: TombQuest Book 3: Valley of Kings @ Provo Library Ballroom, 550 N. University Ave., Provo, 801-852-7685, Oct. 5, 7 p.m., free. ProvoLibrary.com