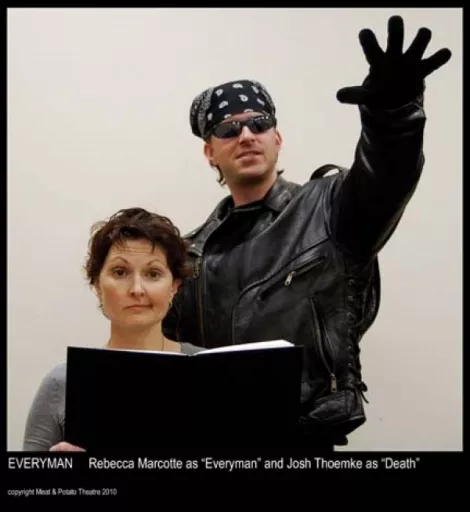 The opening moments of Meat & Potato Theatre's dual production of Everyman and Judgment Day—a robed monk warning the audience about the moral perils of what they are about to see, even as cast members roll in wardrobe racks—is a bit of overt theatricality that draws clear attention to the fact that you're watching a play. That makes it all the more impressive that the production still works on an emotional level.
In writer/director Tobin Atkinson's contemporary, verse-dialogue updating of the medieval morality play, a six-member ensemble company takes multiple roles in telling two very different stories. The first, Judgment Day, evolves from a stylized account of the Book of Revelation into the story of two demons (Ellesse Hargreaves and Steven Grawrock) wondering about both their job security and the punishment that awaits them, and finally to the insistence of a non-Christian (Josh Thoemke) that he be judged by his earthly deeds.
The tonal shifts are wild—from kabuki-type pantomime to broad political gags to sober drama—but ultimately, the stage is set for Everyman's compelling account of a materialistic human (Rebecca Marcotte) forced to face her impending death. And despite the sometimes clashing mix of satire and stark emotionalism— or maybe even because of it—the production ultimately feels like a sincere quest for theological understanding. With a mixture of the sublime and the silly, Everyman honestly explores what it means to have lived a worthy life—just like the historical works to which it pays homage.

Meat & Potato Theatre: Everyman & Judgment Day @ Rose Wagner Studio Theatre, 138 W. 300 South, 801-355-ARTS, through June 13, $20. MeatandPotato.org