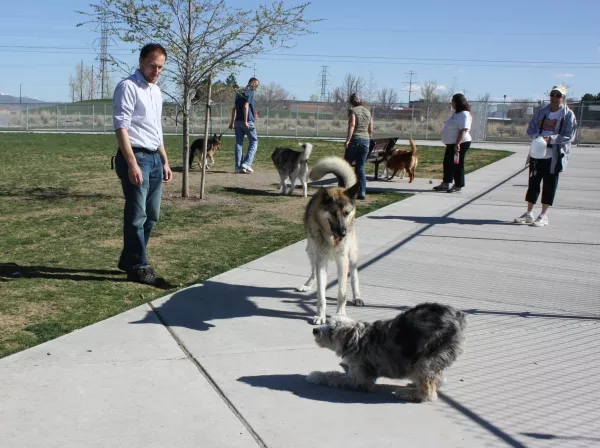 They hang out with their peers and play. We wait around and pick up their poop. So who's king of the world here?
At off-leash dog parks, it's the pooches. The dogs can romp around in fenced, traffic-free acreage. Most parks even have separate fenced-off areas for small or timid dogs. A growing number of cities have gotten behind the idea of providing dog owners with safe playgrounds for their pets, and dog parks can now be found from Ogden to Park City, complete with free plastic poo bags and garbage cans for used-bag disposal. Nearly all provide drinking fountains for both humans and dogs, and most have a concrete sidewalk that circles the edge of the park next to the fence.
But while Fido is getting healthy exercise, the humans waste a great opportunity to get a good workout for themselves. Nearly everyone plops down on one of the numerous benches, or stands around in small groups making small talk. A few may take a sedate stroll around the perimeter of the park, probably the most minimal activity possible.
However, there's an excellent example of how to use dog-park time, set by a man who regularly brings his two dogs to the huge West Jordan dog park at 5982 W. New Bingham Highway. Once the pooches are ensconced within the smallest of the three large fenced areas, the man goes back to his car, takes out a portable stepping machine and sets it up on the paved area inside the gate. While his canines play, he does a 45-minute session of uninterrupted vigorous stepping—elevating his heart rate, getting a nonimpact workout for his joints and muscles, while burning calories at the same time.
You can find a variety of used portable exercise machines offered for sale on classifieds websites or at stores that sell used sporting equipment. Used devices are as good as new, and most are being offered for less than $50.
One of my favorite ways to make dog-park exercise work for both me and my mutts is skating. I keep a pair of inline skates in my car trunk. If the park isn't too crowded, I put them on and skate around the concrete sidewalk that circles the park. Even just 20 minutes of skating is a good workout.
Another positive effect of skating in a dog park is it improves agility and balance. The concrete is poured in blocks, with small cracks between blocks that cause a bump when you skate over them. In addition, a dog may get in your way, requiring an instant stop. You'll quickly learn to absorb bumps while skating; you'll also improve the ability to make sudden stops while gaining the agility to avoid galumphing dogs.
Some dogs may get alarmed by a skater; some may follow closely and nip at your wheels. Always begin skating very slowly to see the canine reaction—and remember, it's their play park. If you run around the park, pay attention to those who are throwing balls for dogs to catch; if the ball lands near you, it will quickly be followed by one or more dogs. You won't have to worry much about aggressive dogs; their owners rarely bring them to a doggie social like an off-leash park.
Let's now address the self-consciousness problem. Yes, folks may stare if you run or skate around the park, or work up a sweat stepping or rowing on your own machine. So what? You're getting a good workout while others play park potato. Will those strangers think less of you because of that? And if they do—again, so what?
I haven't been to every single off-leash dog park, but so far, my two favorites are the West Jordan park and the one in Park City, located in the Quinn's Junction Sports Complex at Round Valley Drive and Gillmor Way, just off I-80. The one in Park City is all wood-chip ground cover; it's one of the few with no paved sidewalk and would be more conducive to an exercise machine or, for runners, similar to trail running.
Some parks have not yet turned on their water fountains, so bring a big jug of water and a water dish for your pooch. Be tolerant of other dogs that will rush to share your water supply.
There are several good websites that list dog park locations with descriptions and maps. Among them are Ecoanimal.com/dogfun/Utah.html and DogGoes.com/parks/Utah/Salt-Lake-City-area.