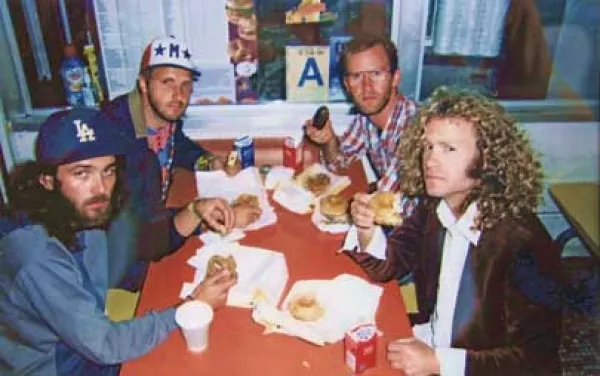 Eyes Lips Eyes' Tony Hello felt like a "naughty student" when he turned in his answers to City Weekly's questions weeks late. But as he learned while attending BYU, if you're going to turn it in tardy, you'd best make it awesome.
The Los Angeles-by-way-of-Provo dance-punk four-piece are, to the lead vocalist's defense, busy hustling around the country and shaking asses, touring in support of their recent funky, fresh EP, What You Want (If You Want), and a forthcoming LP in 2013.

City Weekly: It's been said that you're the most exciting thing to come out of Utah since John Stockton's short shorts.
Tony Hello: Hmm ... John Stockton's short shorts. So that would suggest that our music is conducive to movement and soaked with sweat? Yeah, that sounds about right.
CW: Why is your Facebook slogan "Putting the Provo in Provocative"?
T.H.: Provo is often the recipient of scorn and ridicule by both insiders and outsiders. Whether this is deserved or not, it's in the eye of the beholder. To me, Provo is just one of those small, unassuming places that has the ability to provoke the provocateurs without even trying.
CW: Tell us about those good ol' Provo dance-party days and how they influenced your sound.
T.H.: We thrived on the energy, and it really helped to shape our sound. [We'd ask ourselves:] "How can we make them lose their minds on the floor and not just stand there?" Provo is a two-college town, so there are a lot of students looking for any sort of excuse to blow off steam. We wanted to provide that escape and an atmosphere to help them feel comfortable to go crazy—you know, like at a Celine Dion concert.
CW: You make it a point to return to Utah every tour, right?
T.H.: As much as we can. It's always nice to refuel on the fond memories of our first home.
CW: What do you miss the most?
T.H.: The smallness of it. The friendliness of the neighborhoods. The long walks on the beach.
CW: Around 2010, the band relocated to Los Angeles, also changing names from the Elizabethan Report to Eyes Lips Eyes. Why the big changes?
T.H.: We had a lot of hope, so it required a lot of change. The old name had run its course, and we wanted to go a different direction.
CW: How has the move to Los Angeles furthered the band's career and influenced your songwriting?
T.H.: It's gotten us in closer proximity of Dodger Dogs, which, as an FDA-approved dietary supplement, have served to help spur and develop our creativity as a band.
CW: The band moved into an old warehouse called The Cube, where you all live, record and do who knows what else. What's up with The Cube? Does it get like a reality TV show?
T.H.: I love The Cube. It's grown into a nice little artistic community, where everyone is helping each other out on projects. But like a reality TV show, The Cube doesn't allow its participants/residents much privacy—a commodity best purchased elsewhere. I have since gotten married and moved out, but the rest of the band is still there. We still convene there as a band for recording, writing and practice. They still keep their beds lined up on the upper floor like Snow White's dwarves.
CW: What music influenced the What You Want (If You Want) EP?
T.H.: I don't recall what I was listening to—probably Rod Stewart's greatest hits. Spencer [Petersen (guitar, vox)] was probably listening to Gang of Four. Thomas [Carroll (drums, vox)] was probably listening to John Frusciante. Aaron [Hatch (bass, vox)] was listening to Suite for Ma Dukes by Carlos Niño and Miguel Atwood-Ferguson.
CW: Why are pants-free dance parties the best dance parties?
T.H.: Less laundry to clean.
EYES LIPS EYES
Cowboys & Indies 7
Velour Live Music Gallery
135 N. University Ave., Provo
Friday & Saturday, Nov. 16 & 17, 8 p.m.
$8 per night