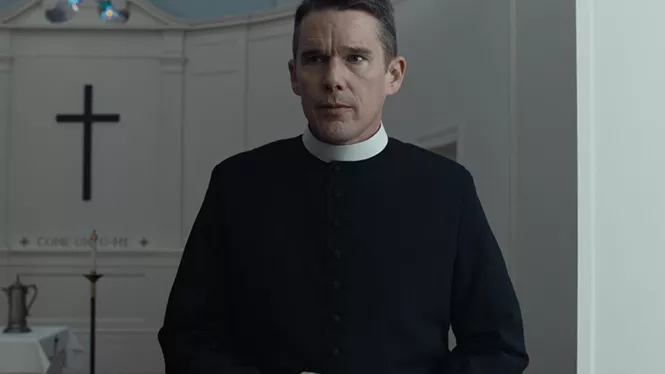 A24 Films
Ethan Hawke in First Reformed

With First Reformed, there's finally a movie that lives up to the hype that has surrounded Paul Schrader since roughly 1976, when Taxi Driver—which he wrote and Martin Scorsese directed—put him on the list of writers to watch. Since then, for each objectively good or even great movie he's written—Mishima: A Life in Four Chapters, Affliction, Raging Bull, American Gigolo—he's pumped out dog shit at more regular intervals.
Maybe his spotty track record is a result of studio interference. Schrader's previous gig as both writer and director on 2014's Dying of the Light was taken from him by the studio. 2016's Dog Eat Dog, which he directed but didn't write, received the most limited of limited releases, and it's easy to see why: Most film studios don't want to see some guy's head blasted off with a shotgun, especially when that exploding head is in the same room as a sleeping baby. (Maybe these studio execs never saw the last 10 minutes of Taxi Driver.)
But you should know what you're getting with Schrader. This is a filmmaker who fires on all thrusters whether the material is wretched or sublime. Take First Reformed, which tackles one of Schrader's favorite recurring themes: faith taken to such obsessive extremes that it nearly turns his characters mad. It, too, has an exploding head. Fortunately, the head in question is removed from its body off-screen, and is appropriately played for horror and sadness, unlike in Dog Eat Dog, where it's supposed to be high-sterical.
In First Reformed, the head in question belongs to Michael (Philip Ettinger), a young husband consumed with despair over the possibility of cataclysmic global climate change. When he learns his wife Mary (Amanda Seyfried) is pregnant, he takes his own life rather than bring a child into a decaying and dying world. Reverend Ernst Toller (Ethan Hawke) has counseled Michael to no avail, but their conversation has renewed Toller's faith. Toller, a bit of an emotional wreck himself—son who died in Iraq, failed marriage, cancer diagnosis—decides to pour his energies into Michael's cause, studying climate change websites and taking back to his church the suicide vest that Michael was building in his garage.
It should come as no surprise that Toller begins to fall to pieces as his obsession grows. And without giving away too much plot, it surprises me that it's taken Schrader more than 40 years as a filmmaker to show mortification of the flesh on screen in such sectarian fashion.
If my description of First Reformed seems morbid, that's because the movieis indeed morbid. But it's made with such skill and restraint, with an ending so unexpected and so earned, that it deserves multiple viewings, especially by those of us who have struggled with faith or been consumed by grief or political causes. But there are funny moments: At Michael's funeral, his ashes are ironically spread from a plastic bag.
To accompany Toller's downward spiral, Schrader and cinematographer Alexander Dynan have composed a film with a box-like aspect ratio, as if they want you to feel the walls closing in on Toller. (When you see it on the big screen, there will be black bars on the sides; that's intended.)
There's also the film's setting, upstate New York during a cold, flat, bleak winter. There's little sunlight; on overcast days, the glare seems as if it will make Toller's already narrow eyes compress themselves into slits. The sparseness of the locations—Mary's home is nearly devoid of furniture; Toller's room has only a twin bed and a desk; even the town megachurch, Abundant Life, is empty whenever Toller visits it—further illustrates the hollowness of Toller's life, and therefore the ease with which he slips into an ill-advised cause (see also Schrader's Hardcore for a less polished rumination on a similar theme—or don't).
First Reformed finds Schrader writing about all his favorite themes—obsession, faith and how they can destroy us—with a heretofore-unparalleled command as director. Hawke does the best acting of his career, and he's equaled by Seyfried, Ettinger and Cedric (The Entertainer) Kyles. It's the film Schrader's threatened to make since the 1970s, but has failed to—until now.