With the arrival of fall comes crisp weather that makes it possible to leave the house and attend a concert without packing gallons of water and sunscreen. Here's a handy guide to some of the essential local and touring acts that are taking to Salt Lake City's stages this September, October and November.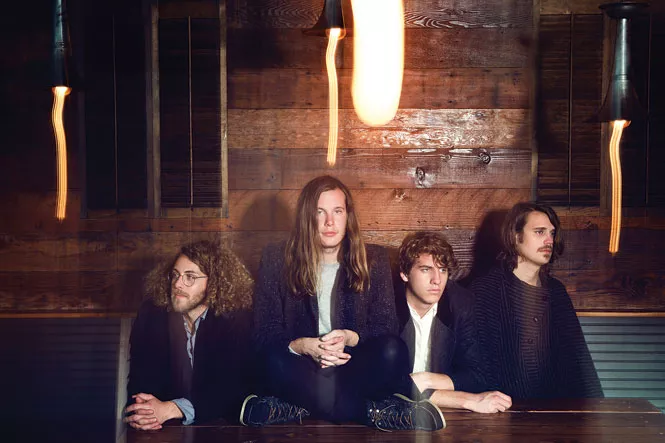 Jaclyn Campanaro
Desert Noises

Friday, Sept. 19
Desert Noises, The North Valley, Coyote Vision Group
Genre: ROCK
Why You Should Go:
What's better than seeing one electrifying local rock band live? Seeing
two
equally electrifying local rock bands live, and with both Desert Noises and The North Valley on the bill, this show is sure to be a rollicking, hard-hitting, guitar-solo-filled jolt to the senses—zero wuss-rock here. Also performing will be Coyote Vision Group, another local act, whose experimental mashup of psychedelia, electronic music and folk will throw some weird into the mix.
The Urban Lounge, 241 S. 500 East, 9 p.m., $6 in advance, $8 day of show, TheUrbanLoungeSLC.com
Denee Petracek
Ty Segall

Saturday, Sept. 27
Ty Segall
Genre: Garage-rock/glam-rock
Why You Should Go:
Watching Bay Area-based garage-rocker Ty Segall perform live is seeing a musician plugging directly into the universe's mainframe and going nuts. Whaling away on his guitar with lightning-fast fingers and singing with his strange falsetto—which is often more of a yelp or a howl—Segall is a force of nature onstage, silver-lipped and full of energy. He's on tour in support of his spacey, fuzzed-out new album,
Manipulator
. La Luz and Max Pain & the Groovies are also on the bill.
The Urban Lounge, 241 S. 500 East, 9 p.m., $13 in advance, $15 day of show, TheUrbanLoungeSLC.com; limited no-fee tickets available at CityWeeklyStore.com
Sunday, Sept. 28
Justin Townes Earle
Genre: Americana
Why You Should Go: You ain't seen entertaining onstage musician/audience interaction until you've seen Justin Townes Earle stop mid-song to call some obnoxiously loud drunks "assholes." But take-no-shit attitude aside, the Nashville, Tenn., troubadour—with his mad blues-style guitar-picking skills, gravelly voice and excellent storytelling—is riveting to watch. His new album, Single Mothers, is influenced by his newly sober and married life, and echoes the influence of several American music heroes, including Earle's middle-name namesake, Townes Van Zandt. American Aquarium will open. The State Room, 638 S. State, 8 p.m., $40, TheStateRoom.com
Friday, Oct. 3
Provo Rooftop Concert Series: Fictionist, The Blue Aces
Genre: Rock/Pop-rock
Why You Should Go: It's no surprise that this year is the fifth anniversary of the wildly popular Rooftop Concert Series, an opportunity to see some of the highest-caliber local acts around for free—on the rooftop of a parking garage with spectacular views of the mountains, no less. In celebration of the series' longevity, rock five-piece Fictionist and pop-rock quartet The Blue Aces will perform tonight. Both bands' lead singers—Stuart Maxfield and Cristal Ramirez, respectively—are seasoned fixtures on the rooftop stage. It's also your chance to catch Fictionist before they head out on tour with Neon Trees, in support of their new self-titled album, which comes out Oct. 7. Provo Town Square Parking Terrace, 100 North & 100 West, 7:30 p.m., free, RooftopConcertSeries.com
Wednesday, Oct. 15
Big Freedia
Genre: Booty-shakin' bounce
Why You Should Go: If you're always that person at shows who's wondering why everyone's standing so stiffly, stoically bobbing their heads to the music, you'll find your people at this performance by New Orleans "Queen of Bounce" Big Freedia and her troupe of dancers called The Divas. Now on tour in support of her brassy, infectiously catchy debut full-length, Just Be Free—released in June—Big Freedia is a certified expect at getting every ass in the house twerking, shaking and wiggling. The Urban Lounge, 241 S. 500 East, 10 p.m., $12 in advance, $14 day of show, TheUrbanLoungeSLC.com; limited no-fee tickets available at CityWeeklyStore.com
Saturday, Oct. 18
Saintseneca
Genre: Folk-rock
Why You Should Go: Something about Saintseneca's beautiful but desolate Americana-influenced sound pairs perfectly with fall's austerity, and that's especially true on the Columbus, Ohio, quartet's new album, Dark Arc. Centered around the tremulous voice of frontman Zac Little, Saintseneca's music is harmonious and wistful, but with foot-stomping rhythm. And seeing the band live, especially at a venue as intimate as Kilby Court, will give concert-goers an up-close look at the unique instruments—including baglama, balalaika and more—that help make Saintseneca stand out from similar acts. Kilby Court, 741 S. Kilby Court (330 West), 7:30 p.m., $7 in advance, $10 day of show, KilbyCourt.com
Tuesday, Oct. 28
The Afghan Whigs
Genre: Alt-rock
Why You Should Go: After Cincinnati, Ohio, alt-rock band The Afghan Whigs reunited in 2012, it wasn't clear if the few shows they did would turn into anything substantial. But they did, and not only is the Greg Dulli-fronted band now celebrating the 21st anniversary of their successful 1993 album, Gentlemen, by reissuing it Oct. 28, they're also on tour in support of their first release in 16 years, Do to the Beast, which dropped in April. Attendees of the show will likely be treated to the blistering, serpentine, guitar-driven songs found on both albums. The Urban Lounge, 241 S. 500 East, 9 p.m., $25, TheUrbanLoungeSLC.com; limited no-fee tickets available at CityWeeklyStore.com
Monday, Nov. 10
J.D. McPherson
Genre: Old-school rockabilly/R&B
Why You Should Go: The debut album by Oklahoma belter J.D. McPherson, 2011's Signs & Signifiers, is a sumptuous revival of '50s and '60s rock & roll and R&B, drawing influence from American pioneers including Little Richard, Chuck Berry and Buddy Holly. But if you want to get a sneak peek of McPherson's new album, coming out in 2015, you'll have to catch him live. And that's not the only reason you should get yourself to this show; the band's irresistible, energetic sound—featuring horns, stand-up bass, hoppin' piano and McPherson's powerhouse of a voice—will have you tapping your toes and doing the twist in no time. The Cactus Blossoms are also on the bill. The State Room, 638 S. State, 8 p.m., $20, TheStateRoom.com; limited no-fee tickets available at CityWeeklyStore.com