Choosing where to eat out isn't always a simple matter, no matter where you live. You might know immediately where you'd go for your favorite delectable appetizer, but what about the salad that other restaurant has? And the killer entree at another place entirely? And the dessert at ... you get the picture.
But if you're going to dream of a perfect meal, why imagine you have to sit down in one place? Limited only by their hearts' desires, City Weekly contributors constructed multicourse meals from their favorite dishes at individual restaurants—a sort of hypothetical "dinner crawl."
Downtown Salt Lake City: Carnivore's Delight
By Kolbie Stonehocker
I'd start off at Sala Thai Kitchen (677 S. 200 West, 801-328-2499, SalaThaiKitchen.com) for a big, steaming bowl of tom kha gai. This fragrant, flavorful soup made with coconut milk, lemon grass, galangal, kaffir lime leaves and veggies is the perfect pick-me-up on a cold, drizzly day.
Digging into an appetizer, I'd satisfy my meat tooth with an order of Plum Alley's (111 E. 300 South, 801-355-0543, PlumAlley.com) sweet and sticky chicken wings. These hefty (with the "drummie" attached) wings get their bold flavor from a 12-hour brine, as well as a zesty palm-sugar chili glaze that will have you licking your fingers and reaching for the ice water.
For a second appetizer, I'd sink my teeth into the azekura at Takashi (18 Market St. [340 South], 801-519-9595). Japanese for "beef tower of awesome" (not an exact translation), this dish is a carefully built stack of perfectly crispy veggie tempura (asparagus, portobello mushrooms) and juicy, medium-well steak, served with a sweet teriyaki sauce and paper-thin slices of cucumber. Grabbing a piece of meat with your chopsticks while trying not to topple the entire tower will be the most delicious game of Jenga you'll ever play.
Next, it's time for a noodle course, and a date with some of the tastiest pad thai in Salt Lake City, from Sawadee (754 E. South Temple, 801-328-8424, Sawadee1.com). Truly great pad thai requires the perfect ratio between noodles and sweet tamarind sauce, and this beautiful restaurant hits it right on the nose: not too dry, with just the right amount of "sauciness." Served in a delicious heap with scallions, scrambled egg, chicken, shrimp and lime wedges, this pad thai is served on a plate so large I always have enough for lunch the next day.
For an entree, The Copper Onion's (111 E. 300 South, 801-355-3282, TheCopperOnion.com) meatloaf with mashed potatoes and vegetables is stick-to-your-ribs comfort food. Made with a blend of Pleasant Creek Ranch beef, pork and lamb, this is a sophisticated take on the classic dish, perfectly seasoned and never dry. A glass of Cabernet Sauvignon alongside hits all the right notes.
For dessert, I'd savor a decadent slice of reine de Saba cake from Les Madeleines (216 E. 500 South, 801-355-2294, Les-Madeleines.com). French for "queen of Sheba," this aptly named cake is fit for royalty, made with rich Valrhona chocolate and amaretto. While fantasizing about my dream castle in the countryside, I'd pair this flawless confection with a cup of jasmine tea while attempting (in vain) to not gobble it right down.
Ogden: Boundless Breakfast
By Dan Nailen
I went to high school in Ogden, and my parents have lived there for the 20-plus years since, so I've spent some quality time with our neighbors to the north. And much of that time has been in the a.m., and almost inevitably on Historic 25th Street, for family meet-ups over eggs and coffee.
You can find quality grub in all corners of Ogden and the surrounding towns, but just strolling on 25th Street, you can put together the kind of satisfying early start that fills the belly, while leaving plenty of day to try to burn off at least a smidge—or make it to another late night out.
For starters, you have to have a good cup of Joe in hand, and Grounds for Coffee (111 25th St., 801-392-7370, Facebook.com/ 25thGFC) delivers. There's food at the sweet little spot, housed underneath a Bikram yoga studio, but save your appetite while you savor the java. It has all your mochas, lattes and whatnot, but the straight stuff does me right.


Then it's time to make the street into a massive brunch buffet. I'm going to start with a light and incredibly flavorful egg dish on my plate: the chorizo cactus scramble from the Two-Bit Street Café (126 25th St., 801-393-1225, TwoBitStreet.com). The blend of the Spanish sausage with pickled cactus by the name of nopalito—along with veggies, potatoes, cheese and eggs—is something I've never seen or tasted elsewhere in Ogden, and worth a stop at the Two-Bit even if you don't peruse the rest of the menu (which you totally should). Some of Two-Bit's latkes are going on the plate, too; they're served with applesauce, chili sauce and sour cream.

For breakfast side dishes to accompany my scramble, I'm going to the Southern flavors of Karen's Café (195 25th St., 801-392-0345). And I am loading up—you can make a mean breakfast just from the tasty sides menu at Karen's. Bacon, of course, along with grits and the must-get housemade biscuits and mouth-watering gravy—pretty bold to put "mouth-watering" right on your menu, but it's true; these biscuits are not to be doubted.

All the spicy, salty goodness from the sausage and bacon needs something sweet as a meal-capping dessert. That's where Rooster's Brewing Co. (253 25th St., 801-627-6171, RoostersBrewingCo.com) comes into play with the Kahlua waffle, served with fresh fruit and caramel sauce. That's right—Kahlua and caramel sauce. And you really do want both.

West Side: Four Continents, One Plate
By Joe Beatty
Cross into the Ws on the street signs, and you'll be waist-deep in Utah's melting pot of diverse flavors.

We'll start our evening with an appetizer of a South American variety at Chilean Taste (3411 S. Redwood Road, West Valley City, 385-202-7051). The chorrillana is a nice finger-licker combo of fries, beef, sausage, onions and fried eggs.

Now that our taste buds are properly calibrated, we head over to African Restaurant (1878 S. Redwood Road, Salt Lake City, AfricanRestaurant.org). The name might sound all-encompassing, but it's actually just Ethiopian food, so apologies to Namibian-cuisine connoisseurs. We'll have a nice basket of budenaa (aka injera), a spongy flatbread that is the lifeblood of the Ethiopian palate. You can find dud versions of the stuff elsewhere, but at African, everyone will be grabbing for pieces.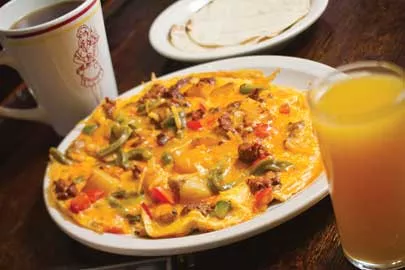 So far we've hit two continents; how 'bout a third? Pipa (118 N. 900 West, Salt Lake City, 801-326-3639), an Asian-fusion tapas spot with a techno-anime vibe, beckons. We're going to try the Siamese shark fillet, steamed in ginger and scallion soy sauce. Don't despair—it's not actually shark, but a kind of catfish. It's also a kind of awesome, and even better when washed down with one of Pipa's many sake varieties.

Alongside the fish small plate, we'll have a steaming cauldron of tofu soup (sundubu jjigae) at Myung Ga (3353 S. Decker Lake Drive, Salt Lake City, 801-953-0478). There are a few variations of this classic Korean dish available to try, but the seafood version is where it's at. The soup is hot two ways, coming out bubbling as well as kicking from the chili powder. An egg is plopped in at the last second.

Now that we have completely cleared the sinuses, let's move on to the main dish. For that, we'll head west on Interstate 80 to Bonneville Brewery (1641 N. Main, Tooele, 435-248-0652) in Tooele. The Cowboy burger is a big beast of beef, Hefeweizen-battered onion rings, cheese and barbecue sauce. It pairs nicely with a Landspeed Lager, named for the record-setting "cars" that zip around on the nearby flats.

Let's burn a few calories on a walk over to West Jordan for dessert at The Chocolate (9118 S. Redwood Road, 801-566-5330, TheChocolateDC.com). There are non-chocolate things there, too, but don't be silly. A slice of The Brooklyn Blackout is a fitting way to enter the oncoming food coma. This is chocolate cake with dark-chocolate filling and dark-chocolate frosting—totally puts the "the" in The Chocolate.