"It might be something very different from what you expect," Ririe-Woodbury Dance Company choreographer Charlotte Boye-Christensen warned Jesus Silva and Marisela Perez when they walked into the Rose Wagner Performing Arts Center rehearsal studio.
They had come one early December afternoon to see "Lost." Since September, Boye-Christensen had worked on developing the new 18-minute contemporary dance piece for the company. In part, the choreographer drew on 21-year-old Silva's paintings and 18-year-old Perez's poetry as sources of inspiration. Boye-Christensen also drew heavily on her own life and that of her six dancers. "I feel it's very primal, kind of instinctual, very forceful and angry," she says of the nearly completed work.
However, the roots of this piece—which debuts in Salt Lake City on Dec. 13 at the Rose Wagner as part of a six-modern-dance performance called Alchemy—were quite different from the forces that finally shaped it.
In February this year, Walt Hunter had shown Boye-Christensen the art and poetry of four male Hispanic artists. Three of the four were ex-gang kids he had mentored while working at the Midvale Boys & Girls Club as a gang-prevention specialist. The three—Jesus Silva, Victor Sida and Jose Hernandez—left the club bitterly disillusioned by its management in 2004. Hunter subsequently wrote a letter to Midvale Mayor JoAnn Seghini, questioning the club's attitude to undocumented at-risk kids. Shortly after that letter was sent, club management fired Hunter.
Hunter and Silva's story was the subject of the March 30, 2006, City Weekly feature "Members Only." Since then, despite serious health issues and no health insurance, Hunter has been a tireless promoter of Hispanic kids like Silva who find themselves, to use Jose Hernandez's phrase, to be "kids without a country." Born in Mexico but raised in the United States, such often-undocumented kids struggle to find a home in the only world they know. If deported, they face returning to a dangerous country they know nothing about.
These boys raised painful issues of identity for Boye-Christensen, who herself is foreign-born. "Who are you when you don't have any legal rights in the country you call home?" she asks. "Are you ever really seen? What does that do to a human being, to never really be seen? There's an incredible sadness that comes with that."
At the Midvale Boys & Girls Club, Hunter and the much-lauded art program he ran for two years collided with local and national politics. Ironically, the more successful he became at attaining visibility for the art of his undocumented members, the bigger the target he painted on his back. And, in the creation of "Lost," the question of how much collaboration the Hispanic artists would have in the production also arose. Hunter might well have been forgiven a moment of déj%uFFFD vu.
He does not deny he came to the production with an agenda. For him, these boys are family. Hernandez signs off his letters to Hunter as "Your son, Jose." Silva named his first son after the one-time Broadway singer. He also asked Hunter to be the child's grandfather, because Silva doesn't speak to his father.
Hunter hoped that Hernandez's dream of helping kids without a country find a home might be propelled forward by the dance. Such optimism was understandable given that, in July, Ririe-Woodbury wrote to potential sponsors about an outreach program to local schools based on a dance called "Kids Without a Country." Through Hunter's connections, Chevron Oil came up with $2,500 in sponsorship.
Those plans, though, hit a snag. By late summer, it was becoming clear that getting Boye-Christensen and the kids together was going to be difficult.
When Hunter met with the choreographer and Ririe-Woodbury development director David Pace over lunch at Lamb's Grill to first discuss the project in March, he told them there were problems with their having access to the kids. No problem, they told him.
One of the young men, painter David Olvera, had moved to Los Angeles to become a tattoo artist. Victor Sida was incarcerated and would be deported that summer.
Jose Hernandez, arguably a key figure in the genesis of the project, was in the Weber County Correctional Facility in Ogden for a gun-possession conviction and facing deportation upon his release. Nevertheless, he was available for those able to make the 7 a.m. Sunday morning visitors' call. For whatever reason, Boye-Christensen did not get to interview Hernandez through the jail's Plexiglas window.
"I was reaching a point of complete desperation," Boye-Christensen says. "The people I was collaborating with were disappearing." By August, she was balking at using "Kids Without a Country" as a title. "It doesn't work for me at the moment," she said then. "It's very specific. I want to create something more subtle, not an anthropological research paper."
Hunter's hopes for a piece that could go to schools and even go on a national tour to draw attention to the issues facing undocumented youth seemed doomed. Still, he took Boye-Christensen to a cramped West Valley basement to interview Jesus Silva. His former gang life intrigued her. "There are strange hierarchies implicit in these gangs," she says, "a strong, primitive energy that is kind of fascinating to me."
The rawness and restlessness of Silva's art caught her attention. So did he. "Sitting there on his bed, in that tiny room in that messy house, it struck me he's so innocent," Boye-Christensen says. She envies him what she describes as "childlike qualities."
Given his childhood, such innocence seems a blessing. Silva's father was the only one of his friends in their Mexican town who had a son. He took 5-year-old Silva into a bar and told a friend his son would marry his daughter. When the friend called Silva "a faggot," his father gave the child a beer to prove the child's machismo. "I was mad at myself because I kept falling to the ground," Silva recalls. His father sent Silva home on foot alone at 2 a.m.
Hunter also took the choreographer to meet another of his ex-Boys & Girls' Club members, Marisela Perez. "When Walt was at the club, I would go every single day," Perez recalls. "It absorbed me, took me away from my house. Just to be alone, it eats you inside."
Perez felt alone, even though at that time she was living with her father. Her mother had suffered a nervous breakdown and moved to Mexico to be with her family. Her father, Perez says, "is cold as a rock." She was used to her mother hugging and kissing her. "I realized what I had lost," she says. With Hunter she wrote her first poem, "I Remember." "Thoughts came out of me like a tornado."
Along with Silva's paintings and Perez's poems, Boye-Christensen found inspiration in her own crisis. At 38, Boye-Christensen arrived at a crossroads. "A lot of things in my life are in disarray. With these questions came a lot of frustration and potent anger." There was also, she says, "a sense of desperation I really wanted to emphasize."
That desperation came through loud and clear a week before the piece was to open at the Rose Wagner. Partly it's in the music. Boye-Christensen found the primal energy she wanted in The Doors' "L.A. Woman." That's followed by words and music from Wim Wenders' Wings of Desire. On the soundtrack, actor Bruno Ganz intones lines from a poem in German about the wonder of childhood. Boye-Christensen lived in Berlin and speaks fluent German. The piece finishes with Nick Cave and the Bad Seeds' seminal tortured love song, "From Her to Eternity," also featured in the Wenders movie.
"You'll either love it or hate it," Boye-Christensen predicts. Indeed, "Lost" does not always make for comfortable viewing.
The three men fling one of the female dancers in the air like she's a toy. The women sit on the men's shoulders, then slide down, the men's hands around their neck. Whether they are strangling or caressing their partner is open to interpretation. The work is rife with a murky ambiguity. Which is perhaps why this piece is, as Boye-Christensen believes, "so bloody successful."
There are repeated motifs of bodies rolling across the floor, of dancers pushing one another out the way, breaking up other dance partners holding hands. It's a dark, sensual piece, full of repressed violence, of figures reaching up with yearning hands, writhing above each other, ever more frenetic.
After the piece ended, Silva and Perez sat down with three of the dancers and Hunter to discuss what the work meant for them.
City Weekly: What did you think the piece was about? What kind of images struck you?
Marisela Perez (poet): It felt like a struggle, a fight between the dancers, like kind of tense.
CW: Did you see your poetry there?
Perez: In the sense that it was in-your-face, sharp movements; it seemed real.
CW: Jesus, a lot of your paintings reflect some of the violence the dancers showed. Did you see your work in the dance?
Jesus Silva (painter): Yeah, I did. I like it.
CW: What was it about?
Silva: Street life. [Kids in gangs] where everybody's close together, another guy might come and change it. One of them might not like him, so it starts a struggle between them without them knowing. They start rumors and begin to push each other.
CW: Did you see gang life in the dance?
Silva: I did, a lot.
Caine Keenan (dancer): What's hard for me is using the word "violence" rather than "aggression." Violence is a rough word. It has malicious connotations. In the piece, there is more compassionate touching. It's almost the emotion gets too much, which is why we get a little bit aggressive with each other. The climate of our [dance] group sometimes is that we're so close, we get on each other's nerves, we have to push each other away.
CW: Walt, you helped initiate this project, what did you see?
Walt Hunter: I always come back to the bottom line: It's about these kids I'm really attached to. I love that Jesus and Marisela could feel their art and who they were in the piece, the intensity, the aggression. That speaks a lot to what their lives are like and what they've been through.
CW: Jesus saw elements of street life there. Did you?
Hunter: Yes, the push and the pull, the aggressiveness of it. That was there. I remember the first time we played soccer in the club. Fifty of them in the gym and somebody would make a mistake, and they just jumped on the guy, and it looked like they were beating the hell out of him. I realized they weren't killing them but just like wild dogs, nipping at each other, taking bites. There was that kind of a feel about the piece.
Jo Blake (dancer): When we're tossing Fujji around, Charlotte told us that she described us as a pack of wolves or hyenas playing with this young thing. But then we also have a camaraderie in the piece where we will come together.
CW: How did it begin?
Keenan: We sat down at the end of one rehearsal, and we had to write 10 words that describe ourselves. And on top of that, one word that best described all the other dancers. The way [Boye-Christnesen] puts us together, she likes bodies moving together, a lot of it is motional for her. Then we get to put in the emotion of the piece with the eye contact and the partnering. Something will come out of movement phrases that we are doing or because of the relationships between the dancers during the piece.
CW: So how did you describe yourselves, your identities?
Blake: I talked about race. Being African American, Mexican, Filipino, then sexuality, being a homosexual. And then we talked about being a friend, a dancer, a performer, a son, a waiter…
Walt: [laughs] So you really are in show business.
Ai Fujii Nelson (dancer): Mine was pretty basic, a dancer, a sister, friend, Japanese, a musician, a Buddhist.
Keenan: The words I came up with to describe myself were individual, as well as a member of a group, artist, creator, brother, son, friend, gay. A lot of the other dancers said words that best described me were "a go-getter," "motivated."
Perez: It's a tough question.
Hunter: The thing that touched me about working with Jesus and Marisela is their honesty. They are very direct. I love that. There's very little censorship involved. I saw it in Jesus' artwork, read it in Marisela's poetry. We have a community of kids. We communicate through the art first, then we get to know each other, then we get to share things and build trust and pretty soon, I'm a grandfather.
Silva: You're describing yourself. He helped me a lot. I describe myself like honest and funny and … honest.
CW: And Marisela. How would you describe yourself?
Perez: Lost.
Hunter: That's interesting. As of last week, that's the name of the piece. You're in the right place.
CW: What did you mean by "lost?"
Perez: You think you're one thing, then the next week you find out you hate that about yourself.
Hunter: Marisela's really tough, she's not afraid, she won't back down from anything.
[Afterwards, Perez says such toughness is an exterior only. "I'm all torn up inside," she says, "just a scared little girl."]
CW: [To the dancers] When you started this, did you look at Jesus's paintings or Marisela's poems?
Blake: Charlotte and [development and community-affairs director] David [Pace] did. They were putting together the process. That's how she was motivated by their ideas. Now we've finished the piece we'll be able to dive in on our own. Not focus on the movement anymore but focus on why we're here and give our all. For me, I do see an intensity, such a great relationship between us but one where you have to have an aggression, fighting with yourself in the piece.
CW: Marisela, some of your poems are about family and the struggle to communicate. Did you see that in the dance?
Perez: It seemed like one minute they were all together, then they were all pushing back, that back and forth kind of thing.
Hunter: [claps his hands] That's it. It's family. That's what it is. It's the dynamics of their family.
Nelson: It really helps to see what Jesus and Marisela see, then dance that.
CW: What's the choreographer's role in this?
Nelson: She has been putting the structure together in the sense that makes sense to her visually and also in the context of working with these people. Inside, we haven't had a chance to get these insights. Now we do, it's time to bring it all together. Now I see it: More like people, street life, more like raw interaction between people rather than just physical things, more of the relationship, the struggle.
Keenan: I also see a sense of irony. The opening guitar of the first song is two bars from "America," a very patriotic song. Charlotte told us one of the artists she's working with traveled here from Mexico to get a better life. So they come here for this utopian ideal. And you have to work so hard to maintain that sort of thing. The harder you work, the closer you pull yourself to the community. The closer you get, the more you have to pull yourself away because it becomes too much of a tumultuous relationship. You get on top of each other, so we start to push each other away. It's too strong, too heated-up a relationship. That's when the more violent aspect of it occurs, it gets too much for you, and you have to go away from it and attack it in a different way.
The whole thing that's spoken in German about the wonderment of being a child … It says when the child was a child, everything was always new and you looked at something with wonderment and you see something for what it is instead of having to give it your own meaning.
Nelson: The German language section to me personally—I'm from Japan. It reminds me of the time I first came to the United States. I knew some English but sometimes the sentences, they were like words one after another, a string of beads.
CW: Walt, the dialogue about childhood innocence reminded me of what you talk about being in the moment with Jesus and your other students.
Hunter: When I experienced life with these guys it was all that, living in the moment, there was an intensity to all that. I'm not an artist, most art I don't even like. But I got hooked on to his stuff because it's so emotional. I really feel more comfortable hanging out with Jesus and his family and his friends than anywhere else I've ever felt.
CW: The young man who had the idea for "Kids Without a Country," Jose Hernandez, is in jail and is going to be deported shortly.
Hunter: He called me last night from prison. He's actually going to be deported to Tijuana on the 12th of this month so he won't make it to this. [Jokes] He won't be able to cross back over the border in time for opening night …
Silva: You'll be surprised.
Keenan: Sometimes I just take for granted that I'm an American. Charlotte told the story of a 6-year-old who walked here from Mexico. I wouldn't know what that's like.
Hunter: That was Jose.
Keenan: When she told us that story, I was stunned that someone had that amount of willpower. So, growing up in middle-class America you don't realize that certain things like this occur in people's lives. As an American, I take things for granted that other people strive or risk their lives for.
CW: When I think of you, Jesus, you are the opposite of the word "lost," you are so anchored and focused. What do you think about Kids Without a Country" and where would you place yourself in it?
Silva: If I ever left this place, I would feel lost. Even though I've been to Mexico, it was only for two years, and I had to come back. I can't see myself living over there because I'm so used to here. Even when I went over there, I always felt eager to come back. And my mom used to tell me all my family was over there. But I don't know all my parents' family.
There's a brother I don't even have a relationship with because he was in the U.S. before I was. Me and him don't quite connect because we think so different. Even now that I'm older, I can't be with him in the same room. That's why I see what they're talking about—not the violence, but the pushing him away.
CW: Do you see yourself Mexican, American or both?
Silva: I consider myself both. Because I can't say that I'm Mexican because I'd feel like a hypocrite. But, I can't say I'm American because I know I am not. But I feel like I am. If I say that stuff, I consider myself racist, and I'm not. If I left here, I would be lost. Everything I have is here; I don't have nothing over there.
CW: Marisela, do you hear yourself in what Jesus is saying?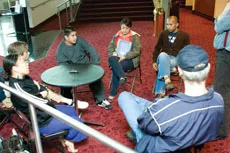 Perez: Here, it's like a lot more different than Mexico. I like Mexico a lot more than I like here. They are looking for something better in life but they know they can't get it. It's more like humanity over there; people help you out more than here. Here, it's like, "Help yourself. If you don't make it, that's too bad." It's like a bucket of lobsters. One makes it to the top; the others pull him down. That's how I see it here.
CW: And do you consider yourself, Mexican, American, both?
Perez: I don't like those terms, Mexican-American, Hispanic. They're used to separate. Who knows what they are anyway? I consider myself Mexican.
CW: And when you used the word "lost" earlier, what were you thinking of?
Perez: Just that. When you go over, you want to come back here. When you're here, you want to go over there.
CW: What do you want the audience to take away from watching the dance?
Keenan: Even out of so many struggles, you can still find who you are and the people you best connect with. In this dance at the end, I hide behind my dance partner, and she becomes a shield to all of the bad stuff that could happen in life. I know that as long as I'm with that person, I'll be OK. There will be the strength of that connection with someone. I want people to see it for its beautiful dancing.
Blake: With this piece, people need to see that for all the struggles there are, you're actually pulling people away from what they could be. We're not allowing those who are coming here for a better life to be American, when they're doing everything that they are, that Americans should be doing, working, trying to survive.
Perez: I saw myself in the dance, the feelings of when you leave your family. I saw how a little kid grows up, wants to find herself in something else. You leave your family, they push you away, you push them away. But in the end, you go back to the same place.
Silva: I would like them to leave with the thought that, for me, I'm afraid that some day I could lose everything I fought for. I just wish they would leave with that. They have so much and they don't even know it.
Ririe-Woodbury's "Lost", Alchemy @ Rose Wagner Performing Arts Center, 138 W. 300 South, Dec. 13-15, 355-ARTS, ArtTix.org
I Remember
By Marisela Perez
I remember when my mom used to be here. I could always hear the screams and the fighting. Because she didn't make the food exactly how he liked it. Fights over simple things that soon became big arguments. Now she's gone and she may never come back. It's all too late to try and fix. Not even a sorry coming straight from my heart will make it right.
I remember when I was unhappy, although I still am. I appreciate every new day of sunlight. Every new day I get to make things right.

I remember when my dad used to ask me how I was. We used to talk about basketball and sports. Now he's too busy, or maybe he doesn't care. Too much on his mind already. I don't think he cares who won the last game at the Staples Center.
I remember when I used to cry because I didn't seem to fit in anywhere. When I felt alone and would rather go read a book at the library than to sit and gossip with the other girls at lunch.
I remember when I had a "familia." Even if it was only for some time. I had a refuge after coming home from school.

I remember when we used to eat together. When my mom would make caldo when the day was gloomy. And we would always pray for the meal each day. I would of never guessed it would one day come to an end.
I remember when I went to the new school. How bad I hated it. How they would stare because my color was prettier. Now I thank God I stayed. I've learned to appreciate myself. I appreciate my dad and everything he does to keep me there. So many gifts now are in the darkness. But eventually they will come out and shine.