Page 5 of 6
CW: When I think of you, Jesus, you are the opposite of the word "lost," you are so anchored and focused. What do you think about Kids Without a Country" and where would you place yourself in it?
Silva: If I ever left this place, I would feel lost. Even though I've been to Mexico, it was only for two years, and I had to come back. I can't see myself living over there because I'm so used to here. Even when I went over there, I always felt eager to come back. And my mom used to tell me all my family was over there. But I don't know all my parents' family.
There's a brother I don't even have a relationship with because he was in the U.S. before I was. Me and him don't quite connect because we think so different. Even now that I'm older, I can't be with him in the same room. That's why I see what they're talking about—not the violence, but the pushing him away.
CW: Do you see yourself Mexican, American or both?
Silva: I consider myself both. Because I can't say that I'm Mexican because I'd feel like a hypocrite. But, I can't say I'm American because I know I am not. But I feel like I am. If I say that stuff, I consider myself racist, and I'm not. If I left here, I would be lost. Everything I have is here; I don't have nothing over there.
CW: Marisela, do you hear yourself in what Jesus is saying?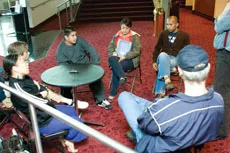 Perez: Here, it's like a lot more different than Mexico. I like Mexico a lot more than I like here. They are looking for something better in life but they know they can't get it. It's more like humanity over there; people help you out more than here. Here, it's like, "Help yourself. If you don't make it, that's too bad." It's like a bucket of lobsters. One makes it to the top; the others pull him down. That's how I see it here.
CW: And do you consider yourself, Mexican, American, both?
Perez: I don't like those terms, Mexican-American, Hispanic. They're used to separate. Who knows what they are anyway? I consider myself Mexican.
CW: And when you used the word "lost" earlier, what were you thinking of?
Perez: Just that. When you go over, you want to come back here. When you're here, you want to go over there.
CW: What do you want the audience to take away from watching the dance?
Keenan: Even out of so many struggles, you can still find who you are and the people you best connect with. In this dance at the end, I hide behind my dance partner, and she becomes a shield to all of the bad stuff that could happen in life. I know that as long as I'm with that person, I'll be OK. There will be the strength of that connection with someone. I want people to see it for its beautiful dancing.
Blake: With this piece, people need to see that for all the struggles there are, you're actually pulling people away from what they could be. We're not allowing those who are coming here for a better life to be American, when they're doing everything that they are, that Americans should be doing, working, trying to survive.
Perez: I saw myself in the dance, the feelings of when you leave your family. I saw how a little kid grows up, wants to find herself in something else. You leave your family, they push you away, you push them away. But in the end, you go back to the same place.
Silva: I would like them to leave with the thought that, for me, I'm afraid that some day I could lose everything I fought for. I just wish they would leave with that. They have so much and they don't even know it.
Ririe-Woodbury's "Lost", Alchemy @ Rose Wagner Performing Arts Center, 138 W. 300 South, Dec. 13-15, 355-ARTS, ArtTix.org