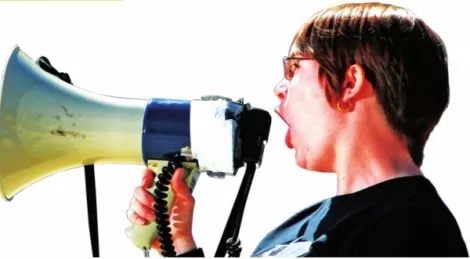 A bill working its way through the 2012 Legislature wants to take animal activists' undercover investigations of farm conditions out behind the barn and put them down for good.

House Bill 187, sponsored by Rep. John Mathis, R-Vernal, would create criminal penalties for recording agricultural operations in Utah. The bill was originally introduced with a penalty of a class A misdemeanor for the first offense of recording agricultural operations, with subsequent offenses jumping to third-degree felonies—a charge equivalent to assaulting a police officer. HB187 was amended on the House floor to temper the penalties; the penalty now would jump to just a class B misdemeanor for those who record images in defiance of express warnings and those who record images while trespassing on agricultural operations.

Currently, the debate over the bill, which is now headed to the Senate floor, has been framed by those who see animal-rights activists as extremist groups undermining the farming profession that is as American as apple pie.

For activists, the cruelty of factory farms is anything but idyllic, and the bill would grant cover to those who want to break animal-cruelty laws.

Jeff Kerr, counsel for the national People for the Ethical Treatment of Animals (PETA) organization, says the bill is virtually unprecedented in its overreach and attempt to shield factory farms from being accountable for following animal-welfare laws.

"There have been other bills [in other states] and they've all died, and rightly so," Kerr says. "States should be ashamed that in a free country, bills are being introduced to shield the crime of animal abuse."

Stewart Gollan, a Salt Lake City civil-rights attorney active in defending local animal-rights activists, says he is scrutinizing the bill based on its constitutionality. He doesn't yet have any intention to pursue litigation, but says that, at the very least, the bill is bad social policy.

Animal-rights activists with groups like PETA have for years been waging a campaign against animal cruelty by enforcing animal-cruelty laws no one else would. The laws on the books against animal cruelty on farms and in research institutions wouldn't be applied in many cases without the group's often-controversial practice of going undercover to videotape instances of animal cruelty and taking the evidence to the authorities.

In presenting his bill to the House Law Enforcement Committee, Mathis, who owns a veterinary clinic in Vernal, introduced the bill as a simple protection for farmers against organizations that use "propaganda" to undermine the agricultural industry.

"I think each one of you appreciates the price of an egg, the price of a hamburger or the price of your food," Mathis told the committee. "If some of these organizations are allowed to achieve their goals, the cost of your food could rise significantly."

But Mathis also made the argument that protecting local agriculture in the long run was also beneficial not just for consumers, but also for animals, since if local farms are shut down by the work of activists, more food will come from countries that don't have the same safety standards or animal-welfare regulations that the United States does. Mathis did not respond to requests from City Weekly for comment on this story.

The committee subsequently passed the bill out, though it was later amended. Beyond removing language that significantly increased penalties for repeat offenders, the bill in its current shape seeks to create penalties for those who surreptitiously record through video, photos or audio on a property without consent, as well as those who trespass on farms and agricultural operations, to be class B misdemeanors. Those who secretly leave recording devices on farms could face class A misdemeanor charges.

"This is essentially an attempt to criminalize the exposing of criminal behavior," Kerr says. "It's entirely backward."

Kerr says legislatures should instead be "passing bills requiring cameras [on agricultural operations]," recalling past investigations that have found farm workers kicking chickens like footballs, spraying animals in the eyes with pepper spray and workers even beating and sexually assaulting pigs with plastic herding canes.

Kerr says the power of PETA has come through its undercover investigations that have forced authorities to acknowledge violations of animal-welfare laws.

In 2009, for example, a PETA investigator spent eight months undercover at an animal-research laboratory at the University of Utah documenting incidences of cruelty, such as workers depriving a monkey of water to get it to cooperate with testing. The investigation also helped stop the University practice of taking animals from shelters to experiment on. In November 2011, the lab was warned by the United States Department of Agriculture that it had to amend its practices or else face steep fines.

But it's not just hard-core animal activists who might be affected by the bill. The Utah Humane Society also issued a statement challenging the bill as having a chilling effect on average Utahns who might want to stop and step on the outskirts of a farm to take a photo of a starving horse, for example. If that individual then "provides that photograph to the authorities, that person would be in violation of this proposed law," said Gene Baierschmidt, executive director of the Utah Humane Society, in a press release.

Utah Humane Society spokesman Carl Arky also worries the bill would be a deterrent to an employee of an agricultural operation reporting animal cruelty, with HB187 creating something of a whistleblower punishment. "If a worker [reports animal abuse], he's committing a crime," under the proposed legislation, Arky says.

For Gollan, who currently represents animal-rights activists and was a former director at the nonprofit No More Homeless Pets, the bill could be constitutionally infirm. He says there may be precedent in how some courts have overturned laws prohibiting the filming of police officers doing their work, but acknowledges much more research would need to go into developing that argument.

"This bill is targeted against people looking to expose what happens on agricultural facilities and then allows the public to decide whether they want to vote with their dollars or not to purchase products as a result of that," Gollan says. "That only happens when people can know what's going on [at these operations]."

Twitter: @EricSPeterson