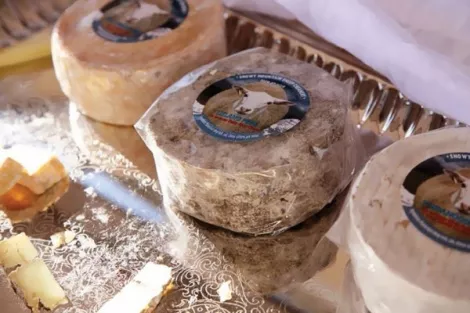 The classic Green Acres theme song proclaims, "Green acres is the place to be/ Farm livin' is the life for me"—which seems an appropriate singalong for a bus full of folks on their way to a farm tour. But Downtown Alliance special events director Kim Angeli-Selin has a bigger priority—bigger zucchinis to harvest, so to speak—than choosing a bus song for the first year of farm tours, which is adjunct programming to the Downtown Farmers Market.
The program's mission is to "create a bigger connection between urban and rural communities and to highlight our beloved growers," Angeli-Selin says. This season featured four themed tours—a mix of topics with wide appeal for people who want to connect to their food and farmers beyond the regular Saturday morning and Tuesday evening downtown markets. Each tour involves a discussion at a Salt Lake City meet-up location, followed by a bus ride and a farm tour with a Q&A.
The first tour focused on cheese and wine, beginning with pairings from Matt Caputo of Caputo's Market & Deli and followed by a tour of and samples from Snowy Mountain Creamery in Eden, Utah's only sheep creamery; local urban winery Kiler Grove provided tastings. Week two was "Fruit & Honey."
The third tour—"Veggie Pick & Pickle"—will head south on Sept. 22 to Jacob's Cove, a veggie grower whose emphasis is heirloom tomatoes. "The farm's greenhouse systems, alongside the outdoor crops, will be interesting because people can see the differences," Angeli-Selin says. Tourers will then get a food-preservation lesson from Melissa of Raw Melissa foods, and will be able to take home cucumber pickles they'll make on site.
The final tour, on Oct. 19, will be "Head to Tale BBQ."
VEGGIE PICK & PICKLE FARM TOUR
Thursday, Sept. 22, 3 p.m.
$30
SLCFarmersMarket.org