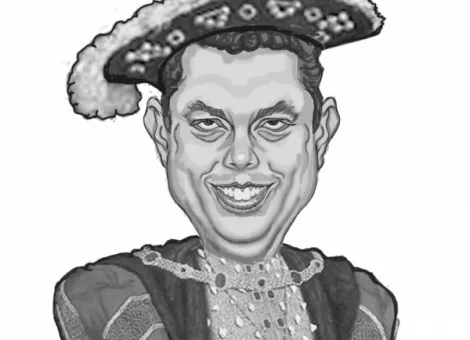 Like an ill-fitting jacket, a shapeless gloom has shrouded our city for several days, all because GQ magazine has declared Salt Lake City to be one of the worst-dressed cities in America. That Provo, the alien city to the south, also made the list, is no consolation. There was some confusion on the part of city fathers, who took considerable umbrage at the insult to our city, until they were informed that it wasn't the city itself that was badly dressed, but rather its male inhabitants.
"We have nothing against Salt Lake City," said Guy de Borhave, fashion editor of GQ. "It's a very nice city, Salt Lake. But your men, mon Dieu! The worst-dressed in the world, in my humble opinion. As for your female denizens, well, if you can't say something nice, don't say anything at all."
My short conversation with Mr. de Borhave was dispiriting, to say the least. It seems Salt Lake City can't get no respect, whether you are talking about city qua city, or about our decent God-fearing citizens. I decided to cheer myself up by having a chat with my old school chum Mr. Marcello, who still lives and works in Salt Lake City, despite being one of the foremost fashion designers in the world. (In high school, where he was a popular cheerleader, Mr. Marcello went by the name of Bud Perkins; he changed his name to Mr. Marcello and assumed an Italian accent after his Bud Perkins Collection (mainly Bermuda shorts) was booed off the stage in Paris.)
Mr. Marcello works out of a small loft in Midvale. When I met him on a sweltering afternoon, he was wearing a pale green, loose-flowing caftan type of thing.
Deep End: Thanks for taking time out of your busy schedule, Bud.
Mr. Marcello: Who is this (pronounced thees) Bud person? I am Mr. Marcello, thank you very much.
DE: Tell us, Mr. Marcello, were you surprised that GQ declared Salt Lake City to be one of the worst-dressed cities in the world?
Mr. Marcello: No, no, no. It is finally nice to be, how do you say, vindicated. My mission in life is to bring high fashion to Zion. I see a great, great opportunity to change men's fashion in our town.
DE: GQ magazine described Utah men's fashion as bland tree-huggery, faux outdoors and full of fleece.
Mr. Marcello: Everyone looks like they are going on a safari! Or going off to ride white water deep in the heart of Idaho! At least in Provo, also worst-dressed, they have a certain flair, a je ne sais flippin' quois. The GQ magazine makes fun of the sacred under lingerie and white shirts everywhere, but I've always liked the layered look. And, of course, it is de rigueur in ecclesiastical circles in Salt Lake City also.
DE: Do you think it's possible to turn around men's fashion in Salt Lake City?
Mr. Marcello: If anyone can do it, it's me. I've been working feverishly on my new line of men's fashion, and it's been gratifying to get feelers from some major department stores.
DE: Can you give our readers a hint of what we might expect to see in stores?
Mr. Marcello: I think it's about time men went back to being peacocks—you know, flashy and full of color and a lot of ruffles. And stuffed codpieces. Do you ever go to the Shakespeare Festival down in Cedar City? Those Renaissance dudes knew how to dress. And I've always liked to see all those superheroes dressed in tights. If Superman is not macho, who is?
DE: Don't you think codpieces and tights might be a tough sell?
Mr. Marcello: We're looking for a few good men confident enough to strut their stuff. There are some good candidates out there, for instance, bicyclists who like splashy bright colors and enjoy wearing form-fitting latex shorts.
DE: Have you approached any public figures about adopting your tights and codpiece concept?
Mr. Marcello: Our bicycling mayor is the very image of high fashion when he pedals to work. Unfortunately, the rest of the time he is dressed for camping in the woods. There is one guy, however, who I would love to see in a codpiece.
DE: Who's that?
Mr. Marcello: That good-looking Chaffetz guy, the congressman who thinks everyone wants to see him naked.
DE: Would he go for a stuffed codpiece?
Mr. Marcello: Why not? No way those airport X-ray machines can see through a stuffed codpiece.
D.P. Sorensen writes a satire column for City Weekly.