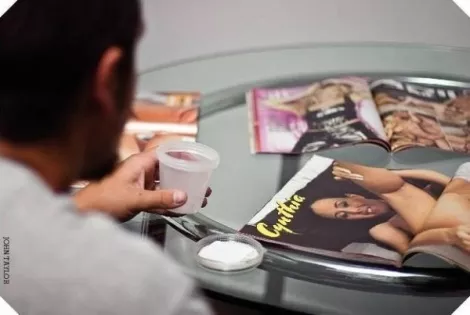 Making a little extra cash is crucial for college. Why not get creative and consider these moneymakers that won't cramp your schedule with boring shifts and mundane tasks:

Donate Your Fluids
Next to blood, plasma and platelets are our most important "national resource," and because these bodily fluids have a limited shelf life, the supply must be constantly replenished, which means your wallet can be continuously restocked, too.

Plasma can be donated twice a week; the process is similar to donating blood. The first time usually takes the longest, since paperwork and a physical examination are required. But after you've donated, subsequent donations take only 30 to 40 minutes. The best part is that you don't need health insurance to donate, and you get to find out if you're healthy for free!

Earning Potential: $20-$50

Downsides: Although donating plasma and platelets has little to no side effects, there is always the possibility of a short bout of nausea, and if you have certain blood diseases such as HIV, then you're not eligible to donate. (BM)

Biomat Plasma Center, 38 E. 800 South, 801-363-7697, Biomat.Grifols.com
ZLB Plasma Services, 2978 S. State, 801-485-5085, CSLPlasma.com

The Gift of Life

Egg and sperm donation (it's not really a "donation," since you get paid) is a unique after-school job. Although it's not as simple as donating plasma, it is a contribution that pays dividends—both in the bank and in the hearts of desperate couples.

The difference in payment for eggs vs. sperm is quite significant, since the collection of sperm is a lot less complicated than the extraction of ova. Nonetheless, both donations require a series of paperwork, examinations and strict instructions that may be more trouble than you're looking for. Thus, it is highly advised (especially for women) to not apply if compensation is the only motivating factor. Here are just a few minimum requirements: one must be 21-34, with a Body Mass Index between 18.5 and 25, 5 feet 2 inches or taller, post-high school, physically and emotionally healthy—and with a health-insurance card.

Earning potential: $75-$5,000

Downsides: Besides the fact that it can take up to six months to find out if you're even qualified, donating sperm and eggs is also a super-involved process that might not work with your school schedule. But, if you pass the tests and can jump through the hoops, this could be a great way to help pay off student loans. (BM)

U of U Center for Reproductive Medicine, 675 Arapeen Way, Suite 205, 801-581-4838, Medicine.Utah.edu
Reproductive Care Center, 10150 Petunia Way (1405 East), Sandy, 801-878- 8888, FertilityDr.com
Be a Guinea Pig
Participants are always in demand for medical research that look at wideranging conditions such as bunion removal, recreational drug use and opioid-induced constipation.

Inpatient research usually requires an overnight stay. As such, inpatient compensation is considerably higher.

Earning potential: $40-$2,000

Downsides: Who knows what kinds of weird tools, strange medicines and uncomfortable procedures will be used? If you're not adventurous and don't like being prodded and poked, maybe clinical research participation isn't right for you. (BM)

Lifetree Clinical Research, 3838 S. 700 East, Suite 202, 801-269-8200, LifeTreeResearch.com
ACR, 3590 W. 9000 South, Suite 300, West Jordan, 801-542-8190, ACR-Research.com
Wasatch Clinical Research, 4001 S. 700 East, Suite 105, 801-288-0607, WasatchCRC.com
Sell Your Stuff
Going to college means cleaning out the closet and getting rid of dust-collecting clothes and knick knacks. Consignment shops are typically the best way to go, especially if your clothes are still stylish and in good repair. Most consignment stores will take your clothes only if they're pressed and on hangers—usually the store will split the profit 50-50 with a display period often up to 60 days. There are also used-furniture stores that will do the same with your vintage furnishings.

If consignment isn't your idea of fast cash, then set up a yard sale. The summer is still underway, and August and September are great months to put your stuff out in the yard and see what people will pay.
Earning potential: $5-? Payout for selling your junk can be rewarding if you're patient and persistent. Don't just wait for the weekend to set up a yard sale—put one up in the evenings when neighbors are out in their yards or taking their dog for a walk.

Downsides: It takes work and time to go through your stuff, clean it and bring it to a store. And if, after all that, you still can't sell anything and you've tried a yard sale, then frankly no one wants your belongings. In that case, give them to the DI—Deseret Industries takes anything—plus you can write it off on your taxes. (BM)

Cassandra's Closet, 2261 E. 3300 South, 801-484-2522, CassandrasCloset.net
Pib's Exchange, 1147 Ashton Ave., 801- 484-7996
Forget Me Not, 1490 E. 5600 South, Ogden, 801-475-7116
Emilie Jayne, 801 S. 800 East, 801-359- 3356
Abode, 1720 S. 900 East, 801-486-2633, AbodePFM.com
Art Modeling
If you can get over the fear of standing stark naked in front of a room of art students, this can be a relatively lucrative option. The work involves holding a pose for about 60 minutes with a couple 10 minute breaks.

The most interesting and rewarding part of the job is seeing all the sketches of you in your birthday suit and knowing you inspired a work of art. Stay away from online ads unless the post is from a school. Make sure you also meet with the professor prior to the day of modeling. (HM)
Earning potential: $$

Downsides: The real challenge is in holding a pose for extended periods of time without moving an inch.

University of Utah Art Department, 801- 581-8677, art.Utah.edu
BYU College of Fine Arts and Communication, 801-422-6645, CFAC.BYU.edu
Salt Lake Community College Fine Arts Department, 801-957-4266, SLCC.edu/visualart
Street Performing
Also known as "busking," street performance is protected by the Constitution as free speech. Salt Lake City allows street perfomance or selling art on the street in the populated areas of downtown, Sugar House and the Gateway district, as well as other busy streets and large, public parks.

Earning potential: $-$$$. Choose a place you know people congregate and will be receptive.

Downsides: It can be rough. Be prepared to endure bad weather, hecklers, and possibly being robbed or mugged. (HM)

Library Plaza, 210 E. 400 SouthMain Street, between 400 South and South Temple
Pioneer Park, 300 S. 300 East
For more details on city busking ordinances, visit www.SLCGov.com