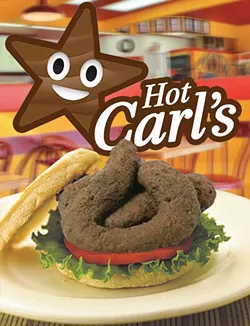 8. Dairy Queen's Chili-Cheese Dog Blizzard.
7. Burger King's Whopper With Kelp.
6. Der Weinersnitchel's Corn Dog and Dr. Pepper Dippers.
5. Subway's Ritual Sacrifice Black Metal Ham.
4. Wendy's Asiago Baconator Frosty.
3. McDonald's Wake 'n' Cakes Big Mac Pancake Burger.
2. Carl's Jr.'s Hot Carl Chile Verde 3-Way Burger.
1. KFC's Fuck-It Bowl Last Meal Combo With Phenobarbital.