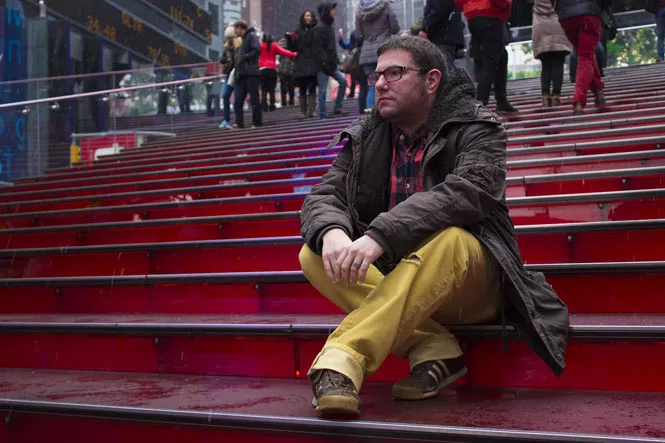 Brian G. Murphy
Father Shay Kearns
Writer, speaker and theologian Father Shay Kearns is the founding pastor of House of the Transfiguration in Minneapolis. As a transgender person of faith, Kearns will speak on the power of personal narrative at the Salt Lake City Main Library (210 E. 400 South) on Saturday, March 7, at 1:30 p.m., during "Reimagining Inclusive Religious Spaces: Gender and Sexualities." The symposium is sponsored, in part, by the Main Library and the University of Utah colleges of social work and humanities. More information can be found at SLCPL.org.
Were you brought up in a religious household?
I grew up in a fundamentalist evangelical church (very conservative), where women were not allowed to be ministers. I felt a call to ministry in junior high but didn't quite know what to do with it for a long time. But it was always there, waiting for me to answer.
How did you come to found your own church?
I was unable to find a church that mixed the best of what I missed from my evangelical upbringing with my newfound love for liturgy and ritual. I figured there would be others who were longing for the same thing. So, I set out to create a church that mixes ancient ritual with modern practice, and that is centered on the lives of those who are often excluded from other worshipping communities because of who they are.
Many LGBTQ individuals feel excluded from organized religion. What's your message to the disenfranchised?
I totally get it. And for many, that is the healthiest choice (either for a time or permanently). You cannot be in a place that damages your soul. But to those who are longing to integrate their faith, who miss being in spiritual community, who want to be people of faith, I say this: Be strong. Know that you are loved by God. You might have to create the community you are longing for, but don't give up.
After what you faced to get where you are now, how would you like to see religions address gender identity?
There are a lot of things communities of faith can do to be more inclusive: Make sure you have accessible gender-neutral bathrooms, ask everyone to wear name tags that include what pronoun you use; don't separate things by gender (for example, when singing, say "people with high voices" or "people with low voices"); pay attention to the language you use. It's also time to let transgender people share their own stories and journeys. There are so many talented transgender speakers and ministers and faith leaders; we don't need other people telling our stories for us anymore. We simply need to be given the microphone.
What do you hope to accomplish by making your story heard?
When I was growing up, I never saw anyone like me. If I can make it easier for a transgender kid to know they can not only grow up to be who they are and to be happy and healthy, but also to pursue their calling to ministry, that will be a success. I also want to make queer and trans theology accessible to people who are not academics. There is such richness in theology done from a queer and trans perspective (and a richness for people who are not queer or trans as well), and I want to share that more broadly.
What was the toughest part for you blending your faith and your gender identity?
Dealing with my own fear of rejection. I worried that I would have to give up my faith and/or my calling to ministry. Thankfully, that hasn't happened, although transitioning has made it quite a bit harder to find employment (especially in ministry).
If it isn't too personal: Do you practice celibacy a part of your faith? What is your view of the Catholic Church's requirement of celibacy of its priests?
The Old Catholic Church (where I am ordained) doesn't require celibacy for priests. I personally am celibate but only because I am an extreme introvert and my ministry requires me to be so extroverted. I need to come home at the end of the day and be in my own space. Personally, I think any enforced celibacy is harmful (and when the choice is: be celibate or don't be a priest-that's forced). So whether priests are being forced to be celibate or LGB people being forced to be celibate, it's going to lead to loneliness and trauma. One can certainly have a calling to celibacy and choose it freely and have it be a life-giving experience. But forced celibacy is no good.
What age did you come to grips with your identity and what pushed you to do so?
I had no idea that transgender people existed until I was in my 20s. So even though I knew from puberty that I was unhappy in my own skin, I didn't know what to do with that information. I first came out as gay, but that label didn't seem to really describe all that was going on in my life. When I was in my 20s, someone asked me if I might be transgender. I read everything I could on the topic and finally had language to explain what I had felt for a long time. I finally decided to transition when I felt like the option was "do this or be miserable forever." I knew that something had to give, or I wouldn't be able to survive.
How did those around you react when you did?
Some people were incredibly supportive. I transitioned while in seminary studying to be a minister. The faculty was mostly great (there were some who didn't get it and one who was rather hostile). Classmates ran the gamut from totally on board to those who refused to use the right pronouns. My family has had a tough time with it, but we are still in contact. I was married at the time, and my marriage didn't make it mostly because of my transition. I was happy, though, to find that there were still ministers willing to mentor me, there were still some churches (though, to be honest, very few) that would hire me.
Were you met with compassion by people of faith?
It's been a mixed bag, honestly. There have been some people of faith who have been incredibly compassionate and supportive and others who have been pretty terrible (and a wide range of people in the middle).
In your opinion, how do organized religions view queer faith narratives?
There is still a lot of push back and even in the denominations and communities that are accepting of queer religious narratives, it's often still filtered through the voices of people who are not queer. It's still pretty rare to see queer and transgender people of faith getting asked to speak at conferences, write books, pastor churches, etc. I long for the day when we can tell our own stories on a broader scale.
Have you found that being queer actually empowers your faith?
It's made me much more aware of people on the margins (people who are poor, queer, people of color, etc.). It's made me aware about how much of the Christian story is about God caring about those on the margins. Before I believed that faith was all about believing in Jesus so you could get to Heaven, but my queerness has helped me to see the justice narrative of the Christian story. To care about those who are outcast and outsiders, to work for justice and in solidarity with those who are oppressed: That awareness has been a gift.