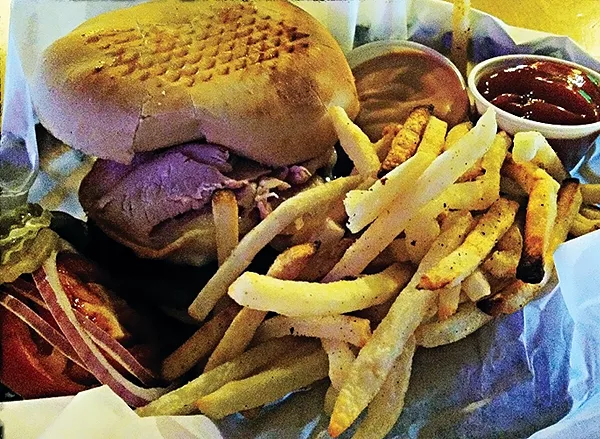 Fats Grill's Firehouse Burger
With all the construction in Sugar House, you can get caught up in delays on both Highland Drive and McClelland Street. Sitting in traffic would make anyone want to escape, and there's a great way to do just that.
Turning your car to the west off of Highland Drive, you'll find Fats Grill. At first, escaping the congestion, you may just be looking for anything to help you cope. Then you walk inside and find that you have many cures—the most important being the food.
At the top of the Fats food chain are burgers like the firehouse burger, the Fats bacon cheeseburger and the TNT burger. The gold medal goes to the firehouse burger—a fat (no pun intended), juicy and tender beef patty covered in sliced ham, tangy barbecue sauce and melted Swiss cheese. All burgers are served with lettuce, tomato, pickles and red onions on the side. The bun is a sheepherder roll, which is slightly crusty on the exterior but soft and doughy inside. The roll does a great job of keeping everything together.
The firehouse burger also has a smooth but spicy kick, just enough to remind you that you're alive. If you crave more spice, try the TNT burger. Whichever burger you choose, get the crispy, seasoned fries on the side. They are thin and sprinkled with an addictive blend of spices. My next cooking challenge will be to reverse-engineer that mixture.
If a burger doesn't satisfy life's cravings, you have your option of playing billiards, downing a few drinks, watching sports, or doing all four at the same time. Who says multitasking is a myth? Your biggest concern won't be choosing how to spend your time at Fats Grill; it will be how to avoid returning to the office for the rest of the day. And if you must leave, you can still come back on the weekends for live music.