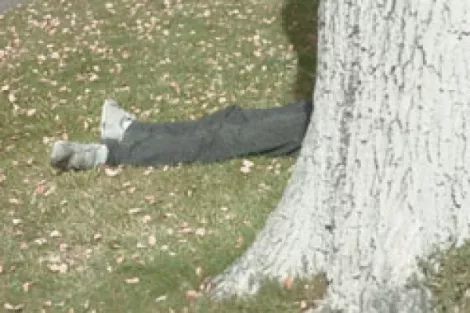 Editor's note: City Weekly reporter Ted McDonough spent several days observing life in and around Pioneer Park. His time there took him up to and shortly after a fatal stabbing and police shooting in the park on Oct. 10.
3 p.m. Thursday, Oct. 11: This park is under siege, and not by drug dealers. On the day after a fatal nighttime park stabbing, crews for local TV stations have staked out every corner, reporters are prowling the place usually reserved for the homeless, drug-addled and poor. And the natives are testy.
A young man wearing a hat advertising Sapp Bros.—red scabs covering his face and forearms, biting chunks from his fingers as he talks in a seeming parody of a meth user—says he isn't giving interviews. The South Carolinian stuck in Salt Lake City until he scrapes together some money says a TV crew talked his significant other into appearing on camera by promising cash, then stiffed the couple. For $5, though, he says he's got a hell of a story. City Weekly takes a pass. A 24-ounce can of Steel Reserve High Gravity Lager sits empty by a nearby tree as if placed there by an overeager props department.
The post-stabbing media siege is only the latest indignity for regulars of Pioneer Park, which stretches south and east from 300 South and 300 West, a rapidly gentrifying intersection of one-time warehouses-turned-condos or -restaurants. With city elections looming, hardly a fall week has passed without a politician and film crew using the park as a backdrop to proclaim a tough stand against crime.
Salt Lake City Mayor Rocky Anderson and Police Chief Chris Burbank announced a citywide anti-drug push to begin at Pioneer Park. One week later, it was Dave Buhler's turn. The mayoral hopeful appeared at the Salt Lake City Police Department's Pioneer Precinct to announce a plan to blanket the park with video cameras. Mayoral frontrunner Ralph Becker chimed in with a "zero tolerance" message. The following week brought the park stabbing and subsequent police shooting of the stabber—a grisly illustration of the park's collision course with the neighborhood growing around it.
Stephen Atiana, the 45-year old who stabbed two people—killing one—during an apparent Oct. 10 mugging, was a transient, according to police. Christian Draayer, the 31-year-old man he killed, lived part-time two blocks from the park in the Dakota Lofts, one of downtown's swankier condominiums.
KSL radio talk show host Doug Wright turned his show over to the park the next morning. "Pioneer Park is a disaster, filled with drugs, crime and filth," he said, proposing the nearby homeless shelter and soup kitchens be moved. Callers suggested Rose Park or West Valley City.
KUTV 2 news pronounced the park Salt Lake City's "concrete jungle." It is possible to conclude that, but with so few people in the park lately, you have to focus your camera in precisely the right place.
Solutions? Ask an Addict
2:30 p.m. Monday, Oct. 8, two days before the stabbings: At a paved area near the bathrooms at the park's center, the energy of crack-cocaine smokers fills the air with an electric buzz. A woman with long hair punctuates sentences by waving an unsheathed hunting knife. A young man standing unobtrusively under a tree spits rhythmically, signaling he's ready to deal.
Seated at one of the permanent stone picnic tables arguing over a debt is James, a clean-cut man in his mid-30s who slaps his old U.S. Marine Corps ID on the table as evidence of life before he became "a smoker."
He believes the just-announced park crackdown is real, having been arrested for the first time the week before after four unmolested years in and around the park.
"Mayor Rocky has a zero tolerance. The cops have a job to do, and they are doing it. They showed me if they want to shut it down, they can," says James, his assertion slightly diminished by the fact that he's as high as a kite.
Everyone at the park is well-versed in the Salt Lake City Council park debates. James agrees with a park clean-up proposal for which Councilwoman Nancy Saxton was pilloried: stationing police on horseback in the park, as is done in his native Atlanta. James scoffs at a multimillion-dollar park-improvement plan Anderson couldn't get past the council. "Four million? For what? They already got what they need. All you need is people on horses. Just two patrolmen for eight hours. It's visibility."
With an index finger, he lifts from the table something the size of a salt grain. "That is crack cocaine," he says, sounding nearly as alarmist as talk-show host Wright. "This shit is very blatant. I can understand Magna, or West Valley, but downtown Salt Lake?"
A passing woman interrupts him, "You see a small orange lighter?" "What?" James replies. She repeats the questions several times before he understands, answers in the negative and continues his story.
"You've got the police behind you (pointing to the SLCPD's offices above Iggy's restaurant on 400 West). Get off your ass. All you've got to do is station four patrols. I guarantee you there wouldn't be one drug at this park," he says.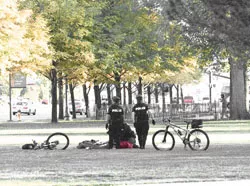 Police say it isn't that easy. Mornings, bicycle cops roll through every 10 minutes. Police cars speed to trouble spots from surrounding hiding places so quickly it's hard to believe the park isn't already under video surveillance. Patrolmen say spotting the dealing is easier than sticking a possession charge on dealers adept at discarding drugs.
Recognizing the difficulty, the city's recently announced anti-drug campaign combines wide advertising of available treatment with high-profile arrests. Sim Gill, Salt Lake City prosecutor, says visible busts, even with scarce jail beds available, can help not only by discouraging drug dealers but by soothing the increasing numbers of middle-class residents living adjacent to the park.
Pioneer Park's biggest problem is perception, Gill says. It's a catch-22. The park is a haven for criminal activity because no one goes there (except for Saturday farmers makets); no one goes there because it's a haven for criminal activity.
For his part, Mayor Anderson believes park problems would be in the past had the City Council adopted his park development plan. The council "totally blew a great opportunity," he says.
The candidates to become Salt Lake City's next mayor, Becker and Buhler, are against large park-infrastructure projects, claiming instead that people can be drawn to the park with more events like the Downtown Farmers' Market.
"Nuts," says Anderson. "You leave Pioneer Park simply as grass and a bunch of trees, [and] even with heightened police enforcement, it's not going to be the sort of place that attracts people," he said. When events end, "the park returns to what it was before."