Page 2 of 4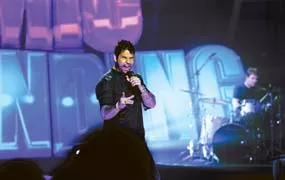 To prepare Marcus for glorious victory and crushing defeat on Last Comic Standing, City Weekly has dreamt up a series of possible/utterly ludicrous scenarios for either occasion. Ever the humble guy, he at least pretended to be amused and gave his response to each:
If Marcus WINS Last Comic Standing …


He'll be immediately whisked away to begin work on his network-mandated sitcom Marcus in the Middle, wherein he plays most of the characters, relying on his myriad voices and a variety of dresses and fat suits. The premise: Comedian Marcus (Marcus) balances a wife (Marcus in a wig), kids (Marcus as CGI talking babies) and a sketchy agent (Marcus in a bald cap) with his career while fixing up his dilapidated suburban home between a burning pile of tires and a wacky gay neighbor (special guest star Carson Daly).
Marcus: What?! How did you guys get your hands on the treatment for this? I thought this was under wraps until spring 2009, when it was set to debut simultaneously on 23 channels! You know what's funny about this scenario: I'm sure some network exec somewhere will run across this and think, "Genius!" Thanks. Now I'm actually going to have to do this show!
He'll invite every one of his 36,000-plus MySpace friends to a Slip 'n Slide victory party in the parking lot of Wiseguys in West Valley.
Marcus: Hell yeah! Slip 'n Slide! Twister! Monopoly! Party at Wiseguys! You know, I think some sort of celebration is in order. Thanks for the idea—you bring the Slip 'n Slide, I'll bring the funny!

He'll blow his $250,000 cash prize on a tour bus once owned by Fall Out Boy, have it painted to look like a giant Transformers Decepticon and use it to pick up women: "Hey, ladies! It's me, Marcus! From Last Comic Standing! Get on the bus, and I'll show ya my funny bone! No? Well, maybe you'd rather hang out with … Matthew McConaughey: All right, all right, all right …"
Marcus: Ha! Yeah, my girl wouldn't like that too much. Although, driving around in a giant Decepticon sounds like a little slice of heaven. I wonder how many miles per gallon Optimus Prime gets?

The governor of Utah will declare the Marcus Minute, a 60-second tribute to the Last Comic Standing winner to be held at 11:59 a.m. on David Archuleta Day.
Marcus: Awesome! A whole minute! Ah, little David and his sweet, angelic voice. You know, we have a lot in common: I'm from Utah, he's from Utah. I perform, he performs. I've proven myself through years of hard work, touring, writing my own material, earning my fan base one show at a time … he likes birds. See, we're practically the same guy! Where's my parade?

He'll invest the prize money in The Marcus Academy for the Impressionist Arts, a school that teaches underprivileged children the importance of doing a good Christopher Walken: "When you grow up, kids, you don't want to be that guy at a party who just throws out a hack Walken … listen up, Javier! I don't care if you haven't eaten for three days—nail this Pulp Fiction monologue and you'll get a breadstick."
Marcus: Just what the world needs, more Walken impressions ...
KSL 5 (the local NBC affiliate that airs Last Comic Standing) and Fox 13 (the station where Marcus was a morning fill-in reporter for a year) might acknowledge his victory. Or existence.
Marcus: Oh, if I win, I'm sure they'll mention it between a bus crash and a weather update! Although, at this point, the only thing that could lure me to the KSL studios would be a Greco-Roman wrestling match with Dick Nourse. We never saw his bottom half; to this day, I believe he was a centaur.
Where Marcus Learned the Funny
My dad's old Bill Cosby records, Wonderfulness and Revenge. I got these from him when I was about 8 and they changed my life. Cosby was a guy whose upbringing couldn't have been more different from a little white kid in Utah, but he made me relate to everything he said. Awesome, just awesome. Still awesome, for that matter.

Dr. Demento. It was this great radio show that played all sorts of cool old comedy songs and skits. Classic stuff. I used to listen in my bed on Sunday nights. I mean, when I was a kid, there was no YouTube, no MySpace. If you wanted comedy and you lived in Utah, that was it. I heard some of my first stand-up on that show. I owe Dr. Demento a lot.

Eddie Murphy: Delirious. There is where I learned that comedy could be dirty and well-written at the same time. Still one of the best comedy films of all time!