Page 4 of 4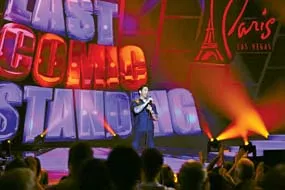 Six Shots With Marcus
City Weekly: What was the audition process for Last Comic Standing like? It's said to be pretty brutal.
Marcus: It can be brutal. I actually had a set audition time so I didn't have to wait in line, but it was still one of the longest days ever. I showed up around 8 a.m., even though my audition wasn't until 10, so I was sent to a "holding pen" where I was kept until almost noon before I was shuffled in with 25 other comics to audition for a room that was empty except for two producers who were trimming the fat, as it were. They were deciding who to send in front of the celebrity judges later that afternoon. I was deemed worthy and headed back to the pit with the rest, where we stayed for another three hours or so until we all were shuffled in again to perform for the celebrity judges. We had only two minutes to impress them—not to mention that I walked in not knowing that it was going to be Fred Willard judging me. I almost passed out when I saw him; it was crazy.
CW: Who was your favorite other comic on the show?
Marcus: I've been friends with Jeff Dye for a while, I love that guy—great kid, extremely talented. Iliza [Shlesinger] and I became good friends, and still are. She's great. I have to say, though, that next to Sean Cullen, none of us are funny. That man is one of the funniest people on earth. I have more memories of off-camera Cullen antics than anything else. I wish everyone could spend a month with Sean Cullen.
CW: Because of your "look," do you foresee a secondary career playing Thug No. 2 or Biker No. 5 on Law & Orders and CSIs?
Marcus: Ha, I could be so lucky. I admit, I have a pretty, um, specific look, so my strategy was to create the demand. Instead of me trying to fit their project, I figure maybe now they'll get their projects to fit me. Let's face it—if people really want to work with me, there are ways to cover the tats.
CW: Is Salt Lake City's comedy scene as clique-y and neurotic as its music scene?
Marcus: It was. In the beginning, I was kind of an outcast because I was 1. an impressionist, and 2. I climbed the ladder pretty quickly. I actually headlined Wiseguys three months after I walked in the door. People didn't like that. There were a lot of guys who felt I should have had to wait, but Keith [Stubbs, Wiseguys owner] figured, when you're ready, you're ready, and I guess his gamble paid off. Since I began, a lot of the old guard has moved on, and there are all these hungry young comics who want it. I've been trying to bring the scene together, letting them know that they need each other to succeed. If one person succeeds the whole scene succeeds. I'm in a position to give back to the scene, and that's what I'm trying to do.
CW: Is there a celebrity impression you've yet to master that keeps you up at night?
Marcus: Sure, there are voices I'm close to getting, but they just aren't there. I don't count a voice as ready until I know every time I pull it out, it will be dead-on. Lately, I've been working on Owen Wilson. I think his nose makes it almost impossible to do perfectly. George Clooney is another one that I'm working on. I'm always trying to add more voices. Any suggestions? Requests?
CW: What's the best bullshit line you've heard from agents and the like who've "discovered" you from Last Comic Standing?
Marcus: I got a call from a number I didn't know in L.A. I answered, and it was this guy from ICM Talent. I said hello and he literally said, I am not kidding, "Hey, there, funny man, who's ready to become a big star? Staying busy being famous?" I almost lost it. Needless to say, I wasn't interested.