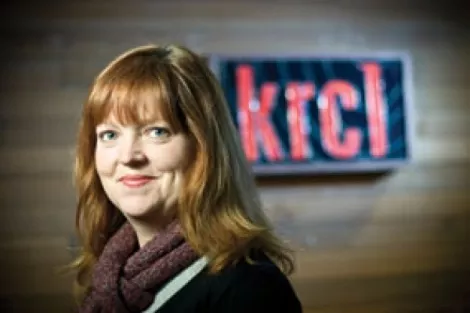 On Jan. 15, the managers of KRCL 90.9 FM, Salt Lake City's community radio station, dropped a bombshell during a meeting of volunteers who serve as the station's DJs.
The station started 28 years ago by anti-war protesters, hippies and counterculture activists was now replacing all of its weekday volunteer DJs with three paid radio professionals.
The change, to take place in two months, appears to be part of a plan hatched by managers and directors to turn KRCL into the best music station in Utah. But then, many think it already is the state's best music station. And the planned changes raise a larger question:
If DJs are paid professionals; if they are told what to play; if programming is the result of consultants, market surveys and focus groups of listeners watched from behind one-way glass—is it still community radio?
"The station as we know it is going away," says Alison Einerson, a KRCL drive-time volunteer who will soon be off the air. She is "cautiously optimistic" about KRCL's reshuffle and resigned to some change. "I don't want to say it was inevitable, but it's a fact there are very few stations left in the country that exist in the way KRCL exists. It's become sort of outmoded."
Still, she says, "I think it's very sad."
"The reality was, I was 20 years old, I showed up at a meeting and was accepted into training to be a programmer. Now, I've been on air for 15 years. That will never happen again. Now it's going to be paid professionals and everyone knows how great professionals can be," Einerson says, launching into her best Top-40 DJ impression.
Imagine KRCL without Renee and Dawn, the Drive-Time Imposters who garnered a City Weekly "Best of" nod last year; Imagine Friday mornings with no Funk Radio, or Thursday's without Babs De Lay's Women: The Third Decade, one of the country's longest-running women's radio programs. Then get used to it. The station's daytime volunteers have been told they'll be phased out by April. They were asked if they wanted to continue until then—provided, of course, they agreed not to say anything against the station on air.
KRCL is in a bind. When the station began 28 years ago, it was the only place a Salt Lake City resident could find bluegrass, reggae or jam bands outside of a record store. Today's hipsters have the option of downloading music to iPods or tuning in to other cities' radio stations on the Internet. Having hit a high of 45,000 listeners about five years ago, listener numbers have fallen to about 38,000. KRCL has failed to meet its fund-raising goals during the past two radiothons.
Now, the Corporation for Public Broadcasting, KRCL's primary federal funder, is threatening to take the station's grant if it can't increase its bite of the Salt Lake Valley's 1.7 million potential listeners. The federal money is just one-eighth of KRCL's annual budget. James Roberts, chairman of the KRCL board of directors, says the station could conceivably make that up from other sources, but the Corporation for Public Broadcasting also negotiates music-licensing agreements for KRCL. If the station had to do that on its own, the cost, Roberts says, could well sink KRCL.
So, KRCL has signed a contract with the feds pledging to make itself more popular.
Doing it right requires paid DJs, Roberts says.
"The current format of the station is everybody comes in with their own bag of CDs and plays whatever they want to play. That has been fun, but it's hard to control," he says." If you're trying to control a sound and attract new listeners, then the easiest way to do it is with paid personnel.
"It's more than even just the music," he says. "How often are you talking—all that stuff—it's hard to control that if you're all-volunteer."
It's a long way from how the station began, as founder Paul Wharton puts it, with "a sense of rebellion against the establishment."
KRCL has its roots in the anti-Vietnam War movement of the early '70s. Peace activists who couldn't get airtime for their views or their music later formed the station in 1979, said co-founder Stephen Holbrook. Ironically, KRCL's breakthrough funding came from The Church of Jesus Christ of Latter-day Saints. Wharton, upset with the church's dominance of Salt Lake City-area media and coverage of the war, filed a lawsuit challenging church-owned KSL Channel 5's broadcast license. The church won the case but, soon after, was offering Holbrook start-up money and radio equipment—giving protesters an opportunity to broadcast views that KSL ignored.
KRCL was born in cramped quarters on top of the old Blue Mouse Theater at 260 E. 100 South. It lined up Robert Redford for a trip to Washington, D.C., to help get a federal grant from an agency long since killed by subsequent Republican administrations.
Federal money for public broadcasting has only gotten harder to come by. Two years ago, community radio stations were required for the first time to show a minimum share of listeners in the market. KRCL was listed among nearly 40 stations across the country at risk of losing its federal grant and invited to submit a proposal to the Corporation for Public Broadcasting for help increasing its market share. The federal granting agency saw something it liked in KRCL, which last year became one of just five selected for a station-renewal project grant. KRCL got $195,000, which, with matching funds from the station, is paying for consultants, focus groups and a marketing campaign.
Under the agreement, KRCL has about three years to significantly boost its listeners. With some tweaking, it shouldn't be hard, Chairman Roberts says.