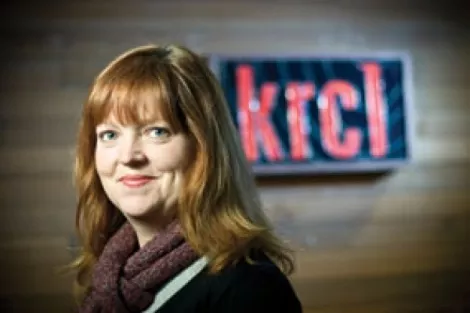 On Jan. 15, the managers of KRCL 90.9 FM, Salt Lake City's community radio station, dropped a bombshell during a meeting of volunteers who serve as the station's DJs.
The station started 28 years ago by anti-war protesters, hippies and counterculture activists was now replacing all of its weekday volunteer DJs with three paid radio professionals.
The change, to take place in two months, appears to be part of a plan hatched by managers and directors to turn KRCL into the best music station in Utah. But then, many think it already is the state's best music station. And the planned changes raise a larger question:
If DJs are paid professionals; if they are told what to play; if programming is the result of consultants, market surveys and focus groups of listeners watched from behind one-way glass—is it still community radio?
"The station as we know it is going away," says Alison Einerson, a KRCL drive-time volunteer who will soon be off the air. She is "cautiously optimistic" about KRCL's reshuffle and resigned to some change. "I don't want to say it was inevitable, but it's a fact there are very few stations left in the country that exist in the way KRCL exists. It's become sort of outmoded."
Still, she says, "I think it's very sad."
"The reality was, I was 20 years old, I showed up at a meeting and was accepted into training to be a programmer. Now, I've been on air for 15 years. That will never happen again. Now it's going to be paid professionals and everyone knows how great professionals can be," Einerson says, launching into her best Top-40 DJ impression.
Imagine KRCL without Renee and Dawn, the Drive-Time Imposters who garnered a City Weekly "Best of" nod last year; Imagine Friday mornings with no Funk Radio, or Thursday's without Babs De Lay's Women: The Third Decade, one of the country's longest-running women's radio programs. Then get used to it. The station's daytime volunteers have been told they'll be phased out by April. They were asked if they wanted to continue until then—provided, of course, they agreed not to say anything against the station on air.
KRCL is in a bind. When the station began 28 years ago, it was the only place a Salt Lake City resident could find bluegrass, reggae or jam bands outside of a record store. Today's hipsters have the option of downloading music to iPods or tuning in to other cities' radio stations on the Internet. Having hit a high of 45,000 listeners about five years ago, listener numbers have fallen to about 38,000. KRCL has failed to meet its fund-raising goals during the past two radiothons.
Now, the Corporation for Public Broadcasting, KRCL's primary federal funder, is threatening to take the station's grant if it can't increase its bite of the Salt Lake Valley's 1.7 million potential listeners. The federal money is just one-eighth of KRCL's annual budget. James Roberts, chairman of the KRCL board of directors, says the station could conceivably make that up from other sources, but the Corporation for Public Broadcasting also negotiates music-licensing agreements for KRCL. If the station had to do that on its own, the cost, Roberts says, could well sink KRCL.
So, KRCL has signed a contract with the feds pledging to make itself more popular.
Doing it right requires paid DJs, Roberts says.
"The current format of the station is everybody comes in with their own bag of CDs and plays whatever they want to play. That has been fun, but it's hard to control," he says." If you're trying to control a sound and attract new listeners, then the easiest way to do it is with paid personnel.
"It's more than even just the music," he says. "How often are you talking—all that stuff—it's hard to control that if you're all-volunteer."
It's a long way from how the station began, as founder Paul Wharton puts it, with "a sense of rebellion against the establishment."
KRCL has its roots in the anti-Vietnam War movement of the early '70s. Peace activists who couldn't get airtime for their views or their music later formed the station in 1979, said co-founder Stephen Holbrook. Ironically, KRCL's breakthrough funding came from The Church of Jesus Christ of Latter-day Saints. Wharton, upset with the church's dominance of Salt Lake City-area media and coverage of the war, filed a lawsuit challenging church-owned KSL Channel 5's broadcast license. The church won the case but, soon after, was offering Holbrook start-up money and radio equipment—giving protesters an opportunity to broadcast views that KSL ignored.
KRCL was born in cramped quarters on top of the old Blue Mouse Theater at 260 E. 100 South. It lined up Robert Redford for a trip to Washington, D.C., to help get a federal grant from an agency long since killed by subsequent Republican administrations.
Federal money for public broadcasting has only gotten harder to come by. Two years ago, community radio stations were required for the first time to show a minimum share of listeners in the market. KRCL was listed among nearly 40 stations across the country at risk of losing its federal grant and invited to submit a proposal to the Corporation for Public Broadcasting for help increasing its market share. The federal granting agency saw something it liked in KRCL, which last year became one of just five selected for a station-renewal project grant. KRCL got $195,000, which, with matching funds from the station, is paying for consultants, focus groups and a marketing campaign.
Under the agreement, KRCL has about three years to significantly boost its listeners. With some tweaking, it shouldn't be hard, Chairman Roberts says.

The Seattle Sound
Some community stations have found that being alternative can be popular and lucrative, if alternative is packaged correctly. KRCL's managers and directors look with envy at stations like WXPN 88.5 FM in Philadelphia, and KEXP 90.3 FM, in Seattle—once small college radio stations that have grown into music tastemakers for the country. KRCL's program director visited several of the stations during the summer of 2006.
WXPN is credited with inventing an "alternative" format now recognized by the music industry as triple-A—Adult Album Alternative—or as the Philadelphia Weekly puts it, "semi-hip adult contemporary [giving] aging Deadheads something new to listen to every now and then."
As another example of what is possible, Roberts points to KEXP, "my favorite station to listen to online." The rock-based University of Washington station is now the No. 1 station in the Seattle market—commercial stations included—following a format change and a huge cash infusion from Microsoft co-founder Paul Allen.
Currently, KRCL keeps more or less to a traditional community radio format presenting music by genre—blues, reggae, folk—that critics contend leads listeners to switch the dial when the music they like is over. The new wave of community stations found success taking the same music and mashing it all together.
Tuning in to KRCL in the future, "you'll likely hear the same types of music, but in a nonblock format," Roberts says, "Some people call it triple-A. Essentially, it's taking all the good music and things about KRCL and putting it in a format that's a little bit easier to access and understand."
The formula is not without controversy. Hipsters are beginning to complain the triple-A format is already getting dusty. Seattle's KEXP has been criticized for its tightly controlled playlists that have virtually eliminated blues, dub, or electronica—anything but rock.
And KRCL managers aren't the only public-radio executives who have noticed the success of such stations. KPCW 91.9 FM, Park City public radio, moved to a triple-A playlist in 2001. KUER 90.1, the University of Utah's NPR station, just announced it was launching an alternative music station on one of two new digital signals. KUER is going to pipe in the sound from WXPN in Philadelphia.
Bill Frost, City Weekly's associate editor and onetime KRCL volunteer, likes some of the new stations. The sound is what might come out of an iPod shuffle belonging to a music critic with varied taste, Frost says.
Of Seattle's KEXP, Frost says, "if they [KRCL] can actually replicate that—great. If they can keep their focus on good modern music, there's nothing wrong with that.
"My only question is, why are they doing something this drastic, instead of promoting the station? Handing out bumper stickers and putting up banners at the Farmers Market seems to be the extent of their advertising."
Many KRCL fans are asking the same question. Until recently, KRCL used to broadcast shows from Gallivan Center summer concerts. An annual Day in the Park with KRCL brought thousands out to celebrate. No more.
"You don't necessarily need consultants," says KRCL volunteer Einerson. "I feel like you need to make sure you encompass feedback from our community."

Consult Us
As word of the pending changes at KRCL leaked out, some well-known progressives in Salt Lake City started having fits. Deeda Seed, a KRCL fan who works as development manager for the Southern Utah Wilderness Alliance, wishes KRCL would have brought its money problems to the public. Instead of format changes and paid programmers, KRCL might have asked loyal listeners for more money, she says.
"It sounds to me like they want to grow their audience. The irony is they may lose their audience," she says. "The reason we love KRCL is the quirkiness of the programming, the volunteers. It fills this niche that is critical to building community. It's more than a radio station and always has been. This proposal is tragic."
KRCL station manager Donna Land Maldonado says many people like the idea of KRCL more than the programming. She notes the station's progressive public-affairs show RadioActive won't be going anywhere, and there will still be plenty of room for volunteers at night and on weekends. Paid DJs will be on-air weekdays, from 6 a.m. to 6 p.m. Maldonado blames money woes for KRCL's lack of marketing and says a large chunk of the new grant money will go toward promoting the station.
It's not as if KRCL hasn't changed before. The station used to be more of a hodgepodge—and arguably more rooted in community—in the 1980s when afternoons once featured two hours of senior citizens on Senior Soundoff followed by a Hispanic music program, Canto de la Raza.
KRCL's consultant was scheduled to present findings to the station's board on Jan. 30, City Weekly's press deadline. Volunteers will be allowed to give their two-cents' worth at a meeting one week later. But that is much too late, complain some, saying it is clear that the important decisions have already been made.
Some volunteers have grumbled for months about a pattern of station management making decisions without consulting them.
In November, KRCL managers told volunteers they were no longer allowed to announce where in-town bands would be playing, leaving volunteers to give cryptic hints to listeners about bands coming, for instance, "to Kimball Junction," indicating Suede, a club near Park City which has since closed.
Robert Nelson, host of KRCL's Smile Jamaica and one of the hosts of RadioActive, argues that a core of KRCL's local service was letting music lovers know where to hear good music. He worries the station is distancing itself from its listeners.
Volunteers were told there were legal reasons that a nonprofit radio station should not be promoting for-profit concerts. But the station's program director frankly admitted in an Internet posting to station volunteers that there was a second reason for the ban—putting the squeeze on clubs to donate to the station: "KRCL is looking for some financial reciprocation from the local venues, who rarely underwrite or support us," the program director wrote. "Honestly, why should they when KRCL hosts announce their concerts and shows for free?"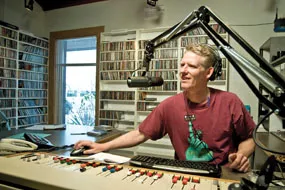 Paul Dowler, who represents volunteers on KRCL's board and will lose his own
Drive Time
show, is OK with the daytime format changes he thinks will help recapture an identifyable KRCL sound without dumbing the station down.
Duncan Phillips, another of the volunteer representatives on KRCL's board, on the other hand fears station management is making a dangerous—and undemocratic—gamble.
"It is community radio and the community is the last to know what is happening. I really question that," he says.
Market research, Phillips says, hasn't saved commercial radio. "I just worry when we start going down the road of paying hosts, eventually it will be 24 hours a day."

The Grass Roots
Some community radio station activists in other parts of the country say there is another way to deal with federal funding crises: tell the feds to stick it.
This isn't the first time the federal government has asked community stations to tighten their belts. In the mid-1990s, former U.S. House Speaker Newt Gingrich and his Republican Revolution announced plans to eliminate all funding for public broadcasting. Big Bird testified before Congress, and the Corporation for Public Broadcasting launched the "healthy station project."
"We would go to a conference and be told if you want to survive, you need to pay attention to what the majority want to hear," says Elizabeth Robinson, of KCSB 91.9 FM in Santa Barbara, Calif.
Her station and others rebelled, forming the Grassroots Radio Coalition. They wanted to distance themselves from National Public Radio stations, which they viewed as increasingly homogenized and mainstream. They also sought to distinguish themselves from community stations they thought buckled under government pressure. "If you want to hew to a mission that includes sharing information with one's local community instead of just the interests of Clear Channel, you have to have a different value system," Robinson says.
For such "grassroots" stations, the idea of paying DJs remains anathema.
"If I want to increase listenership we'd be country western or classic rock 24 hours a day," says Jeff Flanders, of Grassroots member station KZMU 90.1 FM in Moab. "That's not the goal. Public radio is about giving people access to play music they want, to utilize free speech, to educate on local issues. That's why we exist."
When national consultants came to Wisconsin community station WORT 89.9 FM in the mid-'90s, the station went the opposite direction from what consultants recommended, says Norm Stockwell, station staffer. WORT got rid of its manager in favor of an all-volunteer, cooperatively run station and a board of directors elected by volunteers. The result, he claims, was better connection with the community and therefore more community funding.
"The problem is people are looking at one model, the commercial model of homogenization and professional paid staff and thinking it's the only model," he says.
That's easy for him to say. Stockwell's radio station is in Madison—where the counterculture still rules. While talking to City Weekly, he was in the local food co-op picking out lettuce.
Maldonado, KRCL's station manager, contends many of the grass-roots stations that have stuck with the traditional community radio model are in small or rural towns and can afford to stay small. "We could be that, too," she says. "We could broadcast to 20 people, but what a waste. [Nowadays] people can broadcast in their living room if they want to."
There is no government conspiracy against KRCL, she says. "We asked for the money." The station's board, not the feds, will decide what future direction KRCL takes. "We have an extremely powerful tool here. I really think KRCL is an agent of change. If we could get more people listening to us, we can make a difference for the better."
KRCL's spring radiothon is scheduled for March. The station has scaled back its donation goal and will ask for pledges only during weekends. It doesn't make sense, station managers say, to have weekday DJs ask listeners for pledges to keep shows on the air—only to have those programs vanish the next month.