Page 3 of 4
Consult Us
As word of the pending changes at KRCL leaked out, some well-known progressives in Salt Lake City started having fits. Deeda Seed, a KRCL fan who works as development manager for the Southern Utah Wilderness Alliance, wishes KRCL would have brought its money problems to the public. Instead of format changes and paid programmers, KRCL might have asked loyal listeners for more money, she says.
"It sounds to me like they want to grow their audience. The irony is they may lose their audience," she says. "The reason we love KRCL is the quirkiness of the programming, the volunteers. It fills this niche that is critical to building community. It's more than a radio station and always has been. This proposal is tragic."
KRCL station manager Donna Land Maldonado says many people like the idea of KRCL more than the programming. She notes the station's progressive public-affairs show RadioActive won't be going anywhere, and there will still be plenty of room for volunteers at night and on weekends. Paid DJs will be on-air weekdays, from 6 a.m. to 6 p.m. Maldonado blames money woes for KRCL's lack of marketing and says a large chunk of the new grant money will go toward promoting the station.
It's not as if KRCL hasn't changed before. The station used to be more of a hodgepodge—and arguably more rooted in community—in the 1980s when afternoons once featured two hours of senior citizens on Senior Soundoff followed by a Hispanic music program, Canto de la Raza.
KRCL's consultant was scheduled to present findings to the station's board on Jan. 30, City Weekly's press deadline. Volunteers will be allowed to give their two-cents' worth at a meeting one week later. But that is much too late, complain some, saying it is clear that the important decisions have already been made.
Some volunteers have grumbled for months about a pattern of station management making decisions without consulting them.
In November, KRCL managers told volunteers they were no longer allowed to announce where in-town bands would be playing, leaving volunteers to give cryptic hints to listeners about bands coming, for instance, "to Kimball Junction," indicating Suede, a club near Park City which has since closed.
Robert Nelson, host of KRCL's Smile Jamaica and one of the hosts of RadioActive, argues that a core of KRCL's local service was letting music lovers know where to hear good music. He worries the station is distancing itself from its listeners.
Volunteers were told there were legal reasons that a nonprofit radio station should not be promoting for-profit concerts. But the station's program director frankly admitted in an Internet posting to station volunteers that there was a second reason for the ban—putting the squeeze on clubs to donate to the station: "KRCL is looking for some financial reciprocation from the local venues, who rarely underwrite or support us," the program director wrote. "Honestly, why should they when KRCL hosts announce their concerts and shows for free?"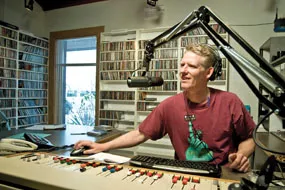 Paul Dowler, who represents volunteers on KRCL's board and will lose his own
Drive Time
show, is OK with the daytime format changes he thinks will help recapture an identifyable KRCL sound without dumbing the station down.
Duncan Phillips, another of the volunteer representatives on KRCL's board, on the other hand fears station management is making a dangerous—and undemocratic—gamble.
"It is community radio and the community is the last to know what is happening. I really question that," he says.
Market research, Phillips says, hasn't saved commercial radio. "I just worry when we start going down the road of paying hosts, eventually it will be 24 hours a day."