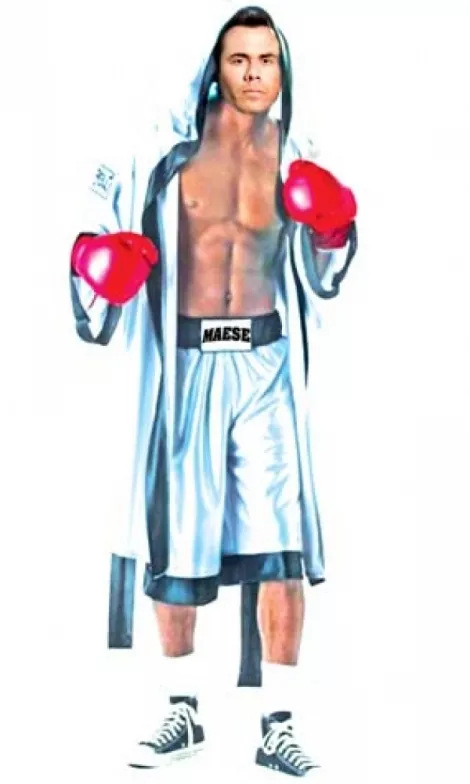 Lohra Miller stood on the sidelines waiting for Sheriff's deputies manning a battering ram to bash down a house door. A prosecutor for the Cottonwood Heights community in southeast Salt Lake County, Miller had recently announced her candidacy for the Republican nomination for county district attorney. It was April 5, 2006, two weeks before the Republican county convention. The TV cameras were ready. It was go time. Miller would be seen in blazing glory on the evening news, directing a raid on an alleged prostitution ring operating across the street from a high school LDS seminary.
What could possibly go wrong?
Sure, there were a few who called the raid on the Doll House escort agency an election stunt. Democratic candidate for district attorney (and Miller's future opponent), Salt Lake City prosecutor Sim Gill, had conducted a high-profile raid of an adult video store just a few weeks before. But after the 2006 district attorney's election, Miller's case should have faded away. By then, plea deals would have been offered to operators of the alleged Cottonwood Heights cathouse; felony charges of exploiting prostitutes and organized crime would have been reduced to a couple of misdemeanors and a small fine. That should have been the end of it.
But Miller didn't count on who was behind the door: Steve Maese. A 31-year-old banker who changed course a few years back—divorced, quit his bank job and opened an escort service—Maese was so convinced he was used as a pawn in the district attorney election, he has spent every waking moment since the raid plotting to bring Miller down.
As Miller likely has long suspected and as Maese acknowledges publicly in this story, he was the one who hired a private investigator to dig through Miller's trash, secretly place a GPS tracking device on her husband's car, videotape the exterior of the district attorney's South Jordan home and turn the resulting investigation over to Salt Lake City news outlets earlier this year.
Two years after the raid on the Doll House, the case continues to haunt Miller. It also plagues Maese, former co-owner of the Doll House. The showdown between the two combatants is sucking others in its undertow. So far, the toll includes two of Maese's friends: Kent Morgan and Kelly Ann Booth.
Morgan—a craggy 24-year veteran of the district attorney's office known for prosecuting murder cases—was recently fired by Miller over his friendship with Maese. Booth—a rising star in the Salt Lake County Democratic Party groomed to take over the east-bench House seat of retiring state Rep. Roz McGee—saw her bid for the Legislature torpedoed when her engagement to Maese was publicized.
Maese says hiring a private eye to tail the district attorney was his way of pushing back against what he considers an abuse of prosecutorial power.
"My life has been torn apart for two years because of a personal vendetta," says Maese, who contends Miller manufactured a case against him to bolster a district attorney resume that contained no felony prosecutions. He is scheduled to go to trial this summer on four charges of exploiting a prostitute, one count of money laundering and one count of engaging in a pattern of criminal activity.
"You fight back any way you know how when you're in a fight for your life," Maese says, noting all tactics he and his private investigator used were legal.
That sentiment may be mutual. It appears that Maese isn't the only one who has decided to fight in the press instead of the courtroom. Over the past two months, material leaked to reporters has provided headlines damaging Maese and Morgan ("Is There A Link Between Ousted Attorney And Alleged Prostitution Ringleader?"
The Salt Lake Tribune
, April 25) to equal those Maese planted against Miller ("Documents Show D.A. Ran Law Business for Years Without A License,"
The Salt Lake Tribune
, March 20).
Like his friend Maese, fired Deputy District Attorney Morgan claims his old boss is using her power as the county's top law official to settle a personal score and "tar the rival that made her look bad."
District Attorney Miller isn't talking. But she must have had occasion in the past two years to rethink the decision to bash down The Doll House door.
Tit for Tat
In many ways, the combatants in the Doll House saga are still fighting the 2006 district attorney's election. Morgan, the fired deputy district attorney, was Miller's chief rival for the GOP nomination in a nasty Republican convention fight. Maese, the accused pimp, was Morgan's Karl Rove, running publicity for the election bid that Morgan lost to Miller. Then, as now, each side accuses the other of hypocrisy.
When Morgan was fired from the district attorney's office in March, he was admonished for hiding his campaign relationship with Maese, a criminal defendant. Morgan's letter of termination from Miller notes Maese's campaign work was not reported on campaign-finance disclosure forms. That was "a potential criminal law violation," the district attorney's office alleges.
But court records suggest Miller did the same thing. Some campaign advertising services for Miller's successful district attorney run were never reported on Miller's campaign-finance disclosure forms. The services were donated by the owner of a production company who at the time was charged with four counts of forcible sexual abuse, according to a current court appeal. The man argues his donations to Miller should disqualify her from prosecuting his case.
"What ticks me off is the hypocrisy of all this," Morgan says.
Miller fired Morgan allegedly for leaking confidential prosecution information to his friend, Maese. Morgan, in turn, accuses the district attorney's office of illegally leaking his confidential letter of termination to the press—and names Miller herself as one of the prime suspects in the leaking.
The ultimate irony of the Doll House case is that it began with an accusation the escort agency was operating without a business license. What gets Maese is that when he sent a private investigator to spy on the district attorney, the investigator returned with evidence that Miller had, herself, operated a home law office without a business license. Miller gets a pass while Maese gets charged.
The accused pimp strikes a tone of moral outrage: "That's what frustrates me so much," Maese says. "There is no downside for her screwing me like this."
The customer always comes first
The Doll House—D. House, LLC—began life in 2004 when a recently divorced Maese began dating former escort Tiffany Curtis, who then worked as an escort agency "phone girl" booking appointments. When the agency Curtis worked for came up for sale, the couple looked at purchasing it. That was before a quick market analysis by Maese determined they could start their own agency for half the price. (The Doll House has since been sold and is being operated by others who are not facing charges in this case.)
Maese is hard to figure. He is either that charming guy who showed up at Democratic events and charity fund-raisers with fiancé Kelly Ann Booth, or he is the "preppy ghetto" wannabe gangster whom one former Doll House employee says played ostentatiously with his handgun inside the office. He either doled out fatherly advice to employees about putting money away for a rainy day or yelled at them like a street pimp. In person, Maese is a goofball—constantly cracking himself up with a laugh that reveals a mischievous Cheshire Cat smile. It is doubtful anyone would take him seriously saying, "Give me my money, bitch." Maese mostly comes off like the smooth, rapid-talking salesman he was while working as a business banking trainer at Wells Fargo years ago.
On the witness stand in 3rd District Court at a preliminary hearing for Maese and Curtis in April 2007, a former employee was asked about the terms of her Doll House employment.
Well, she said, there were wonderful incentives: "Like, if you worked really hard, you could get, like, your nails done, or go tanning. I mean, like, they had a great, like, situation going on."
Maese tried to operate his escort agency "like a real business." In his mind, to this day, Maese was running a legal company for which he'd been granted a license. "I knew what the law was, and I followed it to the letter," he says.
The Doll House held seminars. It had a blog, a mission statement, and a credo which read in part: "Our first responsibility is to our customers. No matter what their age, race, or disposition, we will strive to fulfill their fantasies within their economic means."
To stand out from other agencies, the Doll House offered a money-back guarantee that its escorts would get naked. Even after the 2006 raid, Maese was still in marketing mode. His first act was to ask a court to put the Doll House customer list under court seal. "Our strike back is going to be, 'Hey customers, we're looking out for you first,'" he recalls.
Looking back, Maese's insistence that he was a legit businessman may have been his undoing. He could well be facing time behind bars and loss of everything he owns—all because he decided to fight a $550 business licensing ticket.
Welcome (not) to the Doll House
Troubles for Maese and Curtis' nascent escort agency began almost immediately after the D. House, LLC. opened its doors in January 2005. One of the first calls, from a hotel in Cotttonwood Heights, turned out to be a police sting operation. The employee came back without money reporting the client threatened to beat her up unless she gave back the $150 agency fee.
Maese and Curtis called the police to report a theft of services.
Salt Lake County Sheriff's investigators at the Cottonwood Heights precinct (Cottonwood Heights has since established its own police force) took the Doll House theft report, then gave Curtis a ticket for operating in Cottonwood Heights without a city sexually oriented business (SOB) license.
Along with several other escort agencies at the time, The Doll House was licensed out of Park City, which then had the reputation for relatively lax SOB licensing laws. D. House LLC rented an office on Park City's Main Street that the owners almost never visited.
Maese recalls being outraged. "If you order a pizza from a pizza place in Midvale, and they deliver to Cottonwood Heights, the cop doesn't write a ticket and say, 'Hey, pizza boy, where is your Cottonwood Heights business license?'" The Doll House owners fought the ticket—pleading guilty in local justice court but immediately telling the judge they planned to appeal to district court.
At the plea hearing, Maese got his first glimpse of Miller. Then a contract prosecutor for Cottonwood Heights, Miller was incensed, Doll House co-owner Curtis told Sheriff's investigators in a recorded interview after her plea deal. Miller demanded the judge throw the couple in jail. The judge didn't.
At the district court appeal, the Doll House won. It was one of a series of cases brought by escort agencies beginning in 2004 challenging 14 separate cities' attempts to regulate the businesses through licensing. Andrew McCullough, the attorney who won all those cases and the chairman of Utah's Libertarian Party, surmises that Miller "got bent out of shape" when she lost the Doll House appeal, setting the stage for the agency's future legal problems.
Miller announced her candidacy for district attorney on Feb. 27, 2006. One month later, investigators at the Cottonwood Heights precinct of the county Sheriff's office began an investigation of the Doll House. In 10 short days, investigators produced a warrant to search Curtis' home.
It wasn't a typical prosecution. Stings busting individual escorts are a constant fact of the business, but police and prosecutors in Salt Lake County have rarely gone after owners of an escort agency alleging they run prostitutes. Miller had to argue several times to get county prosecutors to file charges, according to filings in Morgan's termination case. And Miller's intimate involvement in the search warrant also was unusual, says attorney Greg Skordas, the Doll House's first attorney.
Typically, when city police investigate felonies, the job of drafting search warrants is turned over to the county district attorney's office, which prosecutes felony cases. But in the Doll House case, Miller, then a city prosecutor, helped draft the search warrant, according to Sheriff's investigators' notes on the search warrant request.
Skordas thought the warrant was full of legal holes. He also had a problem with how the warrant was served.
"The fact that they called the media—it happens once in a while—but it's chicken shit," says Skordas, adding he likes Miller but doesn't respect how she handled the search. "She is running for office. She wants to be a champion of these cases and make a name. It became personal. She was running for office while we were going after her search warrant. And no one wants a motion filed saying you're doing bad work."
The warrant—served by 12 Sheriff's deputies on Curtis' small, empty house—stated investigators were looking for evidence of a business-license violation. It was based on business documents that the lead investigator, Sheriff's Det. Dan Bartlett, had found in Curtis' trash, a technique that would later be repeated on Miller's trash by Maese's private investigator.
But the warrant Miller helped draft was given oomph by two fantastic suggestions that the Doll House was recruiting underage girls. Neither allegation has surfaced since.
The search-warrant application stated the investigation began with a March 27, 2006, telephone call from the bishop of a local LDS ward who had retired from the Salt Lake City Police Department. The bishop claimed one of his flock, a young girl, sought his counsel after she was approached by someone who gave her Curtis' address and told her to "show up if she wanted to make some money." Sheriff's investigators were never told the girl's name, due to the "ecclesiastical relationship" with the bishop.
The second suggestion of luring young girls was thinner still.
The day before investigators applied for and served the search warrant, a man brought a letter to the Sheriff's precinct. The anonymous man said he had received the anonymous letter, addressed "To whom it may concern." Purportedly written by an anonymous high school girl, the letter told about the experience of a "friend" (a different, anonymous 17-year-old girl who was "not part of our ward"). The "friend" allegedly told the letter writer that a man named "Steve" had tried to get her into the escort business.
Shortly after deputies served the warrant on Curtis' house, Maese decided to do whatever was in his power to make sure Lohra Miller wasn't elected district attorney.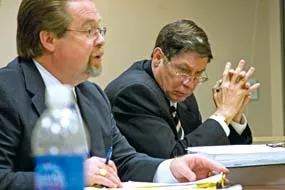 "Talented, decent and not perfect"
A registered Republican, Maese offered to help Kent Morgan, the man running against Miller for the GOP's district attorney nomination. Maese designed a campaign Website and media fliers.
Nevertheless, Miller won at the convention and beat Democrat Salt Lake City Prosecutor Sim Gill in the general election. She didn't fire Morgan for more than one year after taking the helm. That's when she accused him of leaking information about the Doll House prosecution to his friend, Maese. But Morgan claims he lost his supervisory job almost from the day Miller took office.
The letter Morgan received in March telling him he was fired cited two years of telephone calls between Morgan and Maese that were alleged to correspond with important milestones in the Doll House case. However, an examination of the 150 or so calls provided to City Weekly in response to a public-records request, shows little matching between calls and Doll House court dates. In fact, there were no calls in the two weeks before or two weeks after Maese's preliminary hearing, his first significant hearing.
Miller's letter of termination to Morgan also citied a Sheriff's report as proof Maese knew information about his case that only the district attorney's office had.
But far from providing evidence that Morgan leaked confidential information, the Sheriff's report appears to exonerate him.
The report, released to City Weekly through a public-records request, was written by Doll House lead investigator, Det. Bartlett. He writes about bumping into Maese who was taunting him with his inside knowledge—specifically that a prosecutor in the district attorney's office thinks the Doll House search warrant was bogus. But Bartlett's report doesn't say Maese heard that from Morgan, or any other district attorney, for that matter. Rather, the detective's report says, Maese was repeating what he heard from Greg Skordas, his own attorney.
Skordas backs up that version of events. He says prior to filing his court arguments against the Doll House search warrant, he telephoned the district attorney's office to talk it over, a common practice before court arguments. "Someone from the D.A. said, 'You're right, we do have a problem with the warrant,' " Skordas recalls.
And when Skordas argued in court that the warrant was bad, 3rd District Judge Randall Skanchy partly agreed, ruling nothing found on computers taken during the raid of Curtis' home could be used as evidence, except what was on the screen when the door came down.
Morgan and Maese both deny that Morgan leaked information on the Doll House case. Morgan doesn't apologize for his friendship with Maese, saying, "Steve Maese is a talented marketer and a decent man. I know a lot of people who are talented and decent who aren't perfect."
Morgan says his only regret about his relationship with Maese is that he didn't meet him sooner.
Getting the media in on the deal
By summer 2006, the Doll House probe had morphed from a business-license case into an all-out prostitution-ring investigation. Prosecutors also were alleging money laundering and, through the state organized-crime law, seeking to simultaneously charge the Doll House owners criminally while suing them to take their money and property.
Sheriff's detectives working in Cottonwood Heights had enlisted the aid of Salt Lake City vice officers to find escorts who used to work at the Doll House. Several of the women with pending charges testified they understood their charges would be dropped or modified for helping out.
As Sheriff's detectives were interviewing the escorts, everyone was interested in the general election race for district attorney between Miller and Democrat Sim Gill. One exchange between Det. Dan Bartlett and a former Doll House employee captured on Sheriff's office videotape illustrates as much:
The two were looking at Websites of area escort agencies trying to find former Doll House employees. The escort recognized the photo of a woman famous as, reputedly, the only escort to ever have a charge erased in a plea deal from Salt Lake City Prosecutor Gill, who is notoriously stingy with plea deals.
Escort: That son of a bitcher. I don't like Sim Gill.
Bartlett: Don't vote for him, then.
A few moments later, Bartlett begins to press the woman—who says she has a "vendetta with Steve"—to tell her story on TV. He has arranged it with a local television news program.
Bartlett: I've got another question for you. Do you want to talk to the news?
Escort: No.
Bartlett: No?
Escort: No. I won't do that to my mother.
Bartlett: No, no, they would shadow you out; they wouldn't know it was you.
Escort: I don't want to be on the news. That's uncomfortable to me.
Twice more the Sheriff's detective tells her, "nobody would know," then gives up. The Doll House wouldn't be charged for another six weeks.
It wasn't the first time, and wouldn't be the last time, one side or the other tried to prosecute the Doll House case in the media rather than in the courtroom.
Despite repeated efforts to interview Lohra Miller for this story, she declined to comment. In a letter to City Weekly, Miller wrote that her department's policy prevents her from talking about Morgan or Maese, because both have pending cases. Someone at the district attorney's office hasn't been so careful.
Morgan is calling for an investigation to find out who leaked his letter of termination to reporters. The letter put forth Miller's claim that Morgan was acting as a spy for Maese inside the district attorney's office, or as KUTV 2, the first to report on the leaked document put it, "Kent Morgan is Accused of Being a Mole."
Morgan says just four people, other than himself, should have had access to the letter: Miller and the three other district attorneys in the room when he was fired. Morgan says he didn't leak the letter tarring himself to the press and neither did his attorney.
Approximately one week before stories based on Morgan's leaked termination letter were published in early April, Miller sought out a meeting with Rep. Jackie Biskupski, a Democratic legislator who works as an assistant to Salt Lake County Sheriff Jim Winder.
The conversation "was all very coded," says Biskupski, but Miller's message was clear: "More things are going to come out about Steve Maese," Biskupski recalls the gist of the conversation. "I was under the impression something was going to break."
Biskupski says Miller wanted her to know that no matter what news might come out regarding the D.A.'s investigation of Maese, it was not the district attorney's intention to hurt Booth, Maese's then-fiancée. Biskupski and Winder were both supporting Booth's run for the Legislature. Biskupski says she walked away from the conversation with the impression that Maese was to be saddled with new charges.
But the story that came out at the end of that week wasn't about new charges. It was Morgan's leaked termination letter and was the first news story about Maese's case in more than one year.
Morgan notes that a few days after the early April leak, the district attorney's office released his phone records (Morgan claims illegally) with calls between himself and Maese highlighted. Later, the district attorney's office asked the sheriff to declassify the report from Det. Bartlett that purportedly showed Maese had an inside district attorney source.
The day after the report was declassified, it showed up in the Deseret News. "What a coincidence," says Morgan, who doesn't think it was.
Biskupski, who is on friendly terms with Miller, doesn't believe Miller was behind the leak of Morgan's termination letter. Rather, Biskupski says, she believes Miller wanted to remind the Democrats in the Sheriff's office that her prosecution of Maese was continuing, and the media eventually might make a connection between Maese and Booth the Democratic candidate.
The Salt Lake Tribune did make that connection the following week, running a story that would lead to Booth dropping out of the legislative race for House District 28. City Weekly has found nothing to suggest the paper got that information from the district attorney's office. In fact, a smear package of material connecting Maese and Booth had been circulating in Democratic circles weeks before making its way to newspapers.

Did they do the deed or not?
There is little doubt that some former Doll House employees engaged in prostitution. Several admitted as much during the preliminary hearing. But did Maese know? The district attorney will have to prove he did to make charges against Maese stick at his trial, scheduled for July 11.
The strongest evidence against Maese comes from the escort who told Bartlett she has a "vendetta" against her former employer. With most other interviewed escorts, she said Maese was not typically involved in day-to-day operations. But she told about one exception.
A client was acting up, complaining the escort hadn't brought condoms to their date. She phoned Curtis at the Doll House, but Curtis was busy and handed the phone to Maese who allegedly said, "Go down the hill; get the condoms; go back up and try to work something out with the guy."
Found at Curtis' home during the raid were printouts from an online escort customer-review service, The Erotic Review, in which agency clients reported sex acts engaged in with escorts. At the preliminary hearing, however, employees testified many of the reviews were fiction, written as advertising by Doll House owners or escorts.
Two other former employees admitted sex with Doll House clients but told investigators that far from being encouraged to have sex, they hid the fact from Doll House managers.
One, a young blonde, testified in court about five occasions of sex acts. But pressed during her interview with Sheriff's investigators about whether she ever told Maese or Curtis she was having sex, she said no.
"They made it seem like, oh, no, our girls don't do that," she said. "I didn't want to be like, 'Oh, I gave in and did it.'"
Maese, like his friend Morgan says, isn't perfect. His story of persecution by Miller is undercut by the fact that he could have walked away from much of his legal trouble long ago. He acknowledges he was offered the same plea deal given to his one-time business partner Curtis: all felony charges dropped for a couple of misdemeanor "attempted" exploitation of prostitution charges.
But Maese doesn't know how to say "uncle."
Miller had been in office as district attorney only one month when media outlets reported on complaints of parties at her South Jordan home. The state attorney general looked into the allegations and found nothing. Maese thought he could do better. In November 2007, he asked a private investigator who had been working on his criminal case to do a side job by checking out Lohra Miller. "I turned the tables on her," Maese says.
Sitting in Miller's cul-de-sac videotaping until the wee hours, Maese's investigator found some evidence that gave weight to neighbor's complaints of parties at the home. Rüdiger Investigations found better evidence that Miller had operated a home law office without a business license and lied about it to an investigating South Jordan Police officer.
As crazy as the Maese-Miller grudge match has been so far, it's likely only going to get worse. Maese, the accomplished Webmaster, has assembled an online diatribe against his nemesis. On the district attorney's end, the case for firing Morgan appears to have morphed recently into a wider investigation with Miller turning some aspects over for investigation to her old friend, Utah Attorney General Mark Shurtleff, who backed Miller's bid for district attorney. Morgan says an investigator has been contacting all his acquaintances asking for dirt.
"Lohra Miller has gone after a person, not a crime," complains Maese. "Now it's Kent Morgan. This is about doing whatever we can to find a crime and then we're going to charge them. … That is a dangerous, dangerous thing."
Editor's note: The Doll House is a former City Weekly advertiser. City Weekly advertising receipts were among evidence taken by the Salt Lake County Sheriff's Office in the April 2006 Doll House raid.