Page 3 of 5
Welcome (not) to the Doll House
Troubles for Maese and Curtis' nascent escort agency began almost immediately after the D. House, LLC. opened its doors in January 2005. One of the first calls, from a hotel in Cotttonwood Heights, turned out to be a police sting operation. The employee came back without money reporting the client threatened to beat her up unless she gave back the $150 agency fee.
Maese and Curtis called the police to report a theft of services.
Salt Lake County Sheriff's investigators at the Cottonwood Heights precinct (Cottonwood Heights has since established its own police force) took the Doll House theft report, then gave Curtis a ticket for operating in Cottonwood Heights without a city sexually oriented business (SOB) license.
Along with several other escort agencies at the time, The Doll House was licensed out of Park City, which then had the reputation for relatively lax SOB licensing laws. D. House LLC rented an office on Park City's Main Street that the owners almost never visited.
Maese recalls being outraged. "If you order a pizza from a pizza place in Midvale, and they deliver to Cottonwood Heights, the cop doesn't write a ticket and say, 'Hey, pizza boy, where is your Cottonwood Heights business license?'" The Doll House owners fought the ticket—pleading guilty in local justice court but immediately telling the judge they planned to appeal to district court.
At the plea hearing, Maese got his first glimpse of Miller. Then a contract prosecutor for Cottonwood Heights, Miller was incensed, Doll House co-owner Curtis told Sheriff's investigators in a recorded interview after her plea deal. Miller demanded the judge throw the couple in jail. The judge didn't.
At the district court appeal, the Doll House won. It was one of a series of cases brought by escort agencies beginning in 2004 challenging 14 separate cities' attempts to regulate the businesses through licensing. Andrew McCullough, the attorney who won all those cases and the chairman of Utah's Libertarian Party, surmises that Miller "got bent out of shape" when she lost the Doll House appeal, setting the stage for the agency's future legal problems.
Miller announced her candidacy for district attorney on Feb. 27, 2006. One month later, investigators at the Cottonwood Heights precinct of the county Sheriff's office began an investigation of the Doll House. In 10 short days, investigators produced a warrant to search Curtis' home.
It wasn't a typical prosecution. Stings busting individual escorts are a constant fact of the business, but police and prosecutors in Salt Lake County have rarely gone after owners of an escort agency alleging they run prostitutes. Miller had to argue several times to get county prosecutors to file charges, according to filings in Morgan's termination case. And Miller's intimate involvement in the search warrant also was unusual, says attorney Greg Skordas, the Doll House's first attorney.
Typically, when city police investigate felonies, the job of drafting search warrants is turned over to the county district attorney's office, which prosecutes felony cases. But in the Doll House case, Miller, then a city prosecutor, helped draft the search warrant, according to Sheriff's investigators' notes on the search warrant request.
Skordas thought the warrant was full of legal holes. He also had a problem with how the warrant was served.
"The fact that they called the media—it happens once in a while—but it's chicken shit," says Skordas, adding he likes Miller but doesn't respect how she handled the search. "She is running for office. She wants to be a champion of these cases and make a name. It became personal. She was running for office while we were going after her search warrant. And no one wants a motion filed saying you're doing bad work."
The warrant—served by 12 Sheriff's deputies on Curtis' small, empty house—stated investigators were looking for evidence of a business-license violation. It was based on business documents that the lead investigator, Sheriff's Det. Dan Bartlett, had found in Curtis' trash, a technique that would later be repeated on Miller's trash by Maese's private investigator.
But the warrant Miller helped draft was given oomph by two fantastic suggestions that the Doll House was recruiting underage girls. Neither allegation has surfaced since.
The search-warrant application stated the investigation began with a March 27, 2006, telephone call from the bishop of a local LDS ward who had retired from the Salt Lake City Police Department. The bishop claimed one of his flock, a young girl, sought his counsel after she was approached by someone who gave her Curtis' address and told her to "show up if she wanted to make some money." Sheriff's investigators were never told the girl's name, due to the "ecclesiastical relationship" with the bishop.
The second suggestion of luring young girls was thinner still.
The day before investigators applied for and served the search warrant, a man brought a letter to the Sheriff's precinct. The anonymous man said he had received the anonymous letter, addressed "To whom it may concern." Purportedly written by an anonymous high school girl, the letter told about the experience of a "friend" (a different, anonymous 17-year-old girl who was "not part of our ward"). The "friend" allegedly told the letter writer that a man named "Steve" had tried to get her into the escort business.
Shortly after deputies served the warrant on Curtis' house, Maese decided to do whatever was in his power to make sure Lohra Miller wasn't elected district attorney.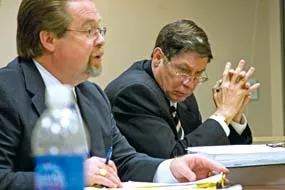 "Talented, decent and not perfect"
A registered Republican, Maese offered to help Kent Morgan, the man running against Miller for the GOP's district attorney nomination. Maese designed a campaign Website and media fliers.
Nevertheless, Miller won at the convention and beat Democrat Salt Lake City Prosecutor Sim Gill in the general election. She didn't fire Morgan for more than one year after taking the helm. That's when she accused him of leaking information about the Doll House prosecution to his friend, Maese. But Morgan claims he lost his supervisory job almost from the day Miller took office.
The letter Morgan received in March telling him he was fired cited two years of telephone calls between Morgan and Maese that were alleged to correspond with important milestones in the Doll House case. However, an examination of the 150 or so calls provided to City Weekly in response to a public-records request, shows little matching between calls and Doll House court dates. In fact, there were no calls in the two weeks before or two weeks after Maese's preliminary hearing, his first significant hearing.
Miller's letter of termination to Morgan also citied a Sheriff's report as proof Maese knew information about his case that only the district attorney's office had.
But far from providing evidence that Morgan leaked confidential information, the Sheriff's report appears to exonerate him.
The report, released to City Weekly through a public-records request, was written by Doll House lead investigator, Det. Bartlett. He writes about bumping into Maese who was taunting him with his inside knowledge—specifically that a prosecutor in the district attorney's office thinks the Doll House search warrant was bogus. But Bartlett's report doesn't say Maese heard that from Morgan, or any other district attorney, for that matter. Rather, the detective's report says, Maese was repeating what he heard from Greg Skordas, his own attorney.
Skordas backs up that version of events. He says prior to filing his court arguments against the Doll House search warrant, he telephoned the district attorney's office to talk it over, a common practice before court arguments. "Someone from the D.A. said, 'You're right, we do have a problem with the warrant,' " Skordas recalls.
And when Skordas argued in court that the warrant was bad, 3rd District Judge Randall Skanchy partly agreed, ruling nothing found on computers taken during the raid of Curtis' home could be used as evidence, except what was on the screen when the door came down.
Morgan and Maese both deny that Morgan leaked information on the Doll House case. Morgan doesn't apologize for his friendship with Maese, saying, "Steve Maese is a talented marketer and a decent man. I know a lot of people who are talented and decent who aren't perfect."
Morgan says his only regret about his relationship with Maese is that he didn't meet him sooner.