In 1964, when Rayola Running Crane was just 13, her parents sent her away from her home in Browning, Mont., on the Blackfeet Indian Reservation. She and her friends were drinking a lot. She had already been in an alcohol-related car accident that caused permanent back injuries.
She says her parents gave her two options: Go live with her brother in San Francisco or go to a boarding school in Oklahoma.
"They didn't want me to lose my life to drugs and alcohol," she says.
It was the beginning of Running Crane's long experience fighting substance abuse on the reservation, which is located in far northwestern Montana, bordering on Canada. In 1979, five years after Running Crane had returned to Browning, her 4-year-old son was killed in an accidental shooting while on a vacation with his grandparents in Nebraska. He had gone over to a friend's house to play, Running Crane says. The child's parents had gone to a bar for the day, leaving the children unattended. A 10-year-old at the home found a loaded .44-caliber Magnum and shot her son.
"I had to go identify him," she says.
Running Crane says she became a full-blown alcoholic for the next six years, until she moved back to California and gained sobriety. But, in 1993, her mother became ill and Running Crane, by this time in her early 40s, returned to the reservation with another son, who was 7.
"I was afraid of being around alcohol again," she says. "I stuck real close to my parents."
Life on the reservation hadn't changed much in her absence, and as the years went by, the rampant alcoholism and drug abuse there didn't change, either.
Running Crane's modest house, in a neighborhood of identical homes, feels like an oasis on the Blackfeet Reservation. Outside, mangy dogs roam the streets of Browning and trash piles up three feet high on the windward sides of chain-link fences. For years, unemployment has hovered at about 69 percent—nearly 20 times higher than the 3.6 percent average in Montana. The population suffers with chronically high rates of poverty and DUI arrests.
Inside Running Crane's home, everything is in its place. There are fresh-cut flowers in a vase on the table—a testament to her sunny disposition—and a huge pot of ground beef on the stove for the Indian tacos she's keeping warm for a party later on.
Running Crane says she has been sober for 21 years. She's tried to improve her community, she says, by talking to people about Christianity and 12-step programs, the things that helped her get away from drugs and alcohol.
She's seen little impact. But on one recent night, Running Crane was excited about a new possibility for helping her people: Scientology, and the books, ideas and alcohol- and drug-treatment programs developed by the religion's controversial founder, L. Ron Hubbard.
"I think our reservation lost a lot of its morals and values, and I think this would be a way to bring happiness back to the reservation," she says.
Running Crane isn't the only one forming a connection to Scientology. Emissaries connected to the religion and to Narconon, a nonprofit drug treatment and education program affiliated with Scientology, have been making inroads on the reservation throughout the past year. Scientologists have offered free seminars and all-expenses-paid retreats at a luxurious Scientology center near Los Angeles. They've also sent boxes of Hubbard's books to several tribal members working at Crystal Creek Lodge, the only drug-treatment center on the reservation. The center uses 12-step programs common to Alcoholics Anonymous, Narcotics Anonymous and Al-Anon. (Narconon, despite its similar name, is not connected with any 12-step program.)
In February, the Scientology emissaries were at the center of an even more surprising exchange in Browning. They secured for Hubbard one of the tribe's highest honors: a Blackfeet war bonnet, typically awarded to war heroes. Now, the L. Ron Hubbard Museum in Hollywood, Calif., has a Blackfeet war bonnet, too.
L. Ron, Old Tom and Operating Thetans
The story of Hubbard and the Blackfeet is one that's been told for years. According to official Scientology biographies, Hubbard, born in 1911, spent a short time on his grandparents' Kalispell ranch when he was a boy. During that time, he claimed to have befriended a Blackfeet medicine man named "Old Tom" who taught him tribal lore and made him a "blood brother" in a special ceremony.
Parts of Hubbard's biography don't hold up under scrutiny, according to historians and researchers. Tribal enrollment records from that era contain no "Old Tom," historians say. Christian names were not used among the Blackfeet of that time period, and the Blackfeet never had a blood-brother ceremony.
Other parts of Hubbard's life story invite similar skepticism. Navy records belie Hubbard's claims to having been a World War II hero; school records belie his claim to being a nuclear physicist. Hubbard's chief verifiable accomplishments appear to be the dozens of Westerns, science-fiction and other novels he wrote. In 1950, he also penned Dianetics: The Modern Science of Mental Health, a self-help book that he used four years later to found his religion.
Scientology essentially holds that humans are hampered and harmed by negative experiences from present and past lives, and that people can begin to "clear" themselves of this baggage by being "audited." Auditing involves giving a confession of sorts to a Scientology counselor while being connected to an E-meter, a device that, according to followers, measures electrical currents in the body and acts as a type of lie detector, helping auditors zero in on psychic troubles.
Through auditing, Scientologists rise to ever-higher spiritual levels in the religion, paying donations—in the form of fees or work—in order to advance. In order to reach the highest levels and become what's known as "Operating Thetans," Scientologists can spend tens of thousands or hundreds of thousands of dollars, according to news accounts.
Controversies about this and other Scientology matters have kept the religion in the spotlight for decades. In the early 1980s, 11 of the church's high-ranking officials, including Hubbard's wife, went to prison for what federal prosecutors said was a conspiracy to infiltrate government agencies.
The rogue elements were purged from the church, Scientologists say. But in 1995, a disgruntled former Scientologist posted documents on the Internet that described stories previously only revealed to high-level church members, inspiring more negative publicity. According to the documents, contents of which were published in the Washington Post, Hubbard thought that human suffering on Earth is rooted in an incident 75 million years ago, when Xenu, the dictator of an intergalactic confederacy, decided his part of the galaxy had become overcrowded. With the help of psychiatrists, Xenu brought billions of people together, froze them, flew them to Earth in spaceships, stacked them around volcanoes, and blew them up with hydrogen bombs. He then brainwashed their souls, which have since become attached to our bodies, and are the source of our woes.
Scientologists have alternately denied that the Xenu story reflects their beliefs, or have said that the story is taken out of context.
Aside from news stories, Scientology also maintains a high media profile through celebrity members such as Tom Cruise, John Travolta and Kelly Preston, to name a few. It claims to have millions of members in the United States, although a 2001 survey by the City University of New York pegs its membership closer to 55,000.
Body fat and a war bonnet
Besides auditing, Scientologists also believe in using technologies, or "tech"—their term for the theories, methods and programs developed by Hubbard. A tech called Criminon aims to stop criminal behavior; one called Applied Scholastics aims to improve people's studies.
Marilyn Rhodes, head of the Crystal Creek Lodge drug-prevention program, gathered with about 20 other tribal members to discuss the introduction of Scientology to the Blackfeet Reservation.
Narconon is considered a tech to stop drug abuse. Currently being promoted on the Blackfeet reservation and present today on reservations in Oklahoma, in towns across the nation, and in dozens of countries around the world, the nonprofit program was created in 1972 by Hubbard and a former Arizona State Prison inmate who was a Scientology convert.
Narconon teaches that drug residue accumulates in body fat and remains there indefinitely, tempting the former addict to use again.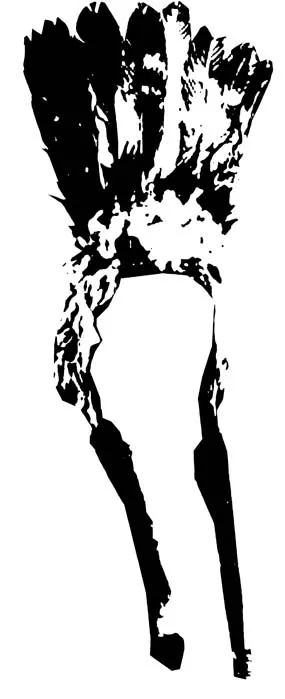 According to Narconon, addicts can remove drugs from their fat through saunas and a vitamin regimen that's similar to a Scientology practice known as "the purification rundown."
Narconon has claimed this treatment method has a 70 to 80 percent success rate; the average drug treatment program success rate, by comparison, is much less. For instance, a 2001 article in Neuropsychopharmacology, an international scientific journal, calls the post-treatment relapse rates for people with substance abuse dependence "remarkably high." About 30 to 35 percent of alcoholics avoid a relapse within a year of treatment and those percentages are even lower for people addicted to drugs.
Medical experts have repeatedly argued against Narconon's basic physiology. No significant amount of drug residue is stored in fat for any length of time and whatever minute amounts do exist in fat cannot be sweated out, they say.
A series of 2004 articles in the San Francisco Chronicle about the use of Narconon in public school drug-education efforts led California to study the program in 2005. Ultimately, a panel of scientists advised the schools to kick Narconon out, stating that the program's methodology "does not reflect accurate, widely accepted medical and scientific evidence." Narconon's allegedly high success rates, critics say, have not been verified in peer-reviewed, independent studies.
Running Crane and other tribal members embracing Scientology are not deterred. Despite the headlines Scientology and Narconon have generated over the years, they say they were only dimly aware of any of controversies until recently.
Larry Ground says he didn't know much about Narconon or Scientology until this February, when his old friend, Patricia Devereaux, Running Crane's niece, showed up at his Browning home with American Indian actor Saginaw Grant. They wanted Ground's assistance in honoring Hubbard—who died in 1986—with a posthumous Blackfeet war bonnet.
Devereaux says she is a public-service supervisor for Narconon. "I head a division, and one of the departments of my division is opening pioneer areas," she explains. She says she chose Indian reservations as her pioneer area, starting with her own tribe, the Blackfeet.
Grant says he is not a Scientologist and does not work for Narconon, but has helped promote Narconon for the past 20 years. He got his show business start in 1998 with a part in the film War Party, which was partially filmed on the Blackfeet reservation. He also appeared in the '90s TV sitcom Saving Grace.
"I agree with some of the tech they use in rehabilitating people," he says. "They don't get repeat clients," he adds, citing the high success rate claimed by the program.
"Several years ago, I made a movie up there," Grant says. "So, when they contacted [Devereaux] to do this, she knew that I'd been familiar with some of the people up there, so she asked me to be a part of that."
But Grant and Devereaux did more than just talk about helping people addicted to drugs and alcohol during their visit. They also approached Ground, a member of the Crazy Dog Society, a legendary group of Blackfeet warriors, about the war bonnet.
According to Blackfeet tribal historian Curly Bear Wagner, warriors in the Crazy Dog Society "were the police force, you could say, a very long time ago. It's a very important organization."
The war bonnet is one of the most sacred honors the tribe gives. "You have to do something very outstanding to receive one of those war bonnets," Wagner says. They can only be bestowed by certain tribal elders, and the elders must get permission from the tribe's chief.
Ground says he was able to find elders through the Crazy Dog Society who, he says, could legitimately do the ceremony. "It's an honor that is bestowed upon people that made great efforts, that save lives, that take care of people."
Ultimately, Ground says, members of the Crazy Dog Society decided to award a war bonnet to Hubbard because of Narconon's positive influence on Devereaux's life and because of Hubbard's alleged relationship (as Scientology presents it) with the Blackfeet.
In February, a bonnet was presented to Devereaux, on Hubbard's behalf. The event in Browning was glowingly described in a press release distributed by Galaxy Press, a business branch of Scientology that publishes Hubbard's novels.
"Amidst the steady beat of tribal drums and ceremonial chants of Montana's Blackfeet Indians," the press release states, "leaders of that proud nation recently honored their blood brother and champion, L. Ron Hubbard, with the Blackfeet Indian war bonnet, the highest honor that can be received for any person."
It was not the first time Crystal Creek had been in touch with Scientology. In November 2007, Los Angeles-based Narconon sent its executive director, Clark Carr, to speak with the Crystal Creek staff. Afterward, several employees were invited on an all-expenses-paid trip to the Scientology Celebrity Centre in Hollywood, a palatial hotel and intensive learning center for the religion.
One of the people who visited was Crystal Creek Lodge Director Pat Calf Looking. He was given a room once occupied by actor Errol Flynn; the whole group got the "red carpet" treatment, he notes.
A tour of Narconon's Los Angeles facilities left him impressed. "Basically, I thought it was a good program," says Calf Looking, whose office bookshelf contains a stack of Hubbard books about three feet thick. "The success rate was pretty high. They said it was like 80 percent. It's worldwide, so I'm sure it's successful."
Calf Looking wants to launch a Narconon pilot program in the near future. "I know [Devereaux] wants to come home and possibly start a Narconon here," he adds, "and I know we'd be interested in working with her."
After the war-bonnet ceremony, the Scientology Celebrity Centre issued more invitations to Larry Ground, Rayola Running Crane and about 10 other Blackfeet to spend 10 days at the Centre.
"It's beautiful," says Running Crane, gushing over the accommodations. "It was so gorgeous I was like, 'Wow, I'm so grateful I'm here; why would they bring us here?'"
Running Crane says they put her in a room where Marilyn Monroe once stayed. Still, she was a bit skeptical at first.
"For some reason, I was afraid in the back of my mind that it was almost a cult," she says. But, she adds, "On the fourth day I was there, I was sent to a gentleman by the name of Rev. Alfred E. Johnson, a Baptist minister. This gentleman laid out the whole picture for me—he wrote a sermon especially for the Blackfeet Nation. And it was such a beautiful sermon. My walls went down, my heart opened, my ears opened, my eyes opened."
She says Johnson explained that Scientology does not require her to give up her faith in Blackfeet tribal religion or in Christianity. "And that's what got me," she says. "That's when I began to believe."
After that, she spent her time at the Centre learning about Hubbard's life and about Narconon, Criminon and Applied Scholastics. "I thought, 'Wow, this is what we need, it's so simple, it's so easy,'" she says. Running Crane committed to bringing Hubbard's world to the reservation.
Will Hubbard save Indian lives?
On March 27, Running Crane took her pot of Indian taco meat to Ground's home, where about 20 other Blackfeet, including most of those who went to the Celebrity Centre in February, gathered to discuss how to introduce Scientology to the reservation. The group included several teenagers, Running Crane's sister Marilyn Rhodes, who heads up the drug prevention program at Crystal Creek Lodge, and Frank Kipp, founder of the Blackfeet Nation Boxing Club and juvenile probation officer for the tribal court.
About 30 eagle feathers hung from the ceiling of Ground's home; he'll use them to make another Blackfeet war bonnet. Before eating, Ground lit a sweet grass smudge and waved it over the food. Another Blackfeet man chanted and prayed in the tribal language.
"Everybody that is here is working in some fashion to save lives," Grant said. The hospitality the group received at the Centre convinced him that Scientologists want to help.
"If we would have seen anything other than what we've seen, we would have went like this," he said, crossing his arms and turning his back. "We would have turned our backs on it and walked away.
"The simple fact that they have all the literature and stuff like that … and they're willing to give it? Hey, you can't beat a deal like that. If it saves one person, and it changes a life, it's worth it."
Everyone in the group has seen devastation on the reservation—a 14-year-old who died while using meth shortly after they returned from the Centre; a rash of drunken-driving accidents that killed and maimed people just this year.
But there's a palpable earnestness and hope in the air. Now, with the help of Scientology, Ground and the others feel they have the power to do something about the problems they see.
After dinner, the group took pens and paper and made notes on a plan of action for bringing tech to the reservation. The group has been armed with boxes of Hubbard's books, and videos that explain Scientology and its technology.
At one point, Running Crane holds up Self Analysis, a thick book by Hubbard that describes itself as "a simple self-help volume of tests and processes based on the discoveries contained in Dianetics."
"I've always looked for self-help books throughout my life to make myself a better person," Running Crane said. "And now I've realized I don't have to do that, because of the simple techniques of L. Ron Hubbard."
Eventually the talk turned to the problems people might face when they present Hubbard's work to other Blackfeet. "Here's one of the things that everybody is going to run into," Ground said. "You'll run into skeptics. You'll run into people that say it's a cult."
"Black propaganda," someone called out, using Scientology lingo for notions that go against the religion.
"Yeah, black propaganda," Ground continued. "I know that each and every one of you guys have talked to your families about it. Let your families take a look at it and see what they feel and think. Don't push it on anybody."
Just in time for Buckskin Brigades
When first interviewed for this story, Blackfeet Tribal Chief Earl Old Person seemed doubtful the war-bonnet ceremony had even taken place.
"I haven't heard of that," he said.
But, by April 10, he had heard about it, and he wasn't happy.
"They're not given that right to transfer a war bonnet," he said. "Those people don't have the right to do it. You've got to be given authority to do it."
A document from the Bureau of Indian Affairs rejects the notion that L. Ron Hubbard was "adopted" by the Blackfeet Nation, noting that the agency has "no record of such an action."
Besides, there's no such thing as a posthumous war-bonnet ceremony, he added. "The person's got to be present," he said.
There are only a few elders who can transfer war bonnets, Old Person said, including himself. He said he'd asked Devereaux to come talk to him about correcting the situation. Scientology and Narconon, he said, "really need to come to us. Talk to the people that have some authority."
Outside the reservation, meanwhile, Scientology watchdogs have been blogging online about the war-bonnet exchange and wondering why it happened.
Rick Ross, founder and executive director of the Ross Institute, an educational nonprofit that studies cults, offers this explanation: "Scientology is always, by its very nature, preoccupied with the continuing edification of L. Ron Hubbard. … By raising his profile and enlarging his legacy and his image, Scientology, being inextricably linked to him, benefits."
Steven Kent, a sociology professor at the University of Alberta who also studies cults, believes polishing Hubbard's image may be one aim, and winning recruits might be another. "The ideal achievement is to get a person to graduate from a Narconon program and continue with Scientology programs," Kent says.
But Narconon chief Clark Carr disagrees entirely.
"That's a complete opinion, and nothing could be farther from the truth. It's not a religious program," he says. "We're not allowed to even disseminate Scientology as a religion, and we're not allowed to disseminate any religion in the program."
Then why did the war-bonnet ceremony happen at all?
John Goodwin of Galaxy Press, which publishes Hubbard's books, says he, for one, wrote the press release about the ceremony to help promote Galaxy's summer 2008 re-release of many of Hubbard's Western novels, including Buckskin Brigades, a 1937 novel about the Blackfeet.
But Devereaux wants to make it clear the ceremony was not a public-relations stunt to sell more books. She says the idea to try to secure a war bonnet for Hubbard was hers alone.
"The reason I did it is because I know that L. Ron Hubbard's tech saved my life, and I know that this man is a great leader, that he saved the lives of not only me, but many other people," she says. "And not only that, he is Blackfeet, because he was brought in by a medicine man by the name of Old Tom."
It might be easy to think the Blackfeet caught up in Scientology have been swayed by the glamour of Hollywood or by expert persuasion, and free books and promises. But, considering the problems on the reservation—and the fact that Ground, Running Crane and the others don't see any other organization rushing in to help them—it's perhaps not surprising that they would at least give the religion a try.
Running Crane, for one, says the situation is simple: She thinks Scientology theories are helpful, and she's going to try to help people with them.
"It's just a matter of people having the faith in the tech itself and to know that it is going to work, after they see all the concepts and precepts," she says.
If Hubbard's methods don't work, she thinks the group that's been formed will stay together and keep trying to help in other ways.
Since their last meeting, Running Crane says they've found a building they can use to hold meetings, teach Hubbard's technologies, and even have a coffee shop where local teens can hang out.
"Our commitment is really strong, it's powerful, and it's going to stay together," she says, "regardless."
This story is reprinted with permission from the Missoula (Mont.) Independent.