Page 4 of 5
"A Little Gimmicky?"
Dave quickly dropped the American Corpse persona for another identity: a tights-wearing street fighter named Ferox. Ferox is reserved for Dave's patrols farther north in Ogden. When in Salt Lake City, Dave is Insignis, a robed figure with a giant white cross across his chest. "The most easily recognizable symbol in the world is the cross," he explains, "So what better symbol to have?" (The two names are derived from a large tattoo across his back that reads "Insignis Ferox," Latin for "Mark of the Wild One.")
After those first few patrols with Ghost, Insignis' friends were quick to join them. The team grew to 13 members strong in a matter of months. The group originally patrolled on Mondays—hence the name—but "things are much more likely to happen on Fridays and Saturdays, so the Monday thing didn't last long," Insignis says. They stuck with the name primarily because "it sounds cool."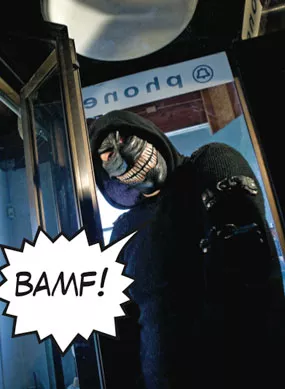 New identities are common with the Black Monday Society: Inferno took his name because of a fiery temper he admits used to get him in trouble before becoming a RLS. But the 33-year-old recently decided to focus on his sense of humor by becoming "Ha!," a clown-themed superhero.
Oni, 36, based his identity on a Japanese demon. He's married to a woman the team calls "Mother One." She creates most of their costumes by hand. "She's very supportive of this," Oni says. Most of the team, including 38-year-old occasional member "Silver Dragon," a thin man with a thick Southern accent, are married. They say their wives are proud of them but balked at a reporter's request to speak with the women. Earlier this year, Oni went on his first patrol with his daughter, who will take the name "Frost" as soon as she has a costume. "I was very nervous and excited at the same time;" he wrote on his blog. "I hoped that nothing would happen on her first time out. I am proud that she wants to give back to the community and help people that need it."
The heroes say they have been spending more time in Ogden lately because of what they perceive as increased gang activity. Ogden Mayor Matthew Godfrey takes issue with that claim: "We have had a seven-year decline of crime in Ogden and one of the keys to that is getting the community involved. Having neighbors be vigilant and engaged is a critical ingredient to safer neighborhoods." Godfrey adds that the Black Monday Society "fits in" with this push for community involvement. Although he finds them "a little gimmicky," Godfrey allows that, "We will take their participation any way we can get it." The Salt Lake City Police Department had no comment on the Black Monday Society. Lt. Paul Jaroscak, spokesman for the Salt Lake County Sheriff's Department, says he has "no knowledge or comment" regarding the group.
If the local cops are sketchy on their knowledge of the superheroes, it might be due to the group's lack of clarity. What, exactly, does the Black Monday Society do? They talk about "helping people" and "helping the homeless." But, on one evening this past November, the patrol's big events included a photo session with a gaggle of drunken college students, some heckling from passersby and a thumbs-up from an enthusiastic tourist from Minneapolis, who wished there was something like this "back home." The patrol also handed out a couple of dollars to a homeless man with the telltale facial scabs of heavy meth use.