GLOBAL GROCERS
Of course, we all know about terrific markets and groceries large and small, like Caputo's, Liberty Heights Fresh, Mediterranean Market & Deli and Utah's own Harmons. But what if you're in the hunt for halal meats, exotic Asian eats or spices for your Ethiopian feast? Here are a few grocers that sell global goodies.
African Restaurant & Mini Mart
If you plan to try your hand at cooking Ethiopian fare at home, making dishes like handaanqoo, alicha, raafuu, wot and such, I recommend swinging by this terrific little market (attached to a big African restaurant) for ingredients. You'll find everything from imported teff—used to make injera—and all sort of lentils, split peas and other legumes used in African cuisine, to exotic spices, goat meat and dried fish. Or, just enjoy an inexpensive and exotic meal in the restaurant itself. 1878 S. Redwood Road, Salt Lake City, 801-978-9673, AfricanRestaurant.org
Eastern Groceries
This market is a friendly place to shop for all sorts of imported foodstuffs, from fragrant spices for making your favorite Indian/Pakistani masala to everything you'll need for preparing Bosnian, African and Middle Eastern meals. There's even a halal meat shop within. 1616 W. 3500 South, West Valley City, 801-975-7805
Flores Bakery
There are a number of great Mexican bakeries in our town, but this one's a fave of many. For starters, it serves up the best flan you'll likely ever eat. And then, there's a virtual rainbow of delicious and colorful pastries, cakes (definitely get some tres leches) and cookies to satisfy your sugar craving. There are also fresh-baked breads like bolillos and, on occasion, housemade tamales, too. 1625 W. 700 North, Salt Lake City, 801-533-0209
International Market & Deli
This popular Millcreek market offers a vast array of European and Mediterranean foods and ingredients, including freshly baked pita bread, fresh feta cheese, an assortment of imported olives and even exotic items like pomegranate molasses. Be sure to try the yummy lebni (also called kefir cheese), which is Greek yogurt that's been strained and filtered to a consistency somewhere between cheese and yogurt. 2284 E. 3300 South, Salt Lake City, 801-463-2700
Luybochka Cafe & Delicatessen
Russian and Eastern European foods aren't easy to find in Utah, but Luybochka has them in spades. In the small market, you'll find imported items ranging from delicious chocolates and other sweets to hard-to-find foods like canned and dried fish such as tolstolobik (silver carp), meats, cheeses, spices, deli items like kielbasa and sushki (Russian tea bread), and much more. 959 E. 3300 South, Salt Lake City, 801-485-8727
Ocean Mart
Quite simply, if Ocean Mart doesn't have it, you probably don't need it. Everything the aspiring Asian cook could want is here, from fresh ducks and chickens awaiting your attention to every imaginable Asian spice, preserved foods, fresh produce, cookies, candy, beverages, snacks, rice, noodles, kitchenware, cooking oils, condiments and so much more. It's nirvana for the Asian-food enthusiast. 115 W. 9000 South, Sandy, 801-255-1188, OceanMart.net
Oriental Food Market
If you're cooking up Asian fare—whether Korean, Thai, Chinese, Vietnamese or Japanese—Oriental Market has the stuff you need. I buy all sorts of ingredients here, from fresh egg noodles for cooking ramen and thinly sliced beef for gyudon to the chili-garlic paste I use when making mo po tofu and the chopsticks and serving dishes I need for sushi. There's a big selection of imported DVDs, too. 667 S. 700 East, Salt Lake City, 801-363-2122
Japan Sage Market
This is the place for Japanese groceries and fresh produce. The nice folks at Japan Sage Market stock everything you could possibly need for creating Japanese meals at home, including seven types of white Japanese rice, sushi-making ingredients and tools, all sorts of spices and seasonings—including wasabi—Japanese beverages and an inviting selection of freshly prepared foods to take out, like bento, donburi and sushi. 1515 S. Main, Salt Lake City, 801-484-4122, JapanSageMarket.com
Viva Market
The meat and seafood department alone at this Hispanic supermarket will blow your mind. Looking for arrachera, diesmillo, chorizo, carne molida, costillas, menudo, filetes, pollo or fresh seafood? Viva has it, not to mention all sorts of exotic fruits and veggies; a full Mexican bakery (panaderia); a deli brimming with fresh salsas, guacamole and ceviche; and an in-store restaurant, La Cocina. Ole! Multiple locations, VivaMarketplace.com
Zabiha Market & Grill
Zabiha is a market featuring fresh halal meats, where all of the chicken, lamb, goat and beef is local, organic and prepared fresh daily. In addition to the best halal meats in town, there's also a large selection of Pakistani and Indian groceries, including very inexpensive spices for making curries and other good things. 3460 S. Redwood Road, West Valley City, 801-973-2211
THE BRUNCH BUNCH
Who doesn't love brunch? Yes, it's a thinly veiled excuse to sip mimosas and Bloody Marys while simultaneously raising our cholesterol with eggs Benedict, huevos rancheros and Belgian waffles. But, when the weekend rolls around, all dietary bets are off. Here are some of the best bets for brunch.
Caffe Niche
With chef/owner Ethan Lappé at the helm, Caffe Niche is tastier than ever, and never more than during weekend brunch, when the eclectic menu offerings range from Kobe corned-beef hash and Caribbean coconut pancakes with butter-rum pecan sauce to the hearty wild-mushroom scramble and blackened-fish tacos. 779 E. Broadway, Salt Lake City, 801-433-3380, CaffeNiche.com
The Copper Onion
Kick off Saturday/Sunday brunch at The Copper Onion with an exotic Bloody Bull cocktail, made with Zing Zang mix, beef stock and housemade pickles. Then, enjoy specialties like the ricotta dumplings and Cuban sandwich, or go a bit more traditional with biscuits & gravy; challah bread French toast; Pleasant Creek Market steak & eggs; or the spinach, tomato, garlic and arugula frittata with Pecorino Romano. 111 E. Broadway, Salt Lake City, 801-355-3282, TheCopperOnion.com
Em's Restaurant
Dining at Em's provides an escape from the hustle and bustle of downtown—a sanctuary, of sorts, in Marmalade. Chef/owner Emily Gassmann has been quietly wowing customers for years, and brunch is no exception. The scrambled-egg-stuffed crepe with ham, roasted peppers, caramelized onions and Swiss cheese is a great choice. So is smoked-salmon Benedict with potato pancakes and dill creme fraiche. And, don't pass up the luscious simplicity of the housemade cinnamon sticky rolls. 271 N. Center St., Salt Lake City, 801-596-0566, EmsRestaurant.com
Faustina
At Faustina, Chef Billy Sotelo takes the melding of breakfast and lunch seriously, with offerings like the Faustina Benedict: a new twist on an old standard that features polenta, Italian sausage, poached farm-fresh eggs, grilled tomato and hollandaise sauce. There's also a killer Black Forest ham & egg puff pastry with Jarlsburg cheese and zippy Mosiah sauce. For something a tad lighter, try the baked oatmeal brulee or roasted-peach & blueberry crepes. 454 E. Broadway, Salt Lake City, 801-746-4441, FaustinaSLC.com
Grand America
There are just three words to describe the abundance of riches that is The Grand America Hotel's opulent Sunday brunch: luxurious, decadent and delicious. It's truly a grand, all-you-can-eat experience, featuring a seafood station with chilled shellfish, including king crab, sushi and ceviche; an artisan cheese cart; crepe, omelet and pancake stations; a carving station with Prime rib and Niman Ranch roasted pork; a food station for kids; a ginormous buffet with all sorts of hot and cold dishes; and the Joshua Payne Trio playing live, to boot. 555 S. Main, Salt Lake City, 801-258-6708, GrandAmerica.com
Lumpy's
This is the perfect place for a lazy weekend brunch, especially if you're in the market for a well-made cocktail and are perhaps planning to catch the game on TV. Hey, where else are you going to find a chicken-fried burrito on a brunch menu? Of course, Lumpy's also dishes up classics like French toast, eggs Benedict, biscuits & gravy and a zippy "ragin' Cajun" omelet, all at reasonable prices. 145 Pierpont Ave., Salt Lake City, 801-883-8714, LumpysDowntownSLC.com; 3000 S. Highland Drive, Salt Lake City, 801-484-5597, LumpysBar.com; 8925 S. Harrison St., Sandy, 801-255-2078, LumpysSouth.com
Market Street Grill
Fish and seafood lovers will especially enjoy brunch at Market Street, where you'll find menu items like the seafood omelet with shrimp, crab and halibut; fresh Utah trout eggs Benedict; Maryland lump-crab cakes and much more. Why, you can even add lobster to your eggs, if you'd like. Ah, the world is your oyster at Market Street—yes, they have those, too. Multiple locations, GINC.com
Porcupine Pub & Grille
Any time is a good time to dish and drink at the Porcupine Pub & Grille, where friendly faces abound and attitude is permanently parked at the door. Along with "brunchy" choices like poached salmon & eggs, huevos rancheros, or biscuits & gravy, there are also "lunchy" temptations like pizzas, hot wings, Philly cheesesteaks, big burgers and more, including a bodacious beer selection. 3698 E. Fort Union Blvd, Salt Lake City, 801-942-5555, PorcupinePub.com
Pago
Scott Evans' cozy cafe is one of the most popular brunch spots in town, so it's wise to arrive with a reservation. There will be no reservations about the food, however, with stellar menu selections such as housemade scones, a killer croque monsieur, ricotta pancakes, shrimp & grits, vegetarian quiche, the vegan breakfast or Utah trout with Clifford Family Farm eggs and country potatoes, just to name a few of the main brunch attractions. 878 S. 900 East, Salt Lake City, 801-532-0777, PagoSLC.com
Wild Grape New West Bistro
As you settle in for brunch, have Wild Grape über-mixologist Sean Neves whip you up one of his signature cocktails, then enjoy enticements like shrimp & grits made with rock shrimp and tasso ham, one of the breakfast burritos, crab Benedict or maybe brioche French toast with a side of doughnut holes and vanilla custard. For those leaning more toward lunch than breakfast, there's also a terrific array of salads, sandwiches and burgers to choose from. 481 E. South Temple, Salt Lake City, 801-746-5565, WildGrapeBistro.com
EAT YOUR VEGGIES
Are you vegan or vegetarian or looking for gluten-free dining options? Or maybe you're an unrepentant carnivore who just wants to change things up a bit with some delicious, wholesome and healthful food. These eateries specializing in vegetable-based, organic, locally sourced, environmentally friendly fare are just the ticket.
Zest Kitchen & Bar
At Zest, you'll find an interesting mix of hip, modern cuisine and a vibrant, modern social scene with cutting-edge cocktails, live music, DJs and dancing. It's the best of all worlds! Raw kale chips go great with Zest's nutty X cocktail: triple espresso vodka martini with Frangelico and almond milk. Or, perhaps, nosh on the stuffed avocado with salsa, spicy seasoned walnuts and cashew sour cream, and a pleasing bottle of Alois Lageder Pinot Grigio. 275 S. 200 West, Salt Lake City, 801-433-0589, ZestSLC.com
Buds Fresh Fast Food
Imagine, if you can, a vegan restaurant that features Mexican street-food flavors along with those of the classic Philly cheesesteak or meatball hoagie. Impossible, you say? Well, at Buds, the believing is in the eating. Whether you're a vegan or a carnivore, you'll love the rich flavors of items like the barbacoa burrito, made with grilled jackfruit in chipotle-tequila barbecue sauce. The spicy meatball sandwich with pinto-bean & grain meatballs is also to die for. 509 E. Broadway, Salt Lake City, 801-521-4522, Facebook.com/BudsSLC
Cafe SuperNatural
This is the newest of restaurateur/chef Ian Brandt's healthy eateries, a quick-food cafe powered by the wind, with a zero-waste policy. You won't want to waste any of the delicious plant-based and gluten-free food here, that's for sure. The eclectic menu sports interesting dishes like the Machu Picchu: steamed potatoes or quinoa with steamed veggies and roasted-chili-cashew cream sauce. Mesa azul is blue-corn winter-squash tamales with pumpkin-seed & tomato mole. The food is as vibrant as the ambiance. Trolley Square, 602 E. 500 South, Salt Lake City, 801-363-1000, CafeSuperNatural.com
City Cakes & Cafe
As the name implies, City Cakes specializes in cakes, yes, but also brownies, cookies, scones, muffins, tarts, waffles and even soups, chili and hummus—all vegan and gluten-free. I'm not a vegan, but I love the cakes and other baked goods here, not to mention vegan macaroni & cheese and the Southwestern black-bean burger. 1000 S. Main, Salt Lake City, 801-359-2239, CityCakesCafe.com
City Dogs
In warm weather, the City Dogs food cart dishes up vegetarian and vegan tubesteaks, along with salad wraps and more. I especially like the tangy Italian sausage dog (don't worry, there's no sausage nor any dog involved), flavored with basil and sun-dried tomatoes. The faux bratwurst with 'kraut and onions also rocks. 200 E. Broadway, 801-755-5458, Salt Lake City, SaltCityDogs.com
Frisch Compassionate Eatery
At Frisch, no ingredients are sourced from animals. That's what owners Rachel and Leigh Kade call "compassion." Well, the vegan fare here is as artful and attractive to look at as it is to eat. To wit, the technicolor tempeh wrap—kale salad and mixed leafy greens in a handmade Rico tortilla. Even kids will love the spicy mac & cheese, made with housemade vegan "cheez" sauce and spicy soy "chick'n." 779 S. 500 East, Salt Lake City, 801-532-2216, FrischEats.com
Long Life Vegi House
Way before most of us ever heard the word "vegan," Long Life Vegi House was satisfying vegetarians and vegans with healthy Chinese cuisine. There is some meat and seafood on the menu, but also an abundance of vegetarian and vegan dishes like the vegetarian beef deluxe, with "beef" made from soybeans and wheat. Eggplant in spicy garlic sauce and black mushrooms with broccoli are just two other delectable temptations. 1353 E. 3300 South, Salt Lake City, 801-467-1111, LongLifeVeggieHouse.com
Omar's Rawtopia
Raw, raw, raw! That's how Omar Abou-Ismail and his followers like their food. Rawtopia, as the name suggests, specializes in raw, live and organic food made from scratch. And, according to Omar, every plate is kissed with love. Highlights from the menu include the spicy curried-seaweed roll and a raw pasta salad made with zucchini noodles and a choice of basil-garlic pesto, tomato sauce or Alfredo nut sauce. Wash it all down with hemp-milk chai. 2148 Highland Drive, Salt Lake City, 801-486-0332, OmarsRawtopia.com
Sage's Cafe
This is restaurateur Ian Brandt's (Cali's, Cafe Supernatural, Vertical Diner) flagship eatery and the one that launched his vegetarian eatery empire. It's also the best, in my opinion. A terrific wine and beer list accompanies an equally enticing menu. There are raw food options like cashew pad Thai, along with cooked items such as killer mushroom "escargot," seasonal soups, a creditable faux Philly cheesesteak, the awesome nut burger and hearty mushroom Stroganoff with portabellas and fresh semolina pasta. 473 E. Broadway, Salt Lake City, 801-322-3790, SagesCafe.com
Vertical Diner
You'll love the funky feel and look of Vertical Diner, not to mention the vegan and vegetarian fare. For starters, the banana pancakes are as good as pancakes get. And the imitation poultry and meat dishes are pretty hard to improve on, too. Especially the chicken biscuit "pie": a biscuit stuffed with a garden-vegetable & "chicken" stew. The peppered tempeh Rueben sandwich is darned good as well. Oh, yeah, there's wine, beer and micro-brewed sodas, too. 2280 S. West Temple, Salt Lake City, 801-484-8378, VerticalDiner.com
WHERE'S THE BEEF?
There's no shortage of great steakhouses in Salt Lake City: Carvers, Christopher's, Fleming's, Ruth's Chris and Spencer's, just to name some of the leading candidates. Well, here are some additional hotspots to get your meat fix—places that will deliciously feed your carnivore cravings.
Braza Express
At Braza Express—the little brother to Braza Grill Brazilian Steakhouse—you'll find economical meals, which include side dishes, salads and such, all for under $10. Meat options include top sirloin, beef tenderloin, Brazilian-style sausage, barbecued chicken and delicious beef stroganoff. It's bargain dining for meat aficionados. 147 S. Main, Salt Lake City, 801-359-8009, BrazaExpress.net
Caputo's Market & Deli
In a time when neighborhood butchers are harder to find than an Indian-head penny, thank goodness for Frody Volgger, who heads Caputo's Old World Butcher Shop, hand-cutting sustainably raised beef, pork and lamb, along with making his own artisanal sausages, hams and other tasty products. His speck is rightfully renowned, as is his delicious jagwurst and weisswurst. 314 W. Broadway, Salt Lake City, 801-531-8669, CaputosDeli.com
Kaiser's Barbeque & General Store
There are barbecue joints in town that probably get more accolades, but for authentic, Texas-style barbecue, Kaiser's is the place. This somewhat peculiar barbecue joint/gift shop (selling metal sculptures and lawn decor) cooks up the best brisket around, along with pulled pork, spare ribs, barbecued chicken and really good sides, to boot. Buy it by the plate or by the pound. 962 S. 300 West, Salt Lake City, 801-355-0499, SaltLakeBBQ.com
Kitty Pappas Steak House
This is definitely not your ritzy "gentleman's" steakhouse with a dusty wine cellar. Kitty and her family have been slinging steaks now for 65 years. This cash-only operation is a one-of-a-kind, thanks in part to colorful Crazy George—Kitty's son, waiter and all-around oddball (he's the first to say so)—who makes dining at Kitty Pappas a unique experience. Rule No. 1: Don't ask for A1 Sauce. Oh, along with tasty, inexpensive steaks, Kitty's also sports what has to be the world's most eclectic selection of jukebox tunes, thanks again to Crazy George. 2300 Highway 89, Woods Cross, 801-295-9981
Moochie's Meatballs & More
Perhaps you're from back East, and you've been longing for the meatball sandwiches and Philly cheesesteaks you remember so fondly from the City of Brotherly Love, the Big Apple or other East Coast locales. Well, Moochie's has both: Their cheesesteaks and meatball sandwiches are so good they prompted Diners, Drive-Ins & Dives' Guy Fieri to proclaim: "Moochies is money!" 232 E. 800 South, Salt Lake City, 801-596-1350, MoochiesMeatballs.com
Naked Fish Japanese Bistro
This marvelous Asian eatery and sushi bar serves up genuine Satsuma A5 Japanese Wagyu beef, the highest grade awarded. It even comes with official certification and the cow's noseprint, similar to a newborn baby's footprint. If you ever find a more beautiful cut of beef, we want to know about it. 67 W. 100 South, Salt Lake City, 801-595-8888, NakedFishBistro.com
Aristo's Greek Restaurant & Cafe
At Aristo's Greek Restaurant & Cafe, you can certainly get your gyro and souvlaki fix. But, Aristo's offers so much more, like an excellent grilled rib-eye, charbroiled New Zealand lamb chops—marinated with oregano, garlic and lemon—and the falling-off-the-bone braised lamb shank. Yes, Aristo Boutsikakis knows his lamb. In summer, be sure to get in on the barbecue nights at Aristo's, when they grill fresh lamb and other goodies out on the patio. 224 S. 1300 East, Salt Lake City, 801-581-0888, AristosRestaurant.com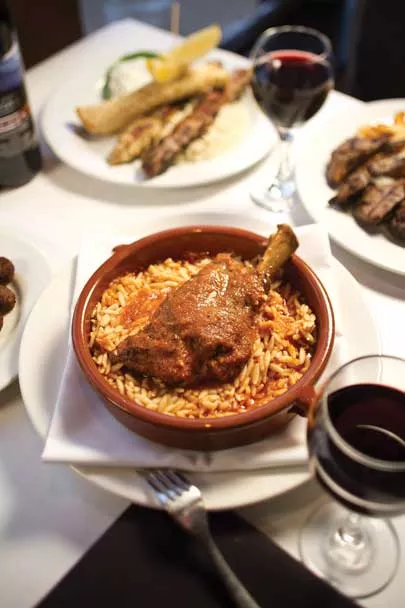 Rodizio Grill
A (virtually) endless parade of grilled, broiled and roasted meats: that's what this Brazilian-style churrascaria is all about. Servers patrol the dining room with skewers chock-full of everything from chicken hearts (coraçao) and pork loin (lombo) to Brazilian sausage (linguiça) and ultra-tender and juicy fraldinha (bottom sirloin). And even if you eschew meat, there's a fantastic all-you-can-eat hot & cold buffet and salad bar that'll please even the staunchest vegetarian. Trolley Square, 602 E. 500 East, Salt Lake City, 801-220-0500, RodizioGrill.com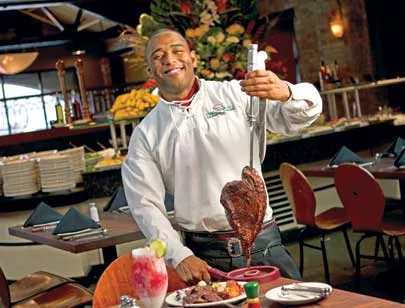 Snider Bros. Meats
Meat markets and butcher shops are becoming more and more rare these days. Thank heaven, then, for Snider Bros. Meats, which has been providing Utahns with USDA Choice beef, lamb, veal, poultry, pork and deli foods since 1938. So, the next time you're looking for fresh cut-to-order steaks, roasts, ground meats and such, Snider Bros. has your number. They'll also make you a terrific hoagie or other custom sammich. 6245 Highland Drive, Salt Lake City, 801-272-6469, SniderBrosMeats.com
Tonyburger
There are plenty of places to get your lips around a good burger in Salt Lake City, but none will please you more than a Tonyburger. The burger patties are hand-formed each day, never frozen, using a secret blend of beef cuts, grilled to perfection and served on a soft bun. And, along with a burger that's the bomb, Tonyburger also fries up some of the best french fries in town: fresh-cut, skin-on and double-cooked. Add a housemade milkshake and you've got the ultimate combo meal. 613 E. 400 South, Salt Lake City, 801-419-0531; 1917 W. 1800 North, Clinton, 801-825-6544, TonyBurgers.com
USE YOUR NOODLE
Pasta is surely one of the all-time greatest comfort foods. After all, who doesn't love thick pappardelle noodles coated with rich sauce, heavenly housemade gnocchi, savory Chinese potstickers or a big steaming bowl of pho teeming with rice noodles? Here are some great places to nosh on noodles of every description.
La-Cai Noodle House
The Vietnamese noodle specialties at La-Cai are not to be missed. Of course, everyone loves their pho—big, steaming bowls of beef broth with tender rice noodles and various beef choices or chicken. But just as tasty are the various Vietnamese vermicelli noodle dishes, especially the vermicelli with charbroiled pork. 961 S. State, Salt Lake City, 801-322-3590, LaCaiNoodleHouse.com
Cafe Madrid
In Northern Spain, fideuà (also called fideo and fideu) is a close cousin of paella, a one-pan dish made with all sorts of different ingredients, but the essential one is thin, short pasta noodles similar to vermicelli. At Cafe Madrid, the fideuà is fabulous: clams, mussels, shrimp, squid and peas bathed in a saffron-scented seafood broth. 5244 S. Highland Drive, Salt Lake City, 801-273-0837, CafeMadrid.net
Caffe Molise
Orecchiette is small, ear-shaped pasta that's popular in Southern Italy's Puglia region. At Caffe Molise, you'll find a classic orecchiette preparation: orecchiette al salsiccia. It's perfectly cooked al dente orecchiette pasta tossed with spicy Italian sausage, wild mushrooms, onions and tomatoes. It's terrific, but then so is the irresistible lasagna. Try 'em both. 55 W. 100 South, Salt Lake City, 801-364-8833, CaffeMolise.com
Cucina Vanina
If I were stranded on a desert island with only one type of pasta, I would want it to be gnocchi, the plump little Italian-style dumplings typically made with a mixture of potatoes and wheat flour. Well, Thursday is gnocchi day at Cucina Vanina, when owner/chef Vanina Meystre-Pirollo serves up handmade gnocchi with a heavy helping of love, not to mention luscious sauces. 1844 E. Fort Union Blvd., Cottonwood Heights, 801-938-9706, CucinaVanina.com
Dojo Asian Inspired Cuisine & Lounge
There are loads of reasons to love Dojo: great sushi, excellent cocktails, wine and beer, friendly service and much more, including a big, bodacious bowl of ramen noodles. Dojo's ramen noodles are parked in a delicious traditional ramen broth and topped with boiled egg, kamaboko (Japanese fish cake), bean sprouts, seaweed, scallions and a choice of pork belly or pork shoulder. Lemme tell you, that is some ragin' ramen! 423 W. Broadway, Salt Lake City, 801-328-3333, DojoSLC.com
Lugano
For many years (thanks for not taking it off the menu), one of my favorite pasta dishes has been Lugano chef/owner Greg Neville's unique combination of spaghetti tossed with pancetta, cauliflower, Napa cabbage, olive oil, ricotta salata and a few red chili flakes to give it some zing. It's a hearty, delectable pasta dish that I enjoy again and again, and so will you. 3364 S. 2300 East, Salt Lake City, 801-412-9994, LuganoRestaurant.com
Italian Village
Italian Village is somewhat of a throwback Italian eatery, with classic rib-sticking Italian-American fare like veal parmesan, lasagna, tortellini, pizza, chicken cacciatore and my favorite: manicotti. Pasta sheets are rolled and stuffed with a mixture of cheeses and spices and topped with a choice of housemade marinara or Alfredo sauce. Kids absolutely adore the Alfredo version, and so do I. 5370 S. 900 East, Salt Lake City, 801-266-4182, ItalianVillageSLC.com
J. Wong's Asian Bistro
J. Wong's is a gorgeous Asian eatery with stellar service and impeccable cuisine. But no meal here is quite complete without the delicious Chinese-style potstickers: plump pork-stuffed dumplings served with a delightful dipping sauce. Or, try the traditional, almost translucent har gow dumplings and Shanghai-style siu loung bao dumplings. Better yet, order all three and share them for a delectable dumpling tasting. 163 W. 200 South, Salt Lake City, 801-350-0888, JWongUtah.com
Log Haven
One of the more creative pasta preparations I've come across is Chef Dave Jones' smoked duck with hand-cut pappardelle. This is a spicy mélange of house-smoked duck pieces tossed in a brothy sauce made with poblano chiles, Beehive habanero cheddar cheese, chipotle butter and, the best part: serrano-chile-infused pappardelle. 6451 E. Millcreek Canyon Road, Salt Lake City, 801-272-8255, Log-Haven.com
Siegfried's Delicatessen
Späetzle are small noodles that are sort of like tiny dumplings, popular in southern Germany, Austria, Switzerland and Alsace. They are terrific tossed simply with butter or cheese, or bathed in rich brown gravy, which is how they do it at Siegfried's, where they make ginormous batches of housemade späetzle several times each day. 20 W. 200 South, Salt Lake City, 801-355-3891