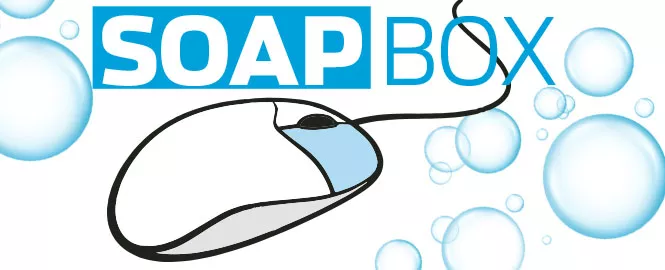 Cover story, March 1, "Local Music Issue"
Great cover!
@phillytoslc
Via Instagram
Love it! Steven Vargo: Maybe you should be in front of the camera more often.
@buberty
Via Instagram
Oh man, that looks painful.
@roba_fett
Via Instagram
Opinion, March 1, "On Trump's Parade"
Let's face it, if Trump pulls off his parade charade it will be to feed his insatiable ego, verified as the guard marches by saluting him—This was my idea, This is my army, I'm in control. I would add "Trump could improve their circumstances,"i.e. learn to correctly salute the Marine Sergeant at Marine Helicopter One. Trump's hand and fingers are cupped and separated, and never touch his forehead. Make visual contact with the Sergeant, not the ground! Salute the Sergeant crisply prior or abreast of the Marine, not after passing by. McMaster, Mattis and Kelly should drill Trump on the basics of military respectfulness. Bush and Obama had crisp, sharp and timely salutes down. How sad and disrespectful.
Jan Zimmermann
Via CW comments
Straight Dope, March 1, "The Road Salt Conundrum"
Interesting article about "road salt," but it doesn't apply here in the northern tier of Utah counties. Salt taken from the evap ponds around the Great Salt Lake goes on our roads, washes off into the storm drains (what the vegetation and animals don't slurp up), storm drains empty into the northern creeks and rivers which flow into the GSL, closing the cycle. No problem!
Tod Young
Via cityweekly.net
News, March 1, "Hare Apparent"
[Rabbits] can't be a staple of a diet, though: not enough fat to live on. (Rabbit and squirrel share these issues) but occasionally in conjunction with other foods/meats? Sure.
Amanda Green
Via Facebook
You know what else is naturally cholesterol free, low in fat, high in calcium and phosphorus? Plants. Fruits and vegetables and legumes and grains. Plants are what you're looking for, not God damn bunnies.
Jori Schmalz
Via Facebook
What kind of asshole eats rabbits? If you truly care about sustainability, you wouldn't be eating animals.
Joe Snow
Via Facebook
People have weird arbitrary hang ups about what they eat. I'm a vegetarian, so I'm no exception. But if you're going to eat meat, it's strange that you would eat some animals and scoff at eating others when there isn't a rational reason behind it.
Andrew Latta
Via Facebook
Sad and gross. Did City Weekly turn into the bankrupt Venezuelan government that they are going to start telling people to eat rabbits? "Hey, ducks and geese are delicious and free at parks everywhere, so why not?"
Brandon Eberhard
Via Facebook
Swan tastes a bit off.
Casey Reid
Via Facebook
Movie review, Red Sparrow
Didn't feel like I was punched in the mouth, but got awfully bored.
@MUGGER1955
Via Twitter
Jennifer Lawrence just needs to go away.
Jennifer Guest Billingsley
Via Facebook
Blog post, March 5, "Local rappers break down Utah Legislature's rap video"
They rap better than they legislate.
Bryan Stenquist
Via Facebook
Fascist hip-hop.
Ryan Northrop
Via Facebook
Blog post, March 7, "Guv shares thoughts on the proposed Donald J. Trump Utah National Parks Hwy."
So my question for Mr. Herbert ... Once he gets impeached, would we rename it? Or just keep the embarrassing brown nosing out there for a little history?
Kimm Lofthouse
Via Facebook
It will be the road that never gets completed and files for bankruptcy.
Cody Earnshaw
Via Facebook
Are Utah lawmakers on dope?
Jeff Ross
Via Facebook
We need to show our loyalty as a state and show our true colors to the world—for better and for worse. Consequences of our premature zest be damned.
Benjamin Novak
Via Facebook
I might be prepared to honor a deceased Donald Trump by naming a highway after him. In that case, the sooner, the better.
Dustin Clark
Via Facebook
How about "Pussy Grabbing Blvd."? Much more deserving.
Susan Green
Via Facebook
What's up With Utah Politicians?
Dear editor: Last November, three of us, all Utah residents, visited Rep. Chris Stewart's office to ask that he withdraw his co-sponsorship of the Israel Anti-Boycott Act. This bill criminalizes Americans who voice support for international campaigns to boycott businesses profiting from Israel's illegal military occupation of Palestinian territories.
Boycotts have been used to promote human rights for decades, including the Montgomery Bus Boycott and the boycott of businesses supporting the apartheid regime in South Africa. In 1982, the Supreme Court upheld boycotts as constitutionally protected political speech.
Over three months after our visit and after three email reminders, Rep. Stewart has yet to respond to our concerns about his legislation's stifling of Americans' constitutional right to free speech. All of Utah's congressional delegates have co-sponsored the Israel Anti-Boycott Act except Sen. Lee (to his credit). What's up with Utah politicians? Apparently their priority is supporting Israel's military oppression of the Palestinian people over protecting our most fundamental American right—freedom of speech.
Bob Brister,
Salt Lake City

We encourage you to join the conversation. Sound off across our social media channels as well as on this here website for a chance to be featured in this section.