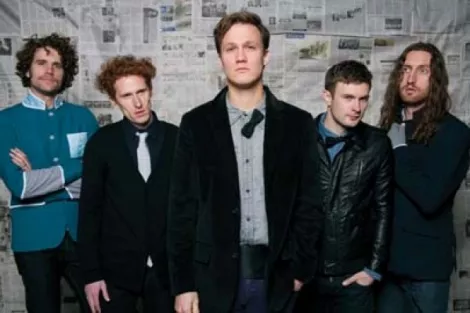 Whether it was on Twitter or Facebook, in the newspaper or just talking to your neighbor, chances are the name Fictionist has come up at some point over the past several months.
The Utah County experimental space-rock band made it to the top four hopefuls in Rolling Stone magazine's "You Choose the Cover" contest. To many people's dismay—and to the band's own shock—the guys were eliminated before making it to the final round.
"It came as a surprise, really," said Fictionist frontman Stuart Maxfield. "We thought we were going to make it, for sure."
The contest began when Rolling Stone editors chose 16 unsigned bands from across the country to compete for a spot on the cover of the August 18 issue, with the winners in each round chosen by fans voting online.
The top eight got to record in a studio with a well-known producer, and the final four got to perform in front of editors and music-label executives. Fictionist received a phone call last week telling them they had been eliminated from the contest before the final round.
"I know as far as musical style goes, we were probably one of the more diverse bands," Maxfield said. "And, in a way, I think that can worry the industry, the people who want to invest in art. They want to go with what's tried and sure rather than take a risk. But at the end of the day, I think the excitement is adding to the idea of art."
The guys in Fictionist still have a lot to look forward to. Right after they got the bad news, they received a call from Atlantic Records, with whom they formed connections while touring extensively. The label said they have some things to discuss in the next couple of weeks.
As Fictionist got closer to potentially winning, the local community rallied to try and make it happen, through word of mouth, retweeting the band's posts or "liking" the band on Facebook.
"A lot of people kind of rallied around the cause and were excited about the idea of us being on the cover and advancing in the competition," Maxfield said. "We played shows, wrote music and released it, but our fans did everything. They were amazing. They were very supportive."
While Fictionist has garnered a lot of name recognition beyond Utah with the help of the contest, the band's biggest impact was probably right here at home, with more than 1,700 people attending a free rooftop concert held in Provo earlier this month.
"Fictionist's live shows are interesting because it's obvious they're not just up there to play their songs," said Alex Powelson, BYU student and intern at Muse Music Cafe in Provo. "They have a lot of fun, which can sometimes mean extremely long and over-the-top guitar solos, or just jamming with each other onstage. I like that you can tell these guys are really enjoying themselves, and I think it makes the show more exciting for everyone."
After all that has happened, Maxfield said he is most excited to get back to writing.
"I'm honestly looking forward to not being so tied up in all the logistical garbage," he said. "The last two weeks, I haven't been able to write at all just because of going this place and that place. And today, I was able to write a song and a half and that just feels really good to me."
Overall, Maxfield said the contest was a good experience.
"Contests are funny, especially when it comes to art," he said. "You feel sort of scrutinized by the public eye, and in a way, I told myself I would never play a 'battle of the bands' again. This was the biggest battle of the bands that you could play in, so I have mixed feelings about it. Sometimes I would be excited, and sometimes I would be terrified. But all in all, it was a very good experience."