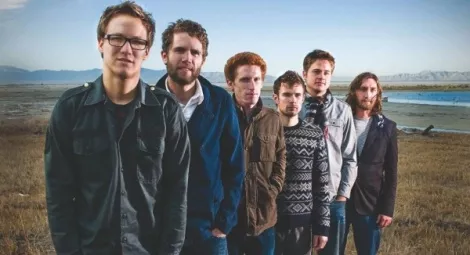 Friday 4.10
FICTIONIST
On their Website Utah's Fictionist observe "Life's meaning finds form as we rearrange this ancient noise," though judging by the local sextet's new album Invisible Hand "ancient noise" might refer to a revolution in sound dating back just three or four decades. Fictionist wrap their record in psychedelic interludes containing little of the dark, droning vibes driving works by contemporary psych-rockers The Warlocks and The Black Angels. Invisible Hand rather leans toward the sunnier, groovier end of the spectrum with soaring guitar solos topping a pile of tasty instrumental glitter—strings and moog, loops, handclaps and the occasional toy—creating an atmosphere mixed with late '60s/early '70s AM radio and brooding British rock (Travis comes to mind). Besides their music, Fictionist are fast gaining a reputation for being utmost professionals celebrated by festival organizers and audience members alike. Experience them in an intimate setting before they start selling out arenas. Post Theater, 245 S. Fort Douglas Blvd., Building 636, 7:30 p.m. All-ages. Info: 801-310-1993
SARAH SAMPLE
Sarah Sample might reside in Seattle but her heart and—judging by the shout-out to Provo Mexican eatery Diego's on her new EP Born to Fly—taste for life's little pleasures belong to Utah. The incredibly sweet folk goddess has spent the past several years refining her craft in several states, soaking up all the lessons and experience that make Born to Fly her best effort to date. Sample's raw, graceful voice is stronger and more self-assured, enhancing lyrical content that cuts to the bone, most notably on the gut-wrenching "Mercy Me." The album is further strengthened by producer Scott Wiley (who also worked on the new Fictionist LP) and contributors including Paul Jacobsen, Ryan Tanner and Pat Campbell, among other all-star locals, many of whom might make an appearance at one of her Utah shows. This week, Sample will appear at a series of intimate house concerts open to the public including Friday's performance in the East Millcreek vicinity. For more details and to confirm a seat: rsvp@roomwithaviewconcerts.com
Saturday 4.11
THE HOLD STEADY, THE WAR ON DRUGS
More than a few Utah music lovers have been wringing their hands in anticipation of tonight's long-awaited Hold Steady gig, but don't sleep through opening act The War on Drugs. Like their Minneapolis tourmates, the Philly rockers come across as working-class bards whose inspired lyrical content is worthy of adding to the great American literary canon alongside works by fellow slice-of-life scribes Dylan and O'Hara. You might have heard KRCL 90.9 play "Arms Like Boulders," a gritty rambling narrative-driven folk song off the seven-piece group's latest release Wagonwheel Blues, an album brimming with similarly appealing anthems. So arrive early and grab a beer. It's going to be one hell of a night. The Urban Lounge, 241 S. 500 East, 10 p.m.
Wednesday 4.15PAPARAZZI
Unlike camera-toting celeb stalkers, Paparazzi doesn't actively pursue the bold and the beautiful to hit up his party
—
they come to him. In droves. The young yet seasoned nu-electro DJ makes friends all over the place with his genuinely friendly demeanor and inspired sets of dance music slicing, splicing, stretching and repeating bits and pieces of everyone from Gwen Stefani to Real McCoy, giving new life to hits you forgot you loved and infusing his own genius into the mix. Dude even makes Shwayze sound good on his "Buzzin' Remix"
—
no easy feat.
W Lounge, 358 S. West Temple, 9 p.m.
LUPE FIASCO, GIRL TALK
Organizers of this year's Grand Kerfuffle kept a tight lid on the annual spring festival, revealing to students at the last minute a lineup worth shouting to the rafters. Lupe Fiasco and Girl Talk will headline the annual spring festival bringing their respective Grammy Award-nominated hip-hop and laptop-generated mash-ups to the University of Utah for one hell of a cathartic party. Even those who haven't been eyeball deep in final exams could use a steamy break from the extended winter doldrums (non-students have to pay—just a little—to get in). University of Utah, Olpin Union, 200 S. Central Campus Dr., 6 p.m. All-ages. Tickets: SmithsTix.com
Other Shows This Week
GLASVEGAS, VON IVA
There really wasn't just one buzz band circulating this year's South by Southwest gossip circuit, but Scotland's Glasvegas appeared on a good number of participants' show schedules and emerged as No. 1 out of 10 top SXSW live acts. Glasvegas are epic and raw, embracing the drama with visible pleasure. It's no wonder U2 hand-picked them for a few slots on their latest tour—and you get to see them without paying for Bono! Also, we've said it before and we'll say it again, Von Iva slays live. Out of control good. Friday 4.10 @ Avalon Theater
THE PRESETS
Australian duo The Presets produce pulsating, haunting and sexy electronic jams that restore meaning to the term "straight banging." Tracks off both Beams (2005) and Apocalypso (2008) inspire heavy petting and masochistic dance moves—body slamming, fist pumping, T-shirt ripping, etc. Julian Hamilton's androgynous robotic delivery enhances the overall feeling of being trapped in an episode of Sprockets and loving every second of it. Saturday 4.11 @ Murray Theater
TRAVIS
If you haven't listened to Travis since the U.K. band's initial days in the spotlight, then their new album Ode to J. Smith might sound downright shocking. It's not like they swapped sensitive, melancholy melodies for doom metal dirges, but the majority of Smith is a far cry from "Sing" with one track dishing out end-days guitar and chanting. Don't worry, though. Fran Heely's voice still sounds like a hundred consecutive rainy days. Tuesday 4.14 @ The Depot
JOHN NEMETH
Listening to John Nemeth belt one out, it's hard to believe he's a white boy from Boise. Now based in San Francisco, the smooth operator is hands down one of the most powerful, charismatic blues performers producing an insatiable blend of contemporary and traditional blues in the style of legendary crooners Sam Cooke and Solomon Burke. And at just 33-years-young, it seems he's just getting started. Wednesday 4.15 @ Pat's BBQ
Coming Up
Pennywise, Pepper (In the Venue, April 16); Broke City (Velour, April 17); Hell's Belles (Teazers, April 17; Bar Deluxe, April 18); Zion I (Urban Lounge, April 20); Franz Ferdinand (Great Saltair, April 21); Toadies (The Depot, April 21); Black Lips (Urban Lounge, April 22); The Chop Tops (Burt's Tiki Lounge, April 22); The Thermals (Urban Lounge, April 23); Get Wild Live feat. Tommy Lee (Great Saltair, April 24); Michelle Shocked (The State Room, April 24); The Horrorpops (Avalon, April 24)