Thursday 1.28
FICTIONIST CD RELEASE
Fictionist
's
Invisible Hand
was one of the best-produced albums of 2009—local or otherwise. The Utah County band formerly known as Good Morning Maxfield worked with Scott Wiley on the flawless record, and team up with him again for the stunning follow-up,
Lasting Echo
. The slightly more upbeat work retains the group's signature grip on sweeping, romantic classic rock brought to epic heights by tight instrumentaion and Stuart Maxfield's voice. On
Lasting Echo
he discovers his inner wail and lets it loose at unbelievably spot-on moments (see: closing remarks on "Sunshine of a Shell"). Good stuff. Fictionist are legit. Catch them before they skip town to pursue the bright lights.
Kilby Court, 741 S. 330 West, 7 p.m. All-ages (Also Friday at Velour)
ULTIMATE SUNDANCE PARTY 2010
Arguably the best place to catch celebrities during Sundance is Downstairs, if only because the owner is a celebrity himself. Danny Masterson is best known for his role in That '70s Show, but since taking a hands-on approach to his Park City nightclub, the actor is perhaps best recognized around these parts as DJ Mom Jeans. Masterson will man the turntables on Jan. 30 as part of a festival closing party. Tonight, get in on the action with featured acts Curtis "50 Cent" Jackson and Kid Sister, plus host/badass actor Danny Trejo (Runaway Train! Machete!). Downstairs, 625 Main, Park City, 9 p.m.
SOUND TRACKS: MUSIC WITHOUT BORDERS
Occasionally, it's worth diverting from the livemusic path here in Picks to direct readers to noteworthy happenings, online and on television. The new PBS series, Sound Tracks: Music Without Borders, is one such "event." Anyone who appreciates substantial historical/cultural context behind the music should dig this primetime show debuting tonight on KUED. The one-hour pilot kicks off with a piece by Alexis Bloom on Vladmir Putin's "theme song," a pulsating work of electronic pop that, while penned on a bet, became a ridiculously catchy anthem for post-USSR Russia. Putin's critics denounce the track as old-school propaganda, but its composer argues the tune is more about "female tragedy" than political power: "I want a man like Putin, full of strength … who won't make me sad … who won't run away." Basically, the narrator wants a partner who isn't a loser? Decide for yourself by watching Sound Tracks. Other segments focus on Fela Kuti and Sacha Baron Cohen's brother Erran Baron Cohen, who was commissioned to write a real anthem for Kazakhstan. KUED 7, 7 p.m.
Friday 1.29
JACKIE GREENE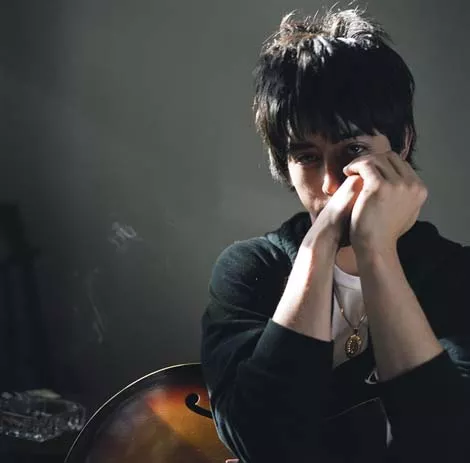 Jackie Greene
is 100 percent focused on making music. All of the other things that come with the career are secondary—including the crowd. "Sometimes the performance ends at the stage and you don't care what happens to the audience," he says of his tendency to sometimes think about the ball game while playing a show. Greene, who released his debut LP at age 21, recently drew an analogy between baseball and music hinged largely on both pursuits being rooted in failure. "You have to write a bunch of bad songs before you get a good one." But, it seems Greene never produces a bad tune. An impressive singer/multi-instrumentalist, he spent the better part of the '00s as a member of Phil Lesh and Friends. His solo material is less jam-band oriented, and more classic rock & roll (he worked with Elvis Costello's rhythm section on American Myth). Now 28, his latest release
Giving Up the Ghost
indicates he's just getting started on a timeless legacy. All that tunnel-vision focus is paying off.
The State Room, 638 S. State, 8 p.m. Tickets: TheStateRoomSLC.com



Sunday 1.31



ACOUSTIC ALL-STARS
A diverse lineup of Salt Lake City musicians will converge upon the Urban Lounge to perform three-song acoustic sets. Featured artists include Andrew Shaw (The Platte, Calico), Lindsey Heath, Ryan Fedor (Tolchock Trio, ih8533S), Tim Myers, Sean Jones, Ashlee House, Seth Pulver, Tim Myers, Jason Rabb and Andrew Sato. Scott Selfridge will be on hand to capture the evening on record, but with a $1 cover and specially priced drinks, why not experience it in real time?
Kilby Court, 241 S. 500 East, 9 p.m.


Wednesday 2.3



CWMA KICK-OFF PARTY
For the past several years, we here at
City Weekly
have tried out different approaches to highlight our local music community. It's not as easy as it sounds, especially since more and more awesome bands continue to pop up, making it difficult to narrow down which acts to select for performance showcases. Thanks to fellow media types and record store owners, we managed to pick a solid Top 30 for 2010. And since DJs make up such a huge component of our scene, it seemed overdue to include them in the fanfare. Readers voted online, narrowing down 10 nominees to five artists—Loki, Juggy, Erockalpyze, Flash N Flare and Chase 1-2—who will demonstrate their skills in a spin-off at tonight's
City Weekly Music Awards
opening party. See you there.
W Lounge, 358 S. West Temple, 9 p.m.



Coming Up


Lyrics Born
(Star Bar, Feb. 4);
CWMA Showcases
(A Bar Named Sue, Burt's Tiki Lounge & Velour, Feb. 5);
CWMA Showcases
(Club Vegas; The State Room, Urban Lounge, Feb. 6);
P.O.S, Desssa, Grieves
(Kilby Court, Feb. 6; Urban Lounge, Feb. 7);
Holly Hoffman
(Salt Lake Sheraton, Feb. 8);
Jack's Mannequin
(In the Venue, Feb. 9);
The Entrance Band
(Urban Lounge, Feb. 9)