Utah found its way into national headlines for better or worse in 2015, depending on your view. Its elected leaders set the table for our national prominence to continue in the new year—proving that the Beehive State is often at the forefront, or tail end, of important news.
What follows is a rundown of 15 stories City Weekly reporters thought led the pack. Some are well known, including the U.S. Supreme Court's ruling on same-sex marriage equality—a groundbreaking decision that traced some key roots to the toppling in 2013 of Utah's gay marriage ban.
Salt Lake City picked a new mayor—its first openly gay mayor—to lead the city for the next four years. Meanwhile Salt Lake County Mayor Ben McAdams leapt in front of news cameras with other Democratic leaders to allege that his campaign manager and former Salt Lake City state representative, Justin Miller, had embezzled tens of thousands of campaign dollars.
Utah's wide-open spaces—around 30 million acres of largely pristine, widely beloved and federally owned public lands—continued to be at the center of a dispute in 2015. And in 2016, Utah's fight could reach new heights with the Legislature poised to direct state attorneys to sue, an action that will cost taxpayers an estimated $14 million and will have drastic consequences for the state's most renowned treasures: its open spaces.
So enjoy City Weekly's recap, and prepare yourselves for a new year sure to be filled with new twists and turns—much of which will be news.
Mayor's Race: Biskupski vs. BeckerOnly Salt Lake City Mayor-elect Jackie Biskupski knows exactly how difficult it was to take on a popular two-term incumbent in the Salt Lake City mayor's race, but it is not outrageous to say that Biskupski made it look easy.
In the August primary election, Biskupski not only separated herself from the field of three other candidates, but she obliterated Becker, beating him by 15 percentage points. By the time the general election rolled around in November, Becker had clearly narrowed the lead, but he could not overcome the deficit, losing by just over 3 percent. Much of what Biskupski has to offer remains to be seen. Her first stroke of the mayor-elect pen was to ask for the resignations of 34 of the city's top appointed department heads, a sign that she is at least looking to start anew in every department from the streets division to the City Attorney's Office. If nothing else, though, the election of Biskupski is notable on two large fronts: She became the city's first openly gay mayor, a barrier she crossed more than a decade ago when she became the state's first openly gay lawmaker. And secondly, Biskupski's campaign spent about $200,000 less than Becker, a triumph in this modern political era where the democratic system, like items for sale on eBay, are very often won by the biggest spender. (Colby Frazier)
The Sage-Grouse Decision
Utah continued to break from the herd in September when it blasted the U.S. Department of Interior for announcing a land-use plan to protect the depleted populations of sage grouse across the West. Governors from Colorado, Wyoming, Montana and Nevada were all on hand on Sept. 22 to applaud the deal that would keep the bird off of the endangered species list. However, Utah leaders, including Gov. Gary Herbert, balked, saying Utah, not the feds, should continue to manage sage-grouse habitat. A protection plan from the feds was always on the docket, but the question on many Utah land managers' minds was how far would the feds go to protect the species? The answer is to protect 3.3 million acres of key sage-grouse habitat from surface disturbances—up from the one-half-mile radius surrounding the birds' nesting areas that was previously protected. While these expanded protection areas will undoubtedly give some developers and energy drillers heartburn, Utah will continue to be a player in dictating how best to protect the birds' habitat on state and private land—a luxury that would have been denied had the bird won endangered status. At the end of the day, the sage-grouse ruling was a lot like a football coach (the feds) giving his quarterback an "attaboy" for throwing for a first down, and the quarterback (Gov. Herbert) turning around and flipping the bird. (CF)
Mormon Policy on How to Deal With Children of Same-Sex Couples
Never one to shy away from bad publicity, in November, The Church of Jesus Christ of Latter-day Saints once again found itself in the cross-hairs of equal rights activists the world over for its policy on excluding the children of same-sex couples from church activities. The church's policy stated that children of gay parents would not be allowed to participate in church activities, or receive any of its benefits in the afterlife, until they reached the age of 18, at which time, they would have to renounce their parents' lifestyle and appeal to top church brass to join the church. Outrage over the policy stretched far and wide, but church officials stood firm, saying the new policy was needed in the face of the U.S. Supreme Court's decision to legalize same-sex marriage. The church did make one clarification, stating that the new policy would impact only those children whose primary home was with a set of gay parents. While many deemed the church's new policy hateful, some Mormons simply left the church, much as anyone would leave a house party if the host refused to allow anyone with a tan line to eat the chips and salsa. (CF)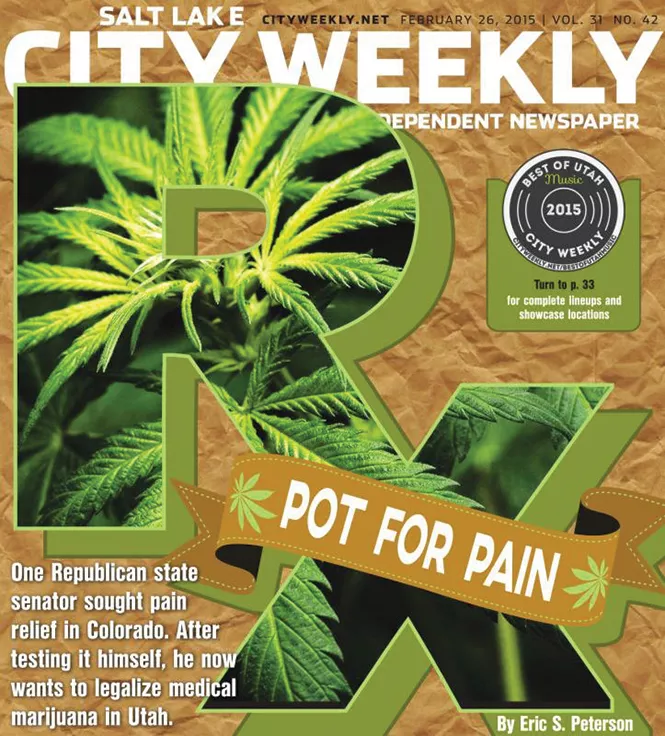 Medical Marijuana Bill Introduced
In a state where the sale of alcohol is still regulated as tight as the disposal of chemical weapons in the west desert, it was with some shock in 2015 that one of the more conservative members of the Legislature, Sen. Mark Madsen, R-Saratoga Springs, introduced a bill that would have permitted the sale of medical marijuana. Madsen, a grandson of the late Church of Jesus Christ of Latter-day Saints prophet Ezra Taft Benson, and a longtime sufferer of back pain, drove to Colorado in early 2015 and got high. He returned to Zion much the same man he was before—hardly the scumbag his teachers, D.A.R.E. program officials and his church promised he would become if he partook. The experience prompted Madsen to take a giant leap toward legalized medical marijuana, and it actually made some waves. The bill cleared its committee on a 3-2 vote, but failed on the Senate floor 14-15, a pretty narrow margin for the virgin shot at pot. If 2015 is a foreshadowing of 2016, then the Legislature will have weed on its mind come mid-January. (CF)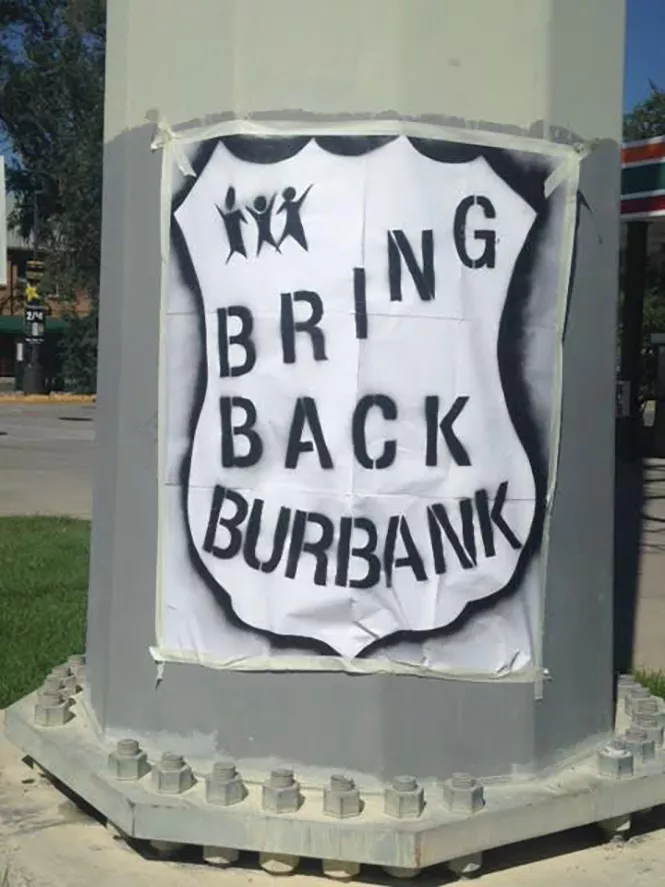 Police Chief Asked to Step DownTwo quite popular, and possibly the biggest big-shots in Salt Lake City, are no longer around, and their departures from the scene were interwoven in one of the larger political shakeups of the year. In June, Salt Lake City Mayor Ralph Becker asked his longtime police chief, Chris Burbank, to resign for his handling of sexual harassment complaints against one of the department's deputy chiefs. The claims by the three women were substantiated, and Burbank placed the deputy chief, Rick Findlay, on paid administrative leave until he could retire with benefits. The exact nature of what transpired next is fuzzy. Becker insists that he came to loggerheads with his chief over the delicate topic of sexual harassment, and the man needed to be fired. Burbank has said Becker was kept abreast of the handling of the situation, and that the firing was strictly political. No matter what, Burbank's dismissal loomed large over the mayoral campaign that saw Becker, a two-term incumbent, get tossed out in favor of former state legislator Jackie Biskupski. (CF)
Marriage Equality & Antidiscrimination
In June, the U.S. Supreme Court struck down bans on same-sex marriage across the country, putting an end to Utah's 2004 law prohibiting same-sex marriage. Utah Federal District Judge Robert Shelby's 2013 pro-same-sex marriage ruling spawned multiple lawsuits as some county clerks defied his ruling and denied marriage certificates, and the Utah Department of Health denied adoptions. The year 2015 also saw passage of an LGBT-inclusive antidiscrimination law, touted as a compromise between the LDS Church and LGBT groups. However, some controversy remains as critics say no compromise is needed between religious freedom and civil rights, and that the compromise damages civil rights pushes nationally. (Eric Ethington)
Senate Bill 54 & Voting Rights
The battle over who gets to decide which candidates appear on your ballot raged on this year. While lawmakers intended 2014's Senate Bill 54 as a compromise between the Utah GOP's caucus-convention system and a direct primary, the fight between the Utah GOP and the state still landed in court. Sen. Todd Weiler, R-Woods Cross, has said party boss James Evans is acting like a dictator for his refusal to implement the law, and Evans fired back with accusations that Weiler is trying to scare off donors. In November, a judge sided with the Utah GOP, and struck down a portion of SB54. But now, the state elections office is warning that if the Republican party doesn't allow its candidates to get on to the ballot via signatures, the party could lose its party status, and Republicans could be removed from the ballots. (EE)
Medicaid Expansion Failed
Another year has gone by without help for Utah's uninsured, as lawmakers continued to miss their own self-imposed deadlines to pass some form of Medicaid expansion. The governor's Healthy Utah plan was passed by the state Senate but quickly died in the House. The highly anticipated Utah Access Plus plan, a collaboration of legislative leaders and the governor's office, died in October without even getting a public vote after Republicans met in a behind closed doors and voted it down. Lawmakers could pass a bill this upcoming session to stop the Utahns who are dying without health care (it has been estimated that 360 have died due to legislative inaction), but there are also lobbying efforts in Utah like the Koch Brothers' Americans for Prosperity (AFP) who allegedly attack Republicans who might be in favor of expansion. (EE)
Attacks on Planned Parenthood
After an anti-abortion group released videos supposedly showing Planned Parenthood officials selling off fetal parts, Utah took the lead in going after the women's health provider both nationally and here at home. Rep. Jason Chaffetz, R-Utah, chaired the committee that investigated Planned Parenthood, but he became the subject of national ridicule after he tried to stump Planned Parenthood's president with a chart he got from another anti-abortion group, which didn't actually make sense mathematically. In Utah, despite the videos being thoroughly debunked by every reputable news organization as highly edited and even Rep. Chaffetz admitting Planned Parenthood had done nothing wrong, Gov. Gary Herbert announced he would cut off funding for Planned Parenthood of Utah. Advocates of the group have protested, pointing out that the funding is for STD screenings and educational programs. (EE)
Public Lands Takeover
Utah's quest to take over public lands and put them under the control of state lawmakers marches on. Lawmakers spent $500,000 in June to hire New Orleans-based Davillier Law Group, whose local partners are also current or former oil lobbyists, to determine whether Utah has legal grounds to sue the United States for control of public lands. Despite almost every other legal authority saying such a lawsuit would be hopeless, Davillier delivered a 145-page report to the Legislature in early December saying they think Utah could win. Davillier is also offering, for an estimated $14 million, to represent Utah in the case. (EE)
Hands in the Cookie Jar
As public scandals go, having Democratic Salt Lake County Mayor Ben McAdams call his former campaign manager Justin Miller a thief was one of the juicier debacles to entrance media and public interest in 2015. Miller resigned his seat in the state Legislature and pleaded guilty to a felony charge. Miller's counter-accusations against McAdams targeted the mayor's relationship with Exoro Group, a lobbying and PR company. Though Mayor McAdams' dealings were investigated by both the Davis County Attorney's Office and then the FBI, the allegations were never given a public airing and no charges came to light. Perhaps the public deserves more insight to both of sides of this tale. (Stephen Dark)
Canyon Inn Shuttered
Over the years, City Weekly has sought to get to the bottom of much-trumpeted issues regarding how Cottonwood Heights Mayor Kelvyn Cullimore and his Police Department under Chief Robbie Russo run their town. We followed Canyon Inn owner Jim Stojack as he fought what he alleged were abusive power tactics by the local cops to close down his bar. Then we profiled former cop and politician Beau Babka, who supported Stojack's claims. In addition, we looked at how Cottonwood Heights appeared to undermine GRAMA, effectively thwarting attempts to obtain record requests out of CHPD or the city. Stojack sold the Canyon Inn at the end of 2015 and the drinking establishment is no more. It seems unlikely, though, that the discontent expressed by some in the town over Cottonwood Heights' leadership will abate. (SD)
Prison & Parole Board Changes
The Legislature executed the biggest real estate deal of 2015 by voting to move the Utah State Prison from its longtime home in Draper to a 700-acre site on Salt Lake City's west side. The new 400-bed prison is expected to cost north of $500 million and will free up dirt in Draper that lawmakers hope will turn into a massive, and lucrative, development. Meanwhile, Gov. Gary Herbert brought criminal-reform advocates an early Christmas present recently when he picked Salt Lake Legal Defenders' Office's attorney Denise Porter to replace former Department of Corrections' official Jesse Gallegos on the Board of Pardons. Defense attorneys have long complained about what they argue is the board's prosecutorial mindset; its ranks include three former prosecutors. Advocates hope that Porter, if confirmed by the Utah Senate in January, will bring more balance to the process of evaluating inmates' past and probable future. (SD)
Triumph & Tragedy in Short Creek
On July 4, 2015, George Jessop dusted off his Dutch ovens and brought back to the FLDS Church stronghold of Hildale, Utah, and Colorado City, Ariz., an Independence Day celebration that 5,000 people attended. After years of conflict, a sense of a community seems to be re-emerging. Friends who hadn't seen one another in years reunited over eggs, potatoes, karaoke and fireworks. Yet in September, a tragedy in the form of a flash flood took the lives of three women and 10 children and again brought people together, this time in the harrowing search for survivors. FLDS Church members, ex-members and local residents banded together to comb the banks of the creek. Jessop hopes that the governors of Utah and Arizona will attend next year's July 4 celebration to help cement the slow, and, at times, beautiful changes taking place at Short Creek. (SD)
Harry Reid Ensnared in AG Drama
When Davis County Attorney Troy Rawlings confirmed to City Weekly in November 2015 that he was investigating the second most powerful Democrat in the nation, Sen. Harry Reid, D-Nevada, in connection with corruption charges that enveloped two former Utah attorneys general, the response from Reid's office was to mock Rawlings as an attention-seeker. Rawlings, however, is regarded by many in the law community as a straight-shooter who puts justice ahead of conviction numbers and who will pursue his man or woman, no matter how high-profile. If that weren't enough, he has publicly pilloried the feds for withholding evidence and even led the charge for transparency. While Shurtleff and ex-AG John Swallow were the original targets of corruption investigations, it seems that, if Rawlings' investigation yields evidence, others far more powerful may be joining them in court. (SD)