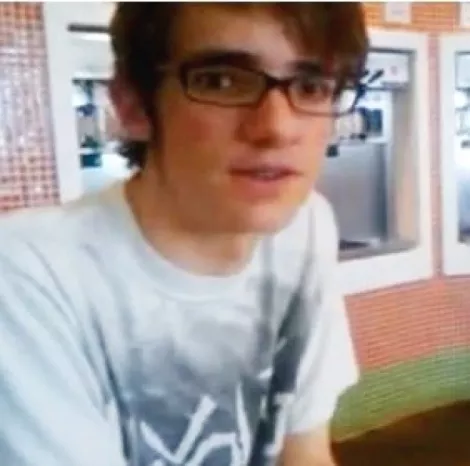 Then barely 15 years old, James Bennion found himself wandering the halls of the EnergySolutions Arena during a Jazz game that he attended with family around Thanksgiving 2009. He finds sports less than thrilling, so he was killing time. Something he can't quite explain compelled him to write the words "Gay Rights Now" on a paper towel and carry it prominently as he continued his stroll. A security guard asked him to stop—which he did—but it didn't stop Bennion's quickly budding passion for gay-rights activism.
The Bountiful resident and South Davis Junior High School ninth grader has struggled since January to build support for a gay-straight alliance club (GSA) at his school. He's had successes—like gathering about 120 student signatures in support of a GSA—and setbacks, especially finding a willing faculty member to advise the group, as district policy requires. He began his mission more or less alone—his Mormon parents are leery of his efforts—but he's found supporters as young as seventh grade joining him in his call for a more peaceful school environment, which he believes would result from a GSA.
"I just think people should be able to go to school without fear of being assaulted," Bennion says. "[Students] shouldn't have to miss days of school for fear of being bullied."
It's not the first junior high GSA in Utah. "Every year, lesbian, gay, bisexual and transgender people are coming out younger and younger," says Utah Pride Center director of youth programs Jude McNeil.
According to the Gay, Lesbian and Straight Education Network (GLSEN), 86 percent of LGBT students in a 2007 national survey complained of being harassed at school and 60 percent said they felt unsafe there. The same survey found that 32 percent of LGBT students had missed a day of school in the past month because of feeling unsafe, compared to only 4 percent of students generally.
Shortly after the incident at the Jazz game, Bennion was at the public library researching student activism. He found It's Your World—If You Don't Like It, Change It, a guide for teenage activism by Mikki Halpin. The final 35 pages are devoted to "promoting tolerance toward lesbian, gay, bisexual and questioning youth." He said he felt "partly responsible" for homophobia on campus because until he learned, about a year earlier, that a friend was a lesbian, he'd considered homosexuality to be "gross and weird."
So, Bennion took action. He sent a text message to many friends saying that he would be gathering signatures the next day in support of forming a GSA. Soon after, he presented the signatures to school administration, who informed Bennion that students wanting to establish a new club must meet particular requirements. For example, as per Davis School District policy (pdf), new clubs can be established only in the first 20 days of a school year and students have to find a willing adviser. He was discouraged. "I just moved on and said I would try it next year at Woods Cross [High School], which I'm planning to do."
Bennion's political activism is not confined to gay rights. While working to bring to his school the We Are Not Your Soldiers Tour, sponsored by anti-war group The World Can't Wait!, he met a high school student from Washington state who later wrote an article about his efforts. Bennion posted the story on Facebook and other Websites and sent it to Utah media and advocacy organizations.
He was re-energized by the response and now hopes to have the GSA almost completely formed in South Davis Junior High by the time next school year starts, even though he won't be there. But there's still one problem: He can't find an adviser. He says seven teachers have already turned him down. One nonteacher employee, Bennion says, expressed some interest in helping, but fears that leading the group could have professional repercussions.
Joel Briscoe, a former teacher at Bountiful High School and former Salt Lake School Board member, says those fears are real. He advised a GSA at Bountiful High for one year and said, "There are prices to be paid for teachers who do this. … It was mentioned to me that it was one reason why I didn't get a position in the district. But, you know, I'd do it again a thousand times over." Briscoe is a Democratic candidate for House District 25 in Salt Lake and Summit counties, facing off against fellow Democrat Anthony Kaye in the June 22 primary. Briscoe initially ran for the Salt Lake City School Board in 1998, he says, in large part to overturn the district's 1996 decision to eliminate all student-run clubs, which was eventually overturned in 2000.
McNeil says the Pride Center is forming a statewide Queer Straight Alliance, a network of GSAs across the state, which will also organize a yearly summit. In 2007, a new state law required students get parental permission before joining clubs, among many other changes. The impact of the bill, McNeil says, has been to spread misinformation. "We actually called every public high school in Utah and just asked, 'Do you have a gay-straight alliance?' … A lot of responses were, 'No, that's illegal now.' "
That's not true, although a school district can remove the possibility of having a GSA if it eliminates all noncurricular clubs—like Salt Lake City did in 1996. That stems from U.S. Supreme Court precedent set in 1990 after a student Christian club complained that they were discriminated against when their public school denied them access to school resources.
South Davis Junior High School Principal Bryon Nielson did not return phone calls requesting comment. (A secretary said his schedule was full.) But Davis School District spokesman Chris Williams said the district's student-club policy applies identically to seventh through 12th graders, so junior high and high school students have equal opportunity to form a GSA. In regards to faculty fears of advising such a group, Williams said, "I would hope that's not the case."
As for Bennion, he will move on to high school before a GSA can be formed in South Davis Junior, but a new crop of kids plan to take over.
"People tell me they'd rather beat up a so-called homo than look at one," says South Davis seventh-grader Bella Eckenrod. "There are these uninformed little kids—they're my age—but they're so closed minded, and I think having a GSA would say just because we grew up here doesn't mean we have to take all the ideas and attitudes that Bountiful has."