The Sundance Film Festival is all about food, drink and film—three favorite pastimes for many of us. Of course, cinema writ large is peppered with dining and drink, and I'm not talking about the overpriced popcorn buckets and sodas at the cineplex. Great food and libation had been a Hollywood co-star (and sometimes the star) for many years before Food TV cashed in on the food-porn craze. From Woman on Top and Mostly Martha to Chocolat and Tortilla Soup, filmmakers continue to satisfy our culinary appetites on the big screen and, often, at big tables.
The grand feast has been a favorite theme of hungry filmmakers since at least 1973, when La Grande Bouffe debuted starring the late Marcello Mastroianni. In the film, four success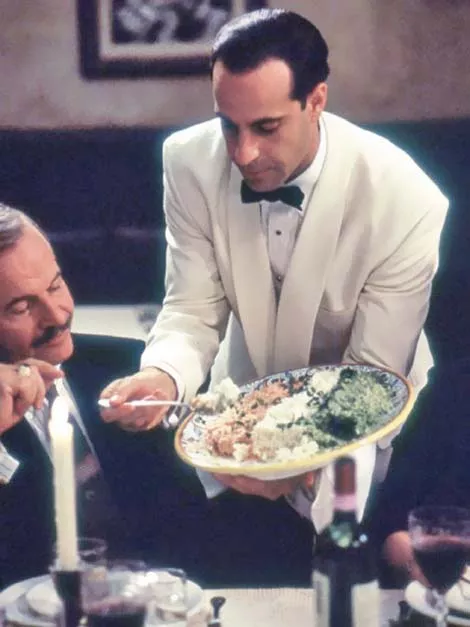 ful-but-alienated middle-age businessmen retire to an Italian villa to eat, drink and screw themselves to death in an orgy of food, wine and sex. What a way to go! The Danish film Babette's Feast (1987) is a ponderous, foreplay-filled food film that leads to an orgiastic meal featuring truffle- and foie gras-stuffed quail, turtle soup, baba au rhum and enough fine vintage wine and Champagne to fill a bathtub, as Babette, a lottery winner, spends her entire winnings on one spectacular meal. The same sort of climax ends Big Night (1996), a film originally screened at Sundance about two immigrant Italian brothers trying to keep an Italian restaurant afloat in 1950s New Jersey. I've written plenty about this movie in the past, which is easily my favorite food film of all time. In addition to wonderful acting by Stanley Tucci and Tony Shalhoub, as well as a killer soundtrack, Big Night is worth seeing if only for the amazing kitchen scenes capturing the production of the immense timbale, the gastronomic highlight of this wonderful ode to food on film.

Food and sensuality are happily entwined in films like Tampopo (1986), Eat Drink Man Woman (1994) and Like Water for Chocolate (1992). In these movies, food is not only a way of expressing creativity and generosity, but love itself. Tampopo, the story of a young woman's attempt to create the perfect bowl of Japanese noodles, is brimming with an appreciation of food that spills over frequently into the bedroom. The scene of lovers sensuously passing a raw egg from mouth to mouth is one of the hottest ever put to film, and who could forget the aphrodisiacal qualities of quail prepared with honey in Like Water for Chocolate?

But when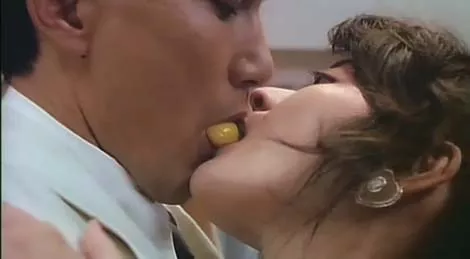 it comes to savory sensuality, 9 1/2 Weeks (1986) is a glutton's delight. The steamy scenes between Mickey Rourke and Kim Basinger illustrate the myriad possibilities when one has a few key items on hand: Ripe fruit, a blindfold, a little Champagne and an attentive server go an awfully long way toward creating a feast for the senses. The hilarious faked-orgasm scene (it was faked, wasn't it?) in When Harry Met Sally will always make me think differently about the possibilities of delicatessens. And then, of course, there's Last Tango in Paris: I can't believe it's not buttah!

For some rea
son, a fascination with morbidity and cannibalism is also a recurring motif in a grocery cart's-worth of food films. These movies are to meals what the Donner party was to parties. Probably the most notorious—and difficult to watch—film of this genre is The Cook, The Thief, His Wife & Her Lover (1989), in which a gorgeous palace of haute cuisine, Le Hollandais, is taken over and trampled by Albert, one of the most gluttonous and vile characters ever to appear on the big screen. Eventually, Albert's over-the-top gluttony results in him being served the roasted remains of the man he murdered: not for the squeamish, this one. Like The Cook, The Thief, His Wife & Her Lover, the taste for human flesh (in the form of tacos and enchiladas at La Fuente Taco House) is rampant in Eating Raoul (1982). But the Love, American Style look and feel of Eating Raoul makes this way-out comedy about swingers trying to open a French country kitchen more than stomachable. Those who like the warped humor of Eating Raoul will absolutely love Delicatessen (1991), a film about post-apocalypse France, in which a good pork chop is scarce and cannibalism is rampant. The unfortunate handymen hired by a small-time butcher become the plat du jour until the butcher's daughter becomes enamored with Stanley, a handyman and circus clown who is, of course, vegetarian. Sick, sick, sick, and very funny.
In director Henry Jaglom's unusual Woody Allenesque comedy Eating (1990), we are treated to an often too-realistic look at women's obsessions with eating and, more importantly, not eating. Though the endless gaggle of SoCal women who pepper the screen are certainly less-than sympathetic figures, the accounts of their constant struggles with bulimia and anorexia are surprisingly moving. In Who is Killing the Great Chefs of Europe? (1978) an obsession with restaurant reviews and Michelin stars becomes murderous, and food critique as a profession takes center stage in the black and white classic Christmas in Connecticut (1945), as well.

It'll be interesting to discover what delicious pleasures this year's Sundance Film Festival will bring. The chef's coat is the new little black dress of the millennium, so I'd be surprised if there weren't at least a few films that revolve around restaurants, chefs, cooking, kitchens, feasts and gluttony. If not, I hope I've given you some suggestions for some tasty DVD rentals. Plus, there are many other great food films I didn't mention. We'd love to hear about your favorites.


Sexy Movie Scenes Involving Food