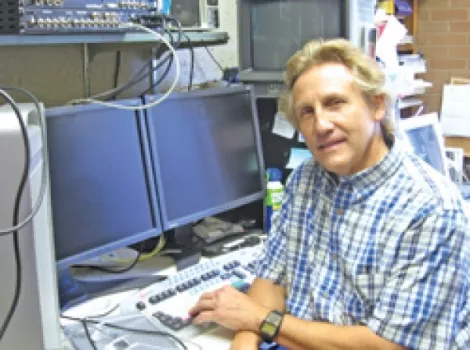 University of Utah film professor Brian Patrick spent six years making a documentary about the Mountain Meadows massacre. It won buckets of awards and was roundly praised for painstaking research and storytelling. It was well timed to capture the recent surge of public interest in all things Mormon. Indeed, film and TV versions of the 1857 massacre have been everywhere, from the History Channel to public television to a recent Hollywood feature film.
But none of the films are Patrick's. Aside from film-festival devotees, no one had a chance to see his movie. No one, except some who made other films, says Patrick. After his documentary
Burying the Past: Legacy of the Mountain Meadows Massacre
came out in 2003, Patrick was wined and dined by producers of subsequent massacre films, but he ended up with nothing to show for it and no help showcasing his movie.
"Once, I could overlook. Twice, I start to get mad. The third time I just get crazy," Patrick says.
Patrick doesn't think he has a copyright on history. He doubts he has a legal case. He just wants some credit—and would have loved it if his movie could have reached a wider audience.
Makers of recent years' Mountain Meadows films claim to have just happened to be working on the same project as Patrick. And while some admit asking for his help, they claim they didn't steal his idea.
The makers of the recent feature film
September Dawn
—who flew Patrick to Burbank for a private screening—deny getting any ideas from Patrick's Burying the Past.
"Mr. Patrick's documentary had nothing to do with the inspiration of
September Dawn
," Christopher Cain, the movie's director and co-writer says in a one-sentence e-mail to
City Weekly.

Lindajo Loftus, a publicist with Murray Weissman & Associates, the agency handling publicity for
September Dawn
, says Cain has stated publicly he did not see Patrick's film until after
September Dawn
was finished.
So he has. But Patrick, who sells his
documentary online
, has a PayPal receipt noting that Cain's son, actor Dean Cain, paid $30 for a copy of
Burying the Past
on Oct. 20, 2004, about nine months before
September Dawn
began shooting.
It's hard to believe Dean Cain—who plays Joseph Smith in
September Dawn
—wouldn't know about Patrick's film. He was master of ceremonies for the 2004 ARPA International Film Festival in Hollywood when
Burying the Past
was screened.
Similarly, Patrick said he sent his film to The History Channel hoping to make a sale. It didn't make an offer, but Patrick says makers of This History Channel's Mountain Meadows film asked for his help.
Michael Feeney, spokesman for A&E Television, which produced
Who's to Blame?
for The History Channel, couldn't confirm if A&E ever received Patrick's movie but said even if it did, A&E wouldn't have sent Patrick's film to Bill Kurtis, who put together the channel's Mountain Meadows show. Kurtis, a Western expert, wouldn't need it, Feeney said.
But at a Las Vegas convention where Patrick picked up a best-documentary award, Patrick said Kurtis tried to get him to sell parts of his documentary.
Utah Historian Will Bagley, who examined the massacre in his 2003 book
Blood of the Prophets
, says claiming authorship to historical interpretation is a fool's errand. Movies about Mountain Meadows date back decades, Bagley says. He notes the fate of an author who sued Stephen Spielberg over his historical film Amistad and lost to a judge who ruled history belongs to everyone. "I wish I could copyright history; I could make a living at it," Bagley said.
What all the producers wanted, Patrick says, were two scenes from his film, including impossible to replicate shots of the bones of Mountain Meadows massacre victims. Patrick's documentary tells the story of an attempted reconciliation between descendants of Mountain Meadows victims and perpetrators through joint work on a monument. Some bones are unearthed during construction.
Burying the Past
follows the story as they are examined to determine cause of death.
Patrick says what everyone also wanted was his re-enactment of the massacre. He told the story through the eyes of a 4-year-old girl, based on the account of an actual survivor.
When Murray Weissman flew him to Burbank for a screening of
September Dawn
last year, Patrick said he saw unmistakable echoes of the girl's story, along with other sections of his own movie. Afterward, Weissman and Christopher Cain requested parts of his documentary for use in online promotion. Patrick said they held out the possibility of packaging the films together for CD sales but balked at a deal. Loftus, the Murray Weissman publicist, acknowledges the meeting took place, but noted it happened after
September Dawn
was in the can.
In his documentary, Patrick tried to tell the truth but also tried to tell a story about healing generations-old wounds. The only message in Hollywood's version, he complains, is: Mormons are bad.
For movie buffs, the end of the story is that an award-winning film sits on the shelves while a movie that
City Weekly
film critic
Scott Renshaw called "inept"
opens in theaters across the country. Utahns, however, have the chance to see Patrick's film Sept. 11 when
The Tower Theatre
screens
Burying the Past
to commemorate the 150th anniversary of the 1857 massacre. A question-and-answer session with Patrick will follow the 7 p.m. screening.
In July,
September Dawn
co-writer Carol Schutter, a Christian convert, told
The Aspen Times
the idea came to her as she was driving through desolate countryside and suddenly thought of a pioneer wagon train being attacked by Mormons dressed as Indians. At the time she had never heard about Mountain Meadows. "I believe it was from God," she told the paper.
Patrick isn't so sure. "It's really soured me for doing any more documentaries," he says. "When I tell people about this they say, 'Brian, that's Hollywood. That's the TV broadcast industry.' I feel like I've really been taken advantage of."
cw