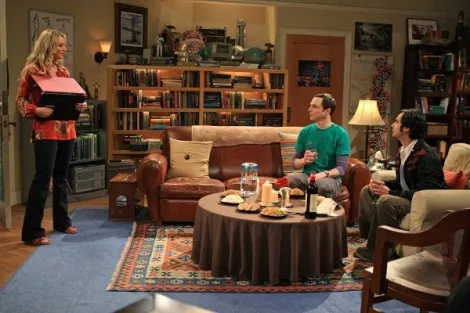 xxxxxxxxxxxxxxxxxxxxxxx
The Big Bang Theory, Rules of Engagement
Thursday, May 19 (CBS)
Season Finales: Since producer Chuck Lorre has one sitcom on "vacation" (Two & a Half Men) and one that just sucks (Mike & Molly), you'd think he'd be more careful with his Big Bang Theory cash cow—so what's with all the women? This season's four-male/four-female cast dynamic has diluted the show's uniquely geeky humor; even regular folk who don't use phrases like "cast dynamic" must have noticed. As for Rules of Engagement, it keeps the funny simple (and filthy). Can't argue with that.



The Mentalist
Thursday, May 19 (CBS)
Two-Hour Season Finale: Read my mind—which am I having a harder time believing? That The Mentalist has been on for three seasons, or that it's getting a two-hour finale?


The Office, Parks & Recreation
Thursday, May 19 (NBC)
Season Finales: The previous episode of The Office proved the show could go on without Steve Carell or celebrity cameos; tonight's finale puts it to the test with a stunt-guest supernova: Jim Carrey, Will Arnett, James Spader, Ray Romano and Ricky Gervais (as original U.K. Office boss David Brent) are all applying to be the new boss, and even better, Dwight (Rainn Wilson) wants another shot. On Parks & Recreation, tiny pony Li'l Sebastian is back … but not for long.

Grey's Anatomy, Private Practice
Thursday, May 19 (ABC)
Season Finales: Pretending to care, pretending to care … and … OK, gave it a shot.
Bones
Thursday, May 19 (Fox)
Season Finale: Just as it somehow makes the forensic crime procedural seem like a fresher idea than CSI (any locale) can manage anymore, Bones will be forgiven for closing Season 6 with a birth and dragging out guest star Ryan O'Neal again, not to mention a murder plot centered around … bowling? Yeah, Bones is just that good.



Supernatural
Friday, May 20 (The CW)
Two-Hour Season Finale: How many times has The Only TV Column That Matters™ mentioned that Supernatural is the true keeper of the Buffy the Vampire Slayer/Angel flame, a smartly written series that seamlessly mixes a deep back story with weekly close-ended episodes and genuine scares with stinging pop-cultural snark? Your assignment: Spend the summer catching up on Supernatural reruns on TNT; report back here in the fall.


Saturday Night Live
Saturday, May 21 (NBC)
Season Finale: Dangerously close to wearing out his comedy welcome, Justin Timberlake hosts again and welcomes musical guest Lady Gaga. I say it would be a waaay more interesting show with the roles reversed, but that's just me.



The Celebrity Apprentice
Sunday, May 22 (NBC)
Season Finale: So who's left? John Rich and Lil Jon? And Donald Trump's not running for president? I was hoping I wouldn't have to pretend to care again so soon in the column%uFFFD …


American Dad, Family Guy
Sunday, May 22 (Fox)
Season Finales: Seth MacFarlane never ceases to surprise—hell, he even pulled off a decent Cleveland Show finale. While I still prefer American Dad, Family Guy has bounced back after a terrible Season 9 premiere (remember September's craptastic Clue/Agatha Christie "homage"?); simply showing Mick Jagger and David Bowie's "Dancing In the Streets" video uninterrupted last week will go down as one of FG's finest moments. I'm not even going to bitch that tonight's season finale is yet another Star Wars send-up (and already on DVD: It's a Trap!).



The Simpsons, Bob's Burgers
Sunday, May 22 (Fox)
Season Finales: It's the 22nd(!) season finale for The Simpsons—what's to say? Bob's Burgers (which has been picked up for a second season by Fox) eventually won me over after a weak debut in January, and any show that hands H. Jon Benjamin (also of Archer) a paycheck can't be all bad.


The Event
Monday, May 23 (NBC)
Season Finale: Like fellow alien-invasion series V, it's canceled—so what's the event of The Event? Whatever it is, here's hoping the military calls in The Cape.


House, The Chicago Code
Monday, May 23 (Fox)
Season Finale/Series Finale: So … there's a Mystery Ailment, House (Hugh Laurie) does Something Crazy That Will Change His Team Forever and … Paula Marshall guest-stars? Sold. Sadly, Shawn Ryan's top-notch cop show The Chicago Code has been canceled, just months after the demise of his Terriers. It's pointless now to say which was better (OK, it was Terriers), but maybe his next FX development, Nickel (about an ex-con who uses a self-help book to become a more highly effective criminal), will be the one that finally sticks.

Glee
Tuesday, May 24 (Fox)
Season Finale: The ultimatum to bring me back to Glee: Either just sell it to Logo already, or lose the musical numbers and edit it down to a half-hour comedy. You know where to reach me, Fox.



The Middle, Modern Family, Cougar Town
Wednesday, May 25 (ABC)
Season Finales: Funny, funnier, funniest. Guess which one is being booted to Tuesdays this fall?



Criminal Minds: Suspect Behavior
Wednesday, May 25 (CBS)
Series Finale: Canceled—don't bother. CMSB will likely be replaced by a new Poppy Montgomery (Without a Trace) Mentalist-ish cop show that, up until this week, bore the working title The Rememberer. Seriously.


American Idol
Wednesday, May 25 (Fox)
Season Finale: And America's next state-fair headliner is …