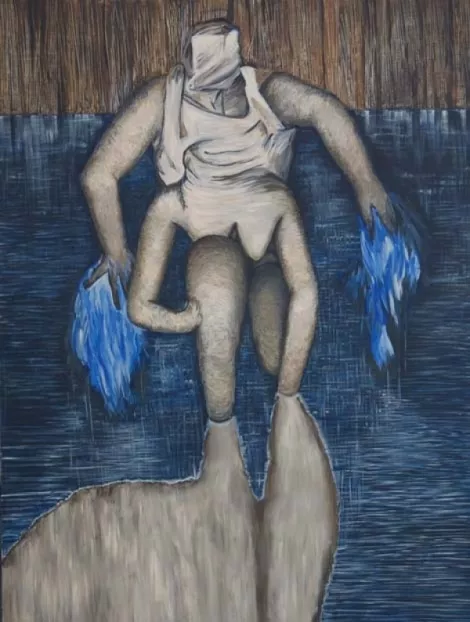 As often is the case, Finch Lane brings together three idiosyncratic artists whose works both contrast and blend with one another surprisingly well.
Susan Beck is known for her paintings ("Fire Water" is pictured) as well as her work as an art instructor, and her work traverses many media: relief prints, mezzotints and monoprints, pencil and ink drawings, and acrylic paintings on wood. Part of a poem she provides to describe her works lends the clues: "There … A web of ill thoughts and misplaced meanings … A never dreamed of map in blue and purple."
Bonnie Sucec, a longtime friend of Beck, has one of the most distinctive local styles because of the continually evolving vision of her work that takes the form of narratives, "little stories with many meanings." She explains that each piece "develops on its own; starting with a fragment, the painting unwinds with twists and turns and seldom a solution." But it's still satisfying to the viewer in the dramas that play out between the frames.
Ryan K. Peterson adds a three-dimensional element with his Brothers Bighead series, which he describes as "dreams, phobias and personal imagery manifested in sculpture." Each work includes an internal diorama incorporating painting, LED lights and photographs. This University of Utah graduate—who has designed creatures, characters and special effects for movies like The Curious Case of Benjamin Button and Men in Black—attempts to create "an archetypal experience" for the viewer.
Finch Lane Gallery: Susan Beck, Bonnie Sucec & Ryan K. Peterson @ Art Barn, 54 Finch Lane, 801-596-5000, through April 29, free. SLCGov.com/Arts