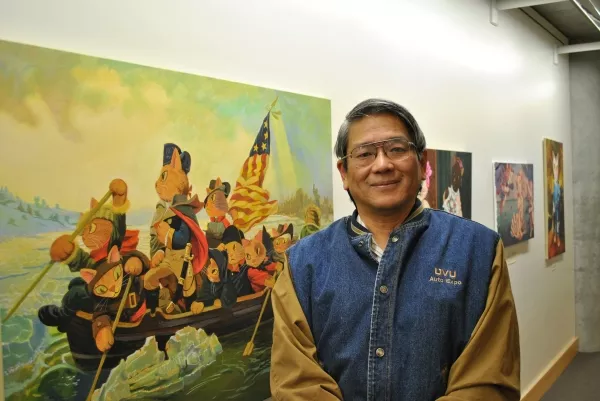 Rachel Piper
Shunichi Yamamoto & "Brushington Crossing the Delaware"
Cats have taken over the Internet, and now they're taking over fine art. Shunichi Yamamoto's Fine Feline Art exhibit, showing in the Children's Gallery in the basement of the Salt Lake City Main Library (210 E. 400 South, 801-524-8200) through April 5, recasts familiar paintings with cats—demure, mysterious, glamorous, heroic—in the main roles. Yamamoto's art is big in Japan, published there as books, puzzles, postcards and a calendar, with an exhibition of his canvas paintings set for later this year. The Sandy artist and freelance illustrator is also selling his 2008 self-published cat art book in the Library Store.

Why do you paint cats?

I have three sons and one daughter. My youngest son, a long time ago, when he was in grade school, brought home a cat version of a Van Gogh painting, "Self Portrait With Bandaged Ear." It was on the shelf, and one day I was cleaning off my desk, and it gave me the thought that, "Hey, it works great on this one, it looks funny, would it work on other paintings?" So I started sketching, and realized that cats in any painting is fun. I'm a cat person, so I'm probably not fair, but it doesn't look good with dogs, with the hanging tongue.

Cats are big right now. Did you think you'd find success with this project?

I started this project in 2007. Nobody asked me to do it, it's my own project—no funding, no sponsors. I had to invest my own time. I accumulated about 100 paintings, then, the year before last, I contacted Japanese publishers. Usually, an individual contacting a publishing company doesn't yield much, but this company accepted my offer, and last April, published this book. It's about 120 paintings and descriptions.

Before that, back in 2008, I self-published a book. There are slight differences in the color and the detail. I did all these paintings for the self-published book on 10-inch-by-15-inch illustration boards, so it's less detailed. I finished about 80 paintings and published the book.

On the Internet, somebody said, "If you publish through a publisher, you only get 8 to 10 percent royalties, but if you self-publish, the take is bigger." So I did it, but if you self-publish, there's no route to bookstores, so they ended up in my garage.

My son kept telling me, "Dad, you should do it on canvas." So I re-worked these on real canvas, and that was completed a year ago.

What has the response been like?

The greatest response has been in Japan. They published this year's calendar, and there was a big ad in a newspaper and a newspaper interview. This publisher specializes in art books, but they've never dealt with parody, so they weren't sure of the response. But the response was great, not only for painting lovers, but cat lovers. They did a third printing, and we're probably going into a fourth printing sometime this year. I'm hoping that I can find a U.S. publisher.

What's your process?

When I did my smaller versions, I went to the library and got art books. But depending on the photographer and publisher and the printing, the color may not be that truthful to the original painting. Now, I go online, I can see the many different versions and pick the one that's likely close to the original.

The time depends on the size and the type of painting. Some are very detailed, some are simpler. "George Brushington Crossing the Delaware" [pictured, top] took about two or three weeks. The smaller, less detailed ones take about a week.

Do your paintings contain the same symbolism as the originals?

I could recognize the paintings, but I didn't know the story behind them. And as I paint them, I study, and I learn a lot. Sometimes I've made mistakes. Like, "The Arnolfini Marriage," according to the art professionals, there's so much symbolism. There's supposed to be one candle in the chandelier signifying something, but I missed it. This original person is kind of ugly, so I made the cat a little ugly too. She seems a little bulging in the belly, so she's probably pregnant.

As much as possible, I play with it. If the original painting has a cat or dog in it, I change it to a mouse.

Do you have an art-history background?

I graduated from art school in Japan and got a bachelor's degree. Then I got married, and we immigrated to Canada in 1974. We lived there 10 years, and I was an illustrator for a company and did freelance work for the latter half. Then we immigrated here in 1983. I worked for a map company doing illustrated maps for a few years. Then I was on my own.

Are you working on more cat paintings?

Another book is publishing soon. Most of this is Western art, but there's a series of 55 Japanese woodblock prints, about 200 years old. Not everything is convertible to cat versions, but I picked 35 of them. Right now, I'm writing the descriptions.

Vermeer is really big in Japan. So that's why the publisher picked Vermeer's painting "Girl With the Pearl Earring" for the cover of the book, to get people's attention. In the next couple of years, I want to complete his artwork. He did 35 pieces, and I've done six already.

Click to view larger size: