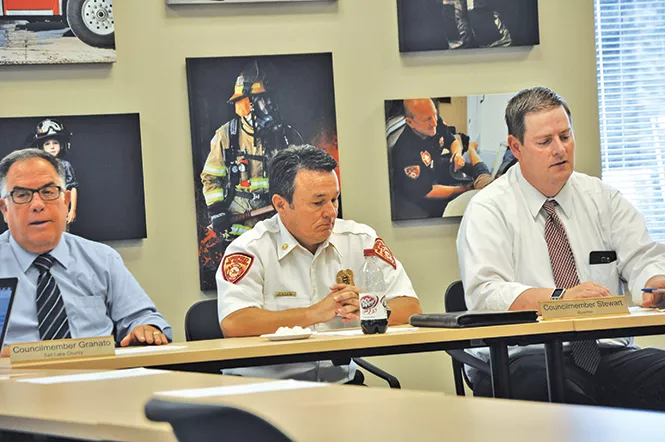 Colby Frazier
Former UFA Fire Chief Michael Jensen (center) at a July 19 closed-session meeting.
With a walnut buttstock engraved with firefighting scenes, a maltese cross-etched into the metal of the receiver and the words "The American Firefighter" on the forestock, the Henry H009B .30-30 long gun is a firearm that any firefighter would be proud to own.
Or, in the case of former Unified Fire Authority Chief Gaylord Scott, this weapon and its smaller sibling, a .22 caliber rifle with similar flair, would be ideal to donate to charity.
And so on March 5, 2012, Scott whipped out his taxpayer-funded credit card and plunked down $2,335 for the pair of limited-edition guns. The weapons, UFA credit card receipts obtained by City Weekly through an open records request show, were to be donated to the University of Utah Health Care's Burn Camp and auctioned off, the proceeds used to help burn victims through the healing process.
But these guns never did make it to the Burn Camp for auction. They were among tens of thousands of dollars in camera equipment, Apple electronics and, oddly, 19 printer ink cartridges that were in Scott's possession and returned to the fire department after he abruptly resigned in July.
Scott's conspicuous consumption—all bankrolled by taxpayers—was prolific. Over the past five years, he charged $110,440 to his UFA credit card, while racking up an additional $28,800 to his UFA-issued gas card.
Revelation of these expenditures, as well as a bonus structure that gave Scott and three other top UFA officials more than $100,000 each in extra pay over the past five years, has sparked a pair of audits, one by the State Auditor's Office and another by the UFA board.
Scott's departure is one of three that has occurred since City Weekly began an investigation of the UFA's finances in early July. In addition to Scott, Michael Jensen, who had been chief of the UFA for the past seven years, resigned on Tuesday, Aug. 16—four days after saying that he and the board were hammering out a "mutual separation." Jensen's top aide at UFA, and clerk of the Unified Fire Service Area (UFSA), which is a conglomerate of communities that utilize UFA for fire and emergency services, resigned on Aug. 10.
UFA Assistant Chief Mike Watson has been named interim chief.
That same Tuesday, the UFA board announced that the scope of its audit would include the credit cards, also known as "p-cards," used by Jensen and Scott. The agency's audit, says Eagle Mountain Mayor Christopher Pengra, who is acting as a spokesman for the board, will also include travel expenses and gas card use by the two chiefs.
Pengra declined to discuss any specific purchases or gas expenditures made by Jensen and Scott saying that the audit will be "telling."
"At this point it's important still that we as a board go through this process and identify what happened and why and perform that audit before I'm comfortable making any determinations about what exactly was appropriate and what is not," Pengra says.
It is clear, though, that a vacuum of accountability has existed for years at the upper tiers of the UFA, which is the largest fire department in the state and provides fire and emergency services for nine cities and towns as well as unincorporated areas of Salt Lake County.
For example, when it came to approval of credit card and travel plans, Scott's invoices were approved by Jensen, and Jensen's were approved by Scott, Pengra says.
Neither Jensen nor Scott returned phone calls seeking comment.
Jensen and Scott's credit cards and gas cards shows that the latter enjoyed years of spendy steak dinners, high-priced electronics and long stays in hotels, all paid for by the public.
Among Scott's credit card receipts are dozens and dozens of meals—many of which are with Jensen and Perry—where the topic of the discussion was vague, like "District Budget Discussion." During one budget talk in June 2011, Scott picked up the tab for eight $21 prime rib dinners, a pair of $28 shrimp platters and a mess of Diet Cokes at Market Street Grill. While the bill shows that 10 meals were purchased, only eight people were listed on the back of the receipt, including Jensen, Perry and Scott. The total came to $241.84, and after a $50 tip, crested $290.
While both men used their UFA credit and gas cards frequently, Scott wildly outspent his boss. To keep his UFA take-home vehicle on the road, Jensen pumped $16,600 in gas over the past five years. Scott's vehicle guzzled $12,200 more during the same period.
Jensen also only amassed $51,157 in credit card expenses—less than half of that accumulated by Scott.
Both men were paid handsomely by UFA, especially after tacking on their bonuses, which until late 2015, were approved and paid out in a hushed manner by whomever was the chair of the UFSA board. The bonuses, which Jensen insisted were "incentives," were for work that he said he, Scott, UFA legal counsel Karl Hendrickson and former CFO Shirley Perkins, deserved for extra work they were performing for members of the fire district.
When the full board was made aware of the bonuses in 2015, steps were taken to remedy the secretive nature of the payments, which in the past five years, topped $400,000 between these four individuals alone. In 2015, each of these managers received $34,000, a steep climb from the more modest $4,000 in bonuses they received in 2011.
All told, Jensen, who is seeking his fifth four-year term on the Salt Lake County Council and is paid $51,000 in that role, received $260,488 in total compensation for being the fire chief. Scott took home $242,154.
As the amount of the bonuses escalated in recent years, UFA employees say morale at the fire department plumeted. And support for Jensen and Scott, which was nearly unanimous just a couple of months ago when a new structure for paying the bonuses was approved, deteriorated rapidly as City Weekly's investigation brought to light how the men wielded their taxpayer-funded resources.
One example involves travel expenses incurred by Scott, who routinely stayed up to seven nights when he traveled across the country to attend various fire-related conferences. In some years, he left town nearly every month. In 2013 alone, he spent 30 nights in hotels, including a seven-night stay in Chicago, seven nights in Indianapolis, six nights in Phoenix, four nights at the Canyons Resort in Park City, three in Maryland, one in downtown Salt Lake City and two in St. George.
When cross-referencing some of Scott's traveling days with his gas card use, at least one anomaly exists. On March 4, 2013, the day he left for Phoenix, where his receipts show that he "toured" that city's fire stations for six days, Scott put 31.2 gallons, or $108, in his gas tank. He then parked a car at the airport, incurring a $63 fee. About eight hours after Scott returned to Salt Lake City shortly after midnight on March 11, he put 20 more gallons in his tank, with the odometer entry showing that he had driven 380 miles.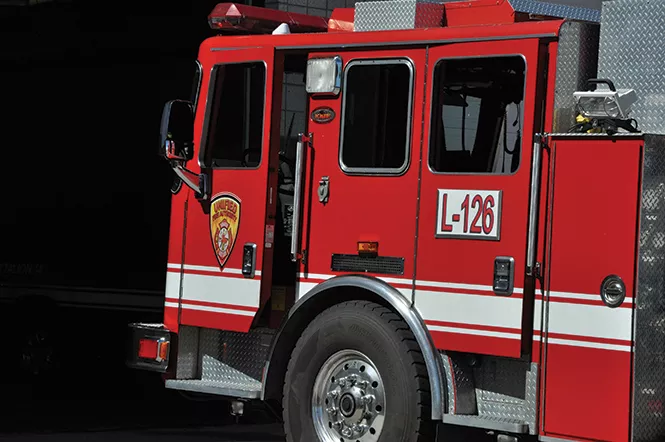 While it's difficult to know exactly how Scott burned so much more gasoline that his peers over the past five years, Jensen, prior to resigning, explained that Scott used his UFA vehicle to shuttle his children to and from a charter school in American Fork. At the time, Jensen said that he, Scott and other top UFA commanders had received permission from the UFA board chair to take their automobiles pretty much anywhere, even out of state.
With the exception of a six-night stay for a conference in Denver that Scott drove to in August 2012, and extended slightly by laying over on the way back to Utah at the Little America Hotel near Rock Springs, Wyo., the two chiefs almost exclusively flew when traveling.
But in December 2014, gas and credit card records show that both Jensen and Scott drove their UFA vehicles to a convention in Anaheim, Calif. While there, both men filled their tanks using a UFA gas card, along with various stops along Interstate 15, like Mesquite, Nev., and St. George.
In Anaheim, Jensen billed taxpayers $614 in hotel charges at a Marriott, and another $1,035 at a Hilton. Scott stayed five nights at a Marriott for a total of $907.
While the credit card invoices show that Scott had a penchant for steak dinners, and extended stays at hotels, the man also appears to have developed a love for Apple products. In November 2012, Scott spent $659 on Apple hard drives, and a few days later, shelled out $334 for other assorted products.
On Oct. 20, 2014, he spent $248 at an Apple Store. Ten days later, he purchased a phone charger at Best Buy, and the following day spent another $482 at an Apple Store. The next month, he again visited an Apple Store, this time spending $185.
When the Apple Watch hit shelves in 2015, Scott turned up the heat. Starting in January of that year, he spent $124 on Apple gear, and in March dropped $180 at a Best Buy on iPhone and iPad supplies. In April, he bought $370 at an Apple Store and in June, he purchased two Apple Watches for $2,455. In July, he spent $4,824 on a pair of Apple computers, assorted cases, four Apple Watch charging cables and a 16-gigabyte hard drive.
Along with the firearms returned by Scott to the UFA was a gaggle of Apple products, including two iPads, an iPad Mini, and iPhone 6, seven iPhone cases, two Bluetooth keyboards, one Apple iPad keyboard, one iMac computer, one MacBook Pro, five iPhone docking stations, one CD drive, an Apple watch and several other products.
Scott also appears to have had an interest in photography and film. In addition to a pair of high-definition video cameras and a GoPro, he purchased and returned to the UFA two Nikon DSLR cameras, seven lenses and a pair of flashes.
This expansive list of items does not include what is in Scott's office. UFA officials say this inventory is expected to occur in the coming days.
As for the decorative firearms that would have been donated to benefit burn victims, they either adorned walls of Scott's home, or they languished in their boxes. UFA Assistant Chief Marty Slack, who oversaw the inventory of the belongings Scott returned, says the weapons have never been fired.