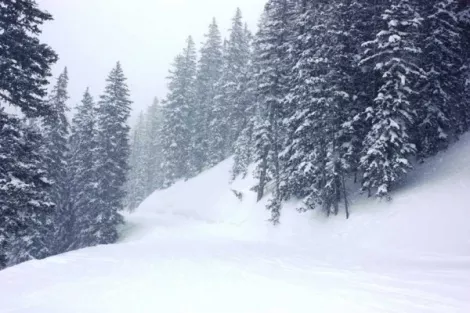 Those who prayed for snow got part of their prayer answered—two feet of the natural stuff, but not enough to bring any opening dates closer. A big storm predicted for Nov. 18-20 may bring the dump snowriders are hoping for, but meanwhile, don't poach slopes on resorts that haven't yet opened. The snow that fell over the Nov. 11 weekend was heavy and wet, and landed on dried-out snow from October—crunchy, porous stuff that's dangerously ready to slide. Don't go there.

Meanwhile, when you finally hit the lifts, you'll probably be excited and mentally prepped for that first day back on snow. But damn! You totally forgot about that annoying scratch on your goggles. And the cold hole in your gloves. Worse, you have to stop after a few runs because your boots hurt and your thighs are burning. And, your equipment is sticking instead of gliding. What a rotten day!

Don't let that unfortunate experience happen to you. First, and most important: Start wearing your boots about four days before you plan to go. Re-accustom your feet to being compressed at home, where your boots are warm and pliable instead of stiff from the cold—you too, snowboarders. You'll ride better if your boots have re-formed to your feet, and you can get rid of wrinkles in the lining that could rub a foot raw on the slopes. Wear your boots for at least an hour daily while sitting around, and fasten them up.

Next: Get your skis or board waxed and tuned. If you used them last spring, you've got corrosive salt and pollen on your bases. Unless your gear was cleaned and waxed when you hung it up, the bases are dried out. They won't run over the flats. You'll be walking or hopping instead of gliding.

Don't discover when you arrive that you forgot an important item like your helmet, lip balm or sunglasses. Get everything ready and put it in a pile the night before: goggles or sunglasses, sunscreen, all clothing you intend to wear, your boots and helmet, and your pass if you have one. Snacks will help you avoid paying big bucks for resort food; try the new mini-Clif energy bars, firm enough not to get squished in your pocket.

As for the snow: There's still a dearth of natural stuff. Brighton's general manager, Randy Doyle, warns that you should stay on the groomers: "If you stay where we made snow, you won't need rock skis, but if you go off trail, you will need them. There's good coverage on the main trails. We've put in new snowmaking, and that's probably the only reason we're able to open right now. Millicent isn't open yet."
Snowbasin's Jason Dyer says, "We don't plan on opening any earlier than Thanksgiving—snow pending. We've been blowing snow like there's no tomorrow. Our snowmaking system covers 600 acres." Again, you won't need rock skis if you stay on Snowbasin's groomers.

Even resorts already open don't have all lifts running. Some, like Solitude, make up for it by discounting tickets. Nick Como, Solitude's marketing dude, says, "Right now, we've got four lifts going, and our tickets are at a discounted rate: $49, until more lifts can open." Check resort Websites or call to get the opening date and number of lifts running; it's all in a state of flux right now.

Snowbird's PR head, Emily Moench, is also waiting for the flow of snow. The 'Bird is scheduled to open Nov. 19, but Moench has advice for those who aren't yet in shape and want to avoid the burning thighs that force a stop halfway through a run: "For snowriders who haven't been training for the season, it's never too late. Play catch-up now by working out on a bike, even a stationary one, and push yourself hard, to the point where you have to stand up off the saddle. Do at least 45 minutes a day. Stop two or three days before your first time back on snow."
SCHEDULED OPENING DATES
Alta: Nov. 18
Brian Head: Nov. 19
Brighton: Open
Canyons: Nov. 25
Deer Valley: Dec. 3
Park City: Nov. 19
Powder Mountain: Nov. 24, dependent on snow—the resort does no snowmaking
Snowbasin: Nov. 24
Snowbird: Nov. 19
Solitude: Open
Sundance: Dec. 9
Wolf Mountain: No Set Date