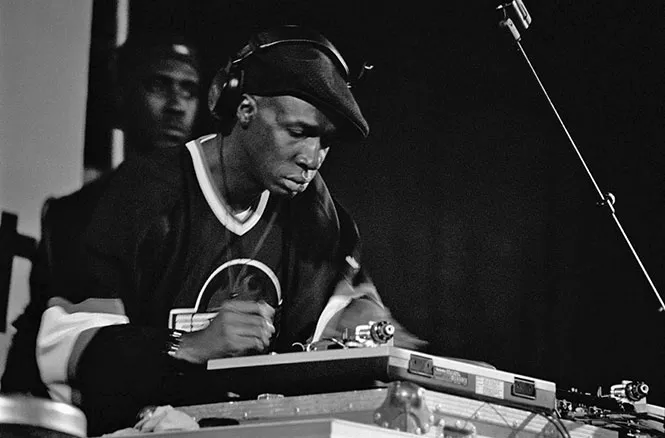 When Grandmaster Flash covered Duran Duran's anti-drug tune "White Lines (Don't Do It)"—Ha-HA!—somewhere, heads were exploding like in that scene from Scanners. Grandmaster Flash and the Furious Five are hip-hop gods—pioneers of the biggest musical movement since rock 'n' roll. So to suggest a Caucasian Anglo new-wave semi-boy band performed the original version of one of rap music's seminal tracks (instead of vice versa) would certainly cause hateful outbursts.
The reality is that Flash doesn't even appear on the track. Nor does he perform on any of Grandmaster Flash and the Furious Five's studio recordings—even their biggest hit, "The Message." His actual cultural flashpoint (forgive the pun) is "The Adventures of Grandmaster Flash on the Wheels of Steel" (Sugar Hill, 1981). While not his debut, the seven-minute track, where Flash mixes songs by the Furious Five, Sugarhill Gang, Blondie, Chic and Queen (among others) and audio clips from the sitcom Good Times is where he changed hip-hop—nay, music—forever. It's also the first appearance of scratching and turntablism, the techniques he demonstrated in the famous kitchen scene from Charlie Ahearn's 1982 hip-hop/graffiti film Wild Style.
Thirty-five years later, hip-hop saturates international pop culture, and DJs are defied. It's so pervasive that even an apparently vanilla town like Salt Lake City reverberates with vibrant, passionate, real rap music and a fervent local fan base. Artists and fans alike, upon hearing that Grandmaster Flash is bringing the party to the Urban Arts Fest this Saturday—and that it's free—are pumped. Maybe Flash had nothing to do with it, but it just seems right to quote "White Lines" here: "Rang-dang-diggity-dang-de-dang!"
Here's what some of SLC's top DJs and rappers are thinking leading up to the show.
DJ Juggy
Asked about his earliest encounter with Flash's work, Juggy (Ryan Alfaro) blurts out, "Flash is on the beatbox!"—a line from the 1979 single "Superappin'," one of his deepest cuts. "When I first got on hip-hop in the late '80s and early '90s," he says, "I didn't realize there was a history before it." He became a student. "I learned my history and figured out that Grandmaster Flash was one of the innovators of hip-hop and the DJ culture. I made sure I knew what was happenin'."
DJ Shanty
Shawn Murphy, aka DJ Shanty, first heard "Wheels of Steel" in the late '80s. "I'm sure it was a Friday and it was probably Sam Smith or DJ Buzz on KRCL that played the mix," he says. Soon afterward, Murphy saw Wild Style. "He was so precise—and amazing—at what he was doin'." Inspired, Murphy and his future Numbs bandmate Gunnar McKell got to work. "We had this Fisher-Price turntable. We'd use a piece of paper as a slip mat and try to emulate the scratching."
Concise Kilgore
Rapper/producer Tavie Mason says "Wheels of Steel" was his first Flash memory. "He was doin' some incredible stuff on the turntables," he says. "He actually made a song usin' other records—but it was just him. Melle Mel wasn't on it. It was just him showcasin' what you can do on a turntable ... It blew me away."
Mark Dago
"I was really young when I first heard 'The Message,'" Dago says. At the time, he'd heard of Flash, but didn't actually know him. That all changed as Dago got more and more into hip-hop. "It struck me, how he would just take the best parts of records and use two turntables to cut back and forth to make a song," he says. "I still can't wrap my head around how you would be able to even come up with that idea in the late '70s/early '80s."
DJ Brisk
Brisk, born Gabe Martinez, says Grandmaster Flash was "before my time ... but I definitely heard that shit." He first heard of Flash in elementary school, albeit via the Flash-less Furious Five hits on an older cousin's worn copy of the 1985 compilation Grandmasters of Rap (Dominion). But it led, inevitably, to "Wheels of Steel." Martinez recognized the Good Times stuff and "that old disco shit" his mother listened to. He stops short of calling Flash a personal influence, but he says he has respect for the DJ. "He held down a whole city with a style, you know?"
DJ Sneeky Long
Being an open-format DJ, Sneeky Long—aka James Ramirez—doesn't do exactly the same thing as hip-hop DJs do, but that's the kind of reach Flash has. Like many people, Ramirez heard of Flash through "The Message." It was Wild Style, however, that introduced him to the fine art of "rocking doubles"—using two turntables at once. "What DJs do today is largely [due] to what Grandmaster Flash did."
Dusk
Ryan "Dusk" Worwood heard "The Message" in elementary school and saw Wild Style soon after. "It was the first song of its kind," he says. "There weren't any songs out there with any kind of message. That stuck out to me and got me more interested in hip-hop, for sure." Nowadays, thanks to Flash, Worwood holds DJs in high esteem: "The DJ sets the tone for the party and makes the show happen."