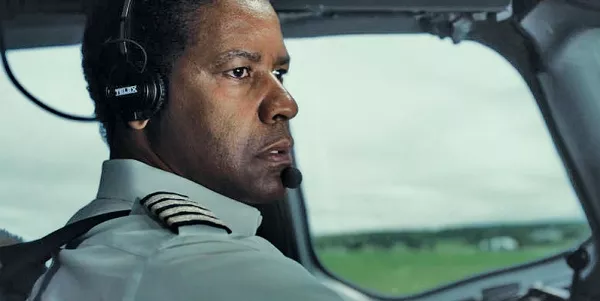 Director Robert Zemeckis has spent a decade focused entirely on photo-realistic computer animation like The Polar Express and A Christmas Carol. With Flight—his first live-action feature since Cast Away in 2000—he shows that he needs to shake plenty of rust off of telling a human story.

Flight follows William "Whip" Whitaker (Denzel Washington), a commercial airline pilot who's also a longtime alcoholic and drug user. When mechanical failure results in an in-flight nose dive, Whitaker manages a risky maneuver that improbably leaves only six fatalities. But when it's discovered that Whitaker was legally intoxicated at the time of the incident, he and the airline are left scrambling to perpetuate the idea that he was the heroic savior rather than the cause of the disaster.

Zemeckis gets off to a promising start, with a doughy Washington effectively capturing the vibe of Whitaker as a good-time-Charlie trying to maintain his illusion of functionality. The midair catastrophe itself—not surprising for the guy behind Cast Away's crash—is terrifically staged, a harrowing mix of chaos and Whitaker's steely grace under pressure.

But from that point forward, the story disintegrates. Screenwriter John Gatins focuses almost entirely on trite arc-of-the-addict material: Whitaker making promises, bottoming out, then repeating the cycle. Zemeckis also can't seem to resist using his iPod to underline virtually every character beat, playing "Under the Bridge" for the heroin addict (Kelly Reilly) and "Sympathy for the Devil" for Whitaker's drinking/doping buddy (John Goodman). Then the final 10 minutes become a parade of implausible behavior and excruciating speeches.

Isolated moments—like Whitaker's terrific hospital stairwell encounter with a cancer patient (James Badge Dale)—suggest Flight could have been a compelling tale of a man confronting a concept of divine intervention that he's never believed in. Instead, it's just another uninspired spin on "scared straight" melodrama, as mechanically programmed as all those digital characters Zemeckis worked with for years.

FLIGHT


Denzel Washington, Kelly Reilly, Bruce Greenwood
Rated R