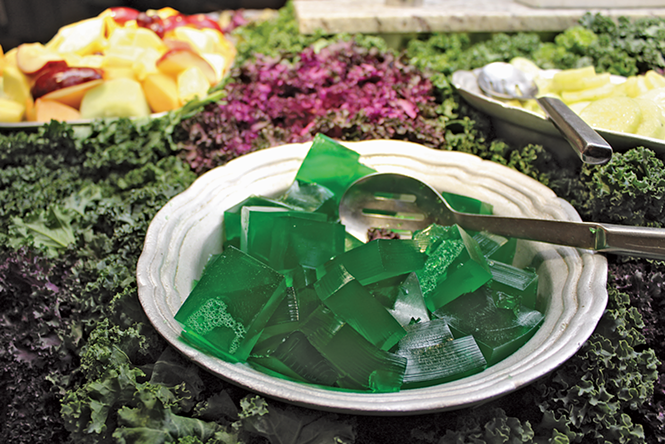 Like most of us trying to take stock of the year that has come and gone, I've spent some time lost in that holiday fog that settles in between Christmas and New Year's. Actually, maybe that's just the inversion ... Anyway, this particular bit of year-end self-evaluation came with an interesting highlight—it marks one full year since I started my stint as City Weekly's resident food dude. During the past 52 weeks, I've had the chance to dig deeply into Utah's food scene, and such a rare opportunity has led me to realize something important about our fair city: It's a truly great place to write about food.
This year has been full of pleasant surprises, unexpected treasures and some truly memorable meals. Here are a few of the highlights of 2018:
Eccentric Edibles
I've always been open to trying new things when it comes to what I eat, and getting the chance to write about food made trying weird stuff less of a novelty, and more of a responsibility. My first real crack at this was a visit to the now-closed Café Machu Picchu, where I had a bowl of tripe-y goodness called patasca. While I never quite developed a fondness for the rubbery stuff, trying it gave me the confidence to look upon such strange ingredients with curiosity instead of revulsion. While it might not be as hard to swallow as tripe, I also tried goat on several occasions. Places like El Cabrito (956 W. 1000 North, 801-363-2645), Horn of Africa (1320 S. Swaner Road, 801-908-5498) and MakanMakan (33 E. 11400 South, Sandy, 801-251-0967) have made a goat fan out of me, despite a bit of apprehension.
Surreal Suppers
Dining around town has not only led me to the many weird things that can end up on your plate, but to equally weird atmospheres. My trips to The Five Alls (1458 S. Foothill Drive, 801-582
1400) and The Prairie Schooner (445 Park Blvd., Ogden, 801-392-2712) were strange and delightful experiences that turned into some of my favorite memories of kitschy dining. The Five Alls celebrates Victorian pub life with a crew of culinary hits from the 1960s, while the Schooner crafts a frontier tableau that includes stuffed wolves, wax figures and dining areas within covered wagons. Both places offer up decent menus, but the real reason to plan a visit is for the escapist fun that feels like you're eating dinner inside a theme-park ride.
Vegan Vittles
The plant-based niche in Salt Lake has officially exploded. Regardless of your feelings about eating meat, you can get comforting and flavorful vegan food for breakfast, lunch, dinner and dessert all within a few miles of one another. I'm not talking about vegan food in the way that carrot sticks and hummus are vegan food, either. In addition to a plethora of Asian-centric vegan places like Veggie House (52 E. 1700 South, 801-282-8686), you've got Vertical Diner (234 W. 900 South, 801-484-8378), Seasons (1370 S. State, 385-267-1922), Boltcutter (57 E. Gallivan Ave.) and its sister dessert shop Monkeywrench (53 E. Gallivan Ave.). Once you try the food at any of these places, you start to realize that our local plant-based representatives are getting shit done. Not only are these places cranking out food that will please even the most bloodstained of palates, but they're providing a sense of culinary legitimacy and community for local vegans and vegetarians, which is huge.
Controversial Comestibles
I learned firsthand that spilling ink about a restaurant like Utah's own local treasure Chuck-A-Rama (multiple locations) can have a rather polarizing effect on the Twitterverse. While I received a barrage of fond messages from locals who shared my same brand of masochistic affection toward the Chuck and its perfectly cubed green Jell-O (pictured), I was also no stranger to derision as a handful of readers voiced the opinion that I was the herald of apocalypse for City Weekly's food section. Any way you slice it, my search for meaning inside the grandpappy of Utah's all-you-can-eat buffets was my hottest of hot takes.
Family Fill-Ups
This was the year that I saw my 1-year-old daughter get big enough to visit new restaurants with me and her mom, and the process of watching her try—and even like—food from all over the world filled me with pride. She loves noodles of all stripes, including the japchae from It's Tofu (6949 S. 1300 East, 801-566-9103) and the ramen from Jinya (multiple locations), but I was most impressed with her burgeoning foodie prowess when she wolfed down some split-pea kik alicha from Mahider Ethiopian Restaurant (1465 S. State, Ste. 7, 801-975-1111) and tried a steamed chicken foot without hesitation during dim sum at Hong Kong Tea House (565 W. 200 South, 801-531-7010). Only time will tell whether she'll maintain this adventurous attitude in the years to come, but for now, it looks like she's just as curious about new foods as her parents, and we couldn't be more impressed.
Cheers to the Beehive State's restaurateurs, patrons, kitchen and waitstaff for keeping the Wasatch Front's culinary heart beating. From greasy spoons to greasier roadside stands to—gasp!—white-linen establishments, here's looking forward to another year of eating my way around Salt Lake.