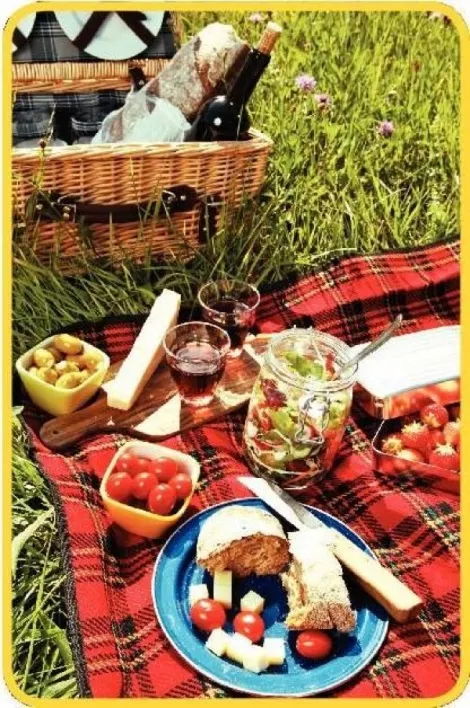 I used to think that picnicking was a casual, spontaneous activity. Now, not so much. Just attend one of the Red Butte Garden's summer concerts and you'll see how the summer picnic has become a competitive sport. I actually witnessed a group of picnic-party snobs at Red Butte snickering in their superiority over a family who'd had the audacity to show up with Domino's pizza boxes and liters of cola. And I've even been to shows at Red Butte and at Deer Valley Resort where fancy-schmancy picnickers had their picnics catered, right on the spot.
Well, God forbid that you should ever be taunted or teased for making the faux pas—as I once did at a Snowbird Vivaldi concert—of showing up at a public picnic with a bag of Albertson's fried chicken tucked under one arm and a sixer of PBR under the other. You can do better. There are plenty of purveyors standing ready to help you outfit your perfect picnic.
First, you need a basket. And, remember, it's not all about size. For the self-confident picnicker who doesn't need to show up with a basket the size of an Airstream trailer,
World Market
(6960 Park Centre Dr, 453-1647,
WorldMarket.com
) sells a double-handled woodchip picnic basket (available in four colors) for a mere $8.99. You can also get the kids involved with World Market's kids' picnic basket, which contains a teapot, creamer, sugar bowl, plates, cups and utensils in festive blues, yellows, oranges and greens. And they also sell a snazzy, hand-woven willow basket that looks like a vintage hatbox—tres chic! While you're there, pick up an India-made cotton striped picnic blanket ($19.99), cute-piggy corn-on-the-cob holders ($9.99), and edibles like El Serpis olives, Volpi dried salami, canned Alstertor herring filets and Xochitl tortilla chips. For the elite hiker,
Williams-Sonoma
(312 Trolley Square, 359-0459,
Williams-Sonoma.com
) sells the bodacious 4-person "Concept Safari" personalized backpack for $200-$220.
Cucina
(1026 Second Ave, 322-3055, CucinaDeli. com) makes it simple to supply your picnic to the hilt with delectable deli goodies like its antipasto platter and finger-size antipasto skewers; a terrific selection of crostini including smoked salmon with capers and brie with roasted onion and garlic jam; fruit and cheese platters; Thai beef satays; artichoke and spinach dip and much more.
At the
Mediterranean Market & Deli
(3942 S. State, 266-2011), you can load up on popular picnic foodstuffs like feta cheese, fresh imported olives, cured meats, made-to-order salads and some of the best paninis around town. Be sure to grab some waffle cookies on the way out. Picnic goers on the south end of Salt Lake should swing by the
Sunflower Farmers Market
(6284 S. State, 266-3566,
SFMarkets.com
) to load up on fresh, natural and organic produce, breads, meats and more. Now is the perfect time to equip your picnic at Sunflower with fresh summertime figs, nectarines, plums and cherries. In addition to picnics, Sunflower's all natural, grain-fed, hormone-free meats and poultry are ideal for the backyard BBQ or for grilling in the park. Plus, there's a selection of more than 15 chicken and pork sausages to take home, including andouille, chorizo, apple, Baja, brats, and jalapeño & cheddar.
If there is a one-stop picnic lover's shopping Mecca, it has to be Liberty Heights Fresh (1290 S. 1100 East, 583- 7374, LibertyHeightsFresh.com). Steven Rosenberg's LHF is the go-to purveyor for the ultimate in picnic fare such as fresh breads from Vosen's and Crumb Brothers bakeries; a world-class selection of imported cheese and charcuterie, including p%uFFFDtés from D'Artagnan; fresher-than-fresh seasonal produce; and the world's finest olive oils and vinegars, fine chocolates, honeys, condiments, nuts, pickles, olives and about a trillion other things to tantalize the picnic palate. Why, there's even a selection of exotic flowers if you'd like to really make your picnic pop! Or, if you're a little lazy, let LHF do the work and opt for the "Perfect Picnic" gift basket which includes imported cheeses and salami, Tunisian olives, gourmet mustard, organic pears and apples, cookies, chocolate and Italian sparkling fruit juice.

Two Italian delis—Tony Caputo's (314 W. 300 South, 531-TONY, CaputosDeli.com) and Granato's (1391 S. 300 West, 486-5643, Granatos.org)—stock all the gourmet food goodies you could possibly want for a picnic, from cured meats and imported olives to an incredible selection of cheeses and even fresh truffles. Of course, if you'd prefer to let Tony Caputo and Sam Granato and their crews do your picnic work for you, both markets feature picnic and gift baskets and party platters. Or, you could just stock up on salads and sandwiches such as a famed Vanocur salad and muffaletta at Caputo's, or the pasta salad and Il Grande sandwich at Granato's. By the way, Granato's offers sandwich delivery on weekdays. I wonder if they'll deliver to your picnic locale?