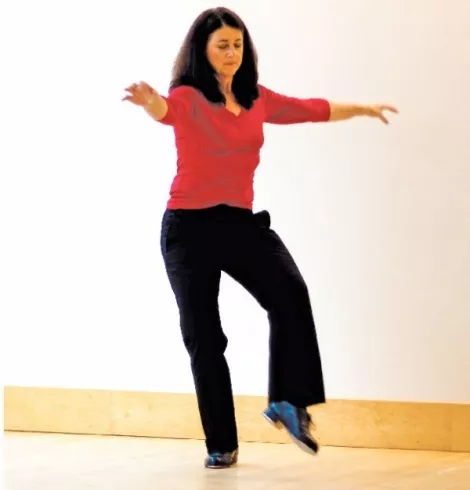 It's early evening in the middle of the week in a Salt Lake City nightclub. Like many nightclubs, it's dark and deserted midweek. But once inside the door, you find complete chaos, a clamoring from above that thunders down a narrow staircase. Reaching the top landing, the disorienting racket smacks you square in the face as a group of … tap dancers? … attempting a new rhythmic sequence displayed by their fearless leader.
The makeshift dance space—tucked into an upstairs corner of the dance club Studio 600—at first feels quite incongruous, sandwiched as it is between billiard tables and a large DJ plinth. But Debby—Deborah Robertson, instructor and leader of the performing group SLC Tap—explains it this way:
"It's nothing fancy, but it has a great hardwood floor, mirrors and a sound system.
It's hard to find rehearsal space because most dance studios now have marley-type sprung floors. That doesn't work with tap. And although it's a great warehouse space, it does make us feel like we have to hide in a closet. But, we're used to that."
With that simple aside, you get the hint that Robertson and her cohorts feel a bit like outsiders in the broader dance community. That slightly bitter tone has been a long time building—mainly fed by a divide propagated by the other half of the equation, if you ask her. But fixing that problem and bringing the raucous joyfulness of tap to everyone is a conscious goal at this point for Robertson. Footwork, a new SLC Tap performance staged in conjunction with the Foot Poetry Tap Dance Ensemble, is one small step toward bringing tap to the people.
It must be hard for tap devotees everywhere to know that the heyday of their beloved dance form peaked decades ago. The precarious plunge into backroom rehearsal spaces began soon after the motion picture industry came of age, eclipsing vaudeville and its whimsical, amusing live shows.
Sure, subsequent iconic cinematic images are now culturally indispensable—like Bill "Mr. Bojangles" Robinson, little Shirley Temple in hand, tapping up and down a set of stairs or busking on the streets for loose change. Unfortunately though, the original greats quickly gave way to the onset of the serious 1960s. Tap dancing seemed to die a long, slow death, falling out of favor with popular audiences as the civil-rights movement and the Vietnam War raged on.
Not until the late 1970s and early 1980s did New Yorkers begin a tap revival of sorts—coaxing the old legends out of their apartment caves, urging them to pass on the memories, the moves and the rhythmic vibrancy of earlier days. By the late '80s—a time Robertson herself remembers fondly—Gregory Hines and Robertson's own mentor, Brenda Bufalino, helped to make the whole tip-tap thing popular again. They moved quickly onto the main stage of Broadway with productions like Tap Dogs and the urban stylings of Savion Glover during the 1990s.
But, according to Robertson, even though the popularity and acceptance of tap has grown thanks to such contemporary artists, it is a tradition that has deep roots. That is why it is important that Footwork has a strong foundation in historical pieces, like "Taking a Chance on Love."
"It is the quintessential tap class act," says Robertson. "Originally choreographed by Coles & Atkins and then reworked by Coles & Bufalino, I've been very lucky to inherit one of the most iconic tap routines of all times directly from my own mentor."
The piece is not fancy footwork, dizzying spins and acrobatic leaps. No, this soft-shoe routine is pure style, perfectly demonstrating amazing foot skill, balance and percussive grace. Performed as part of the same program will be pieces choreographed by Bill Evans, plus works by Colleen West, founder of Foot Poetry Tap Dance Ensemble, and others.
As much as Robertson hammers home the necessity of lineage, she is also keenly aware that by pushing the boundaries of tap, she keeps interest fresh for future generations. "I personally love to choreograph to anything with a strong percussive beat," she says. "I love a lot of rap, and my piece 'Green Sally,' which will be in the program, uses a song by Moby. Colleen, for her part, has a great Michael Jackson tribute and a piece called 'Discomania' that people just love."
Therein lies the kicker, because as much as those tap aficionados feel forced to hide in the closet, percussive dance is always an audience favorite. So, although tap dancers everywhere might be relegated to rehearsing in shadowy locations far off the beaten path, the bright lights of the main stage are ready to spotlight that contagious click and clack of the tap.
FOOTWORK: AN EVENING OF TAP DANCE
Post Theater Fort Douglas University of Utah
110 S. Fort Douglas Blvd.
801-355-ARTS
Saturday, March 6
7:30 pm
ArtTix.org