The world might be changing faster than we can keep up with it, and sometimes it feels like the written word could be on the verge of becoming an endangered species. But if you look a bit deeper, you'll see that we need and cherish writers, storytellers and books more than ever. They're a way of helping us understand this changing world, making us laugh, cry and think whether we're in front of a computer screen, watching writers read their own work or curled up with actual old-school pages.
For our annual Fall Arts Issue, we've chosen to focus on those who live by the book. Join us for a visit with the award-winning Salt City Unified slam poetry team. Learn about how a local organization creates places for aspiring writers to make their literary dreams come true. Take a tour of independent booksellers who still thrive along the Wasatch Front. Catch a glimpse of Salt Lake's craft printers. Then, make plans for your artistic year with our 2018-19 performing arts calendar, and prepare for this week's Urban Arts Festival.
What's the good word? Let us point you toward a whole lot of them.
—Scott Renshaw,
Arts & Entertainment Editor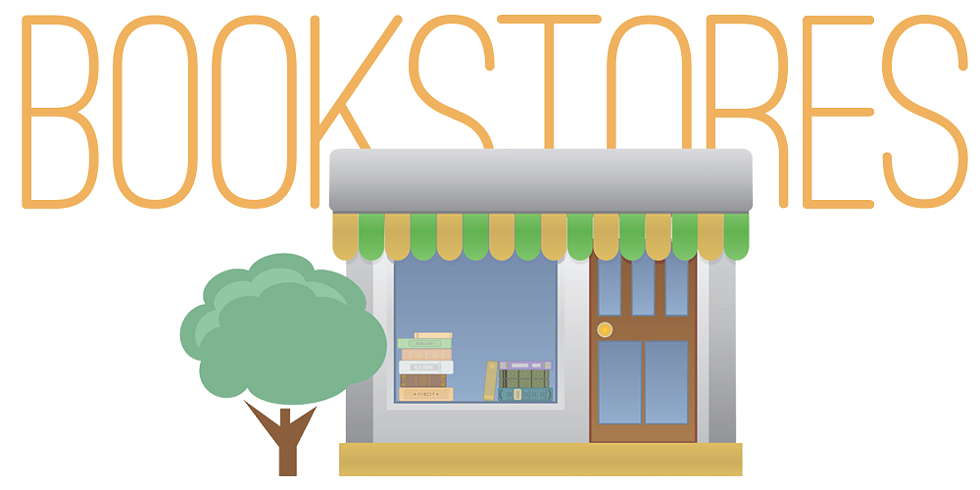 Tour of Utah: Bookstore Edition
A journey through the state's great independent booksellers.
By Michael D. Ferry

Each year, cyclists from around the world assemble for the now-famous Tour of Utah cycling competition. Steep climbs and fast descents push racers to their limit. Each year there are several competitors who do not finish the race, opting instead to detour to the closest bookstore and enjoy a relaxed afternoon browsing the shelves for their next great read. While these competitors might not finish on the podium, they are rewarded with stacks of great reading material, which many would argue is even better than receiving a medal.
Our state features some of the most brilliant bookstores in the country. There are several larger retailers located around Utah, but here's a quick tour of the best independent booksellers from Sandy to Ogden.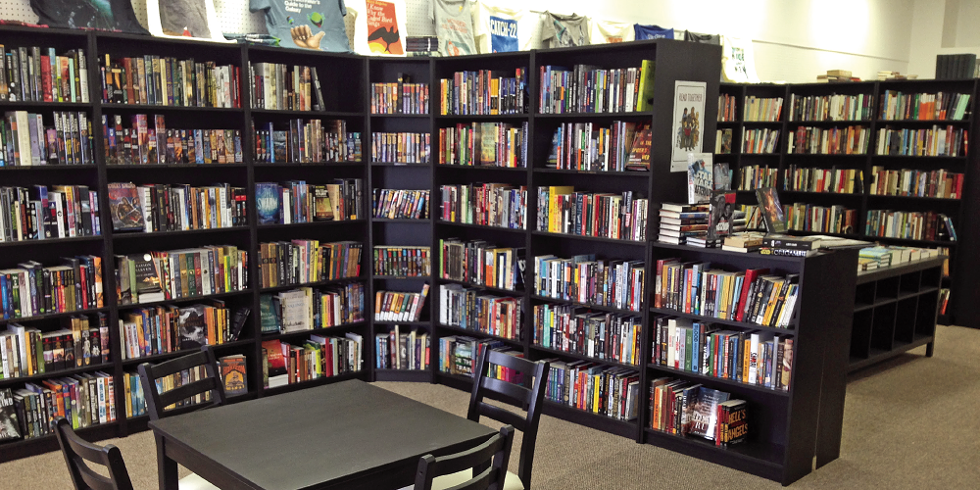 Aaron Cance
The Printed Garden
Aaron Cance with The Printed Garden in Sandy (9445 S. Union Square, theprintedgarden.com) encourages everyone to visit an indie bookstore to see why they are great. "Locally owned businesses are what make neighborhoods interesting," Cance says. "You can expect a personal experience with staff that really care about what they're doing. Our store, for example is not a large store, but neither is there any filler on our shelves. If a guest were to walk into our store with a blindfold on, he or she could pull a book off the shelf, and it would be a really good book."
Cindy Dumas
Marissa's Books
After finding a book at Printed Garden, take off the blindfold and continue to the next stop on the tour. "Many people might not have a specific book in mind when they come in, but they look through our shelves and when they find 'it', they just know," says Cindy Dumas, owner of Marissa's Books in Murray (5692 S. 900 East, Ste. 10, facebook.com/marissasbooks), describing one type of experience customers might expect when they visit. For Dumas, searching for great collections of books and new, unique gift items that customers will love is her favorite part of being a bookseller. "Each time someone comes to our store," she says, "they can expect to find something original, distinct and a little different from the previous time they visited." If you visit Marissa's, you can also find used books in great condition, and most of their new children's books are just $2.
Sugar House's Central Book Exchange (2017 S. 1100 East, central-bookexchange.com) is the place to go if you like to be surrounded by floor to ceiling stacks of every literary genre imaginable; you see—and smell—nothing but books. It is a small store, but they take advantage of every inch of shelf space. Their inventory is primarily used titles, which you can pick up for just a few bucks each.
Rob Eckman
King's English Bookshop
Rob Eckman, from the King's English Bookshop in Salt Lake City (1511 S. 1500 East, kingsenglish.com), explains how independent bookstores serve as creative centers for our community and support the literary arts: "Bookshops are unique and special places. We are not only a place to find and read books but we are also gathering places and safe places where ideas can be discussed and shared." Eckman soon excuses himself for another engagement, because "it's Children's Story Time, and the kids don't like to be kept waiting." His official title is Marketing Manager, but Eckman is also known as "Genius Storyteller" and "Emperor of the Kids Room".
Salt Lake City also plays host to Trolley Square's Weller Book Works (607 Trolley Square, wellerbookworks.com), with its two levels filled with thousands of books to browse. You'll never get through them all, so ask the friendly staff for recommendations. Be sure to drop in at Ken Sanders Rare Books (268 S. 200 East, kensandersbooks.com) to see one of the most valuable rare book collections in Utah. If you are looking for a book much older than you, or anyone you know, this is the bookstore for you.
Traveling north to Bountiful finds The Book Garden (2 N. Main, bookgarden2.com) and bookseller LeAnn Jorgensen. One of Jorgensen's favorite events of the year is Independent Bookstore Day in April, when book lovers are encouraged to visit as many bookstores as they can. "Independent Bookstore Day is a fun day for everyone. We love to see the shop-hoppers that are determined to visit each and every bookstore within driving distance during that day," she says.
You don't have to wait for Independent Bookstore Day to visit a great shop like Booked on 25th in Ogden (147 25th St., bookedon25th.com). In addition to new releases and best-selling books, you can also find bookish gifts and merchandise that you won't find anywhere online: shirts, mugs and other items featuring their signature black crow (or is it ... a raven?).
These bookstores play an important role in making great books available and helping us discover them. In addition to great books, patrons can expect to find activities like author appearances and book signings; check online calendars for each store to see what they have coming up.


The Book That Changed My Life
City Weekly staffers muse on the literary works that shaped their view.


I'm going to go the lame route, and say a reference book. A decade ago, during my freelance days in San Diego, I found Martin H. Manser's The Facts on File: Guide to Good Writing inside a dumpster, dusted it off and gave it a read. It opened my eyes to the wonders of style and narrative, and have considered it my bible ever since. Spreading the gospel, I've lent it out to a good number of interns, budding writers and seasoned vets.
Enrique Limón, editor
Harlan Ellison's essay collection An Edge in My Voice was my first glimpse at how someone could engage with and write about popular culture with intelligence, humor and a refusal to accept that "turning off your brain" was an acceptable way to read, or watch movies or television. Ellison was a feisty, sometimes infuriating writer, but I'm probably the kind of critical thinker I am because of his uncompromising mind.
Scott Renshaw, A&E editor
All the Light We Cannot See finally brought writing as an art form to my mind's eye. Every page was so carefully crafted with color, vision, and composition that I could spend my time—as if standing in front of a Bosch—contemplating every aspect of circumstance.
Derek Carlisle, art director
Yann Martel's
Life of Pi
challenged my understanding of the connection between religion and humanity's unending search for meaning. Once I finished the book's open-ended climax, I turned back to the first page and started all over again. By the end of my second read, Martel had changed my takes on spirituality, love, and, oddly enough, zoos.
Kelan Lyons, staff writer
We can talk all we want about great literature, but as a kid, sometimes all you need is a story full of imagination. Where the Wild Things Are has not only stood the test of time, but was my favorite children's book. Max escaping to his room and heading to the fantasy island full of wild beasts he befriends was the perfect tale for an 8-year-old boy. Even today, every time the story is brought up, a rush of nostalgia takes over and instantly takes me back to those imaginative childhood memories.
Ray Howze, editorial assistant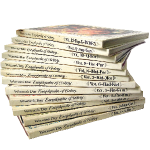 I'm going to cheat a little bit and claim not just one book, but a 12-volume set: the Woman's Day Encyclopedia of Cookery (1966). My mom's original edition of this ivory-spined compendium opened up a world of international food traditions for this culinary curious kiddo in rural mid-America in the 1970s and '80s. Long before Whole Foods and Trader Joe's brought far-flung ingredients to the suburbs of flyover states, I poured through the sauce-splattered pages chronicling foods from all over the world. From learning how to make a classic French allemande sauce (Vol. 1, p. 10), to Lebanese kibbeh (Vol. 8, p. 1214) or zabaglione (Vol. 12, p. 1960), I tested out new flavors, subbing in whatever ingredients I could find on the shelves of the local Winn Dixie market. And it gave me a culinary kick in the ass to go into The Big City and prowl the aisles of Latin, Italian, Middle Eastern and Asian markets, where I'm sure I annoyed the living hell out of people by asking a million questions, all, of course, in English. It jump-started a lifetime of adventurous eating and imbibing at the tables of talented cooks from all over the world, and for that, I'm ever thankful.
Darby Doyle, drinks writer
We all know George Orwell for 1984 and Animal Farm, but his bone-deep reportage in Down and Out in Paris and London shocked and awed me as a college student struggling to find my non-fiction voice. Published in 1933, Orwell's memoir captured the sordid realities of poverty in Europe's two biggest cities, giving context and perspective (and an actual voice!) to individuals generally lumped together as the "unwashed masses." Was it a rebellion against his upper-crust childhood? A first reckoning with the colonial oppression he perpetuated as a policeman in Burma? A rejection of the middle-class mores he found ludicrous in the wake of World War I's brutality? Indeed, but the man born Eric Blair's experiences among the "down and out" also instilled in him a true sense of empathy while bending his eye, ear and pen toward his future dystopian arc. And if Orwell didn't write about doublespeak and doublethink in 1984, would we understand its nefarious influence on the world in which we currently live?
Nick McGregor, music editor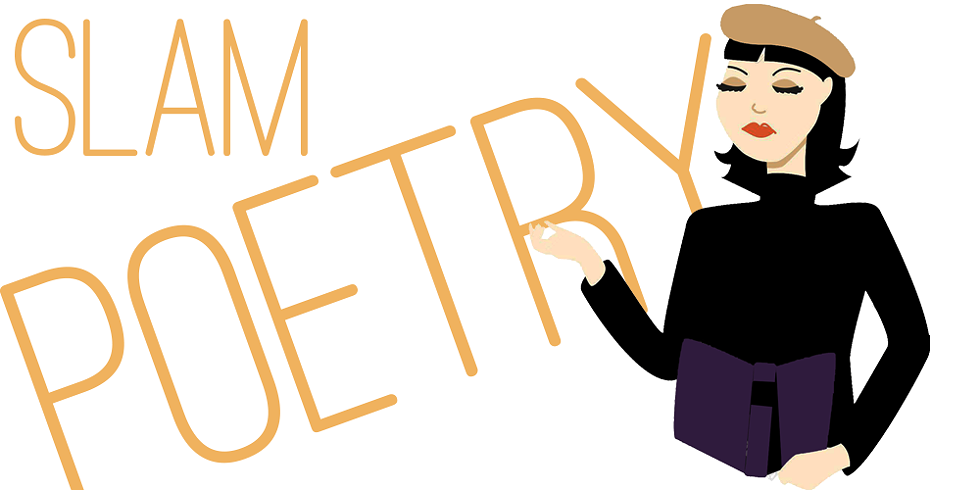 Slamtastic
Salt City Unified slam poets connect with audiences on a national level.
By Scott Renshaw

For a lot of artists, the idea of viewing their creative work in the context of a competition is a complicated one, tying personal, subjective work into a framework of winners and losers. But when you're an artist on a national stage, with peers telling you that you're among the best, it's hard not to think you're taking that creative work to the next level.
The Salt City Unified poetry slam team hit that next level at August's National Poetry Slam in Chicago, where the five-member team—Dorothy McGinnis, Tanesha Nicole, Jesse Parent, Jose Soto and RJ Walker— accomplished their highest-ever result, placing fourth nationally. It had been six years since a Salt Lake City-based team had made it even as far as the semifinals.
For Walker, the achievement is the latest marker on a personal artistic journey that began from a traumatizing event. "My parents disowned me for coming home from my [LDS] mission early," Walker recalls. "I was homeless for a while, living in a car. I lost all my friends and family."
It was during a job he took as a night security guard that he began writing, using the free time to begin what he initially saw as an interest in stand-up comedy. He performed at comedy open mics occasionally in 2012, including Sunday nights at Greenhouse Effect, where he saw Jesse Parent perform a poem. "What Jesse had constructed was a character, a persona and a solid narrative," Walker says. "He explored a lot more emotional range, not just trying to make people laugh. Talking about difficult things. I thought, 'Wow, I want to do that.'"
Walker transitioned to writing pieces that were humorous monologues, which he then brought to poetry open mics. And while he recalls that some of his early pieces exceeded time limits and got him penalized, it didn't take long for him to make an impression. "I got second to Jesse at my first slam," Walker says. "Then I started winning slams and getting feedback. This community is very accepting. It is a competition, but the community is not super competitive. Everybody is out to help everyone else. That means our scene is stronger."
Lee Chapman
Left to right: Jesse Parent, Jose Soto, Tanesha Nicole, Dorothy McGinnis and RJ Walker celebrate their fourth place finish at the National Poetry Slam.
The Salt Lake City Unified team draws its members from poets who qualify at bouts held throughout the year. Two local slams—Salt City Slam and Sugar Slam—each held finals, and the first and second place finishers from each, along with the third place finisher from Salt City Slam, became the members of this year's national team.
Walker first made Salt Lake City's national team in 2013, but by that time the local poets had already pioneered an idea that would lead toward their national spotlight. In 2012, the Salt Lake City team took its first stab at what they would come to call a "concept bout"—a performance where every member of the team would do a poem somehow connected to the same unifying theme. Poets from the same team generally write independently and present work that isn't connected to that of their teammates, but Salt Lake City's poets decided collectively on their general topic. The initial 2012 theme was the Old Testament, with individual poems addressing Lucifer, Lilith and Eve, and even the point of view of God. In subsequent years, the team used themes like superheroes, Jesus and even as abstract a notion as the "remote control" (with individual poems representing pause, fast-forward, slow-motion and replay).
The 2018 team continued that tradition with a concept bout focused on The Wizard of Oz. Parent's Scarecrow-centric piece addressed working-class struggles; Walker's Tin Man touched on anxiety and depression; Soto turned the Cowardly Lion into a meditation on colonialism; McGinnis and Nicole collaborated on a piece about Dorothy and Oz and the work of women being devalued and uncompensated.
Attempting a concept bout is a risky choice, one that other teams don't opt for. "This year," Walker says, "we sat down and looked at the people on the team and thought, 'We could win this whole competition. Do we still want to do a concept bout? This is really risky.' Sometimes it's rewarded, sometimes not so much.
"Salt Lake has a little different interpretation of poetry slam than a lot of other places," he continues. "It's a gym for being a spoken-word poet. Winning just means you're exercising right. It's not productive practice unless you push yourself as writers. But our guarantee is that, if you make the team, you'll come out of this as a better writer, and a concept bout is one of the ways we do that."
The decision paid off this year, and not just in terms of the team's final ranking. The Salt Lake United team sold more books of their poetry than any other team at the event. The competition itself has value, but there are a variety of ways for the value of the work to be measured.
"Poetry slams are just a micro-model of the judgment that happens in the real world," Walker says. "You put your art out there, and see if somebody's going to appreciate it. You're just trading points for dollars. It's still a competition, because we live in capitalism, but it's just a measuring stick. I can track my improvement and how I'm connecting with audiences. You go through that crucible of getting judgment points, then you go into the world and say, 'Do you think this is worth buying?'"
There was a special moment for the team, Walker says, when McGinnis and Nicole's poem inadvertently hit on a hot-button issue for the National Poetry Slam, which was experiencing criticism for making use of unpaid labor. And it became an example for how work that an artist creates from a deeply personal place can resonate with others. "We could not have predicted that this was the inner workings of the tournament at the time," he says. "This issue that [McGinnis and Nicole] felt personally turned out to be very personal for this tournament. They received a standing ovation. And while we did take fourth place, we were the team that people remembered."


Strength in Numbers
The League of Utah Writers offers support for the often-lonely work of writing.
By Scott Renshaw

The creative life of a writer is generally a solitary affair. In the words of author Gene Fowler, "All you do is sit staring at a blank sheet of paper until drops of blood form on your forehead." And while the technology of the 21st century generally means staring at a computer cursor rather than paper, it can feel pretty lonely waiting for those drops of blood to turn into sentences.
Writers groups have long been a way to combat that isolation, offering places for people to share and improve their work, or simply find sympathetic ears for the struggles of creating stories. Author Johnny Worthen—currently the president of the League of Utah Writers—has committed himself to creating a place where writers of all skill levels can work together at creating the art that calls to them. "We try to be supportive because one in a thousand of us will ever make money at this," Worthen says. "One in 10,000 will make a living. But the rest of us can still be a community."
Worthen, a graduate of the University of Utah who now teaches continuing education classes there, took a long journey of his own toward writing full time and finding that supportive community. At one time an entrepreneur who owned his own company processing drug tests, he found his business on thin ice after losing a contract with the state of Utah. "I looked at my wish list and said, 'The only thing I've ever wanted to be that I haven't been yet is a writer,'" he says. "I had a war chest built up, so I started writing." Seven published novels later, he describes himself as "six years into my 10-year plan to be an overnight success."
Even after getting published, however, Worthen found himself searching for networking opportunities, both to improve his writing and to address the practical business considerations of getting work out into the world. After attending out-of-state conferences, he eventually became aware of the League of Utah Writers, an organization that was founded in 1935. He dove right into getting involved, winning the group's Writer of the Year award, giving a keynote speech at its annual conference and ultimately becoming part of the executive committee.
Worthen describes the LUW as "a loose federal structure, with strong states." The organization's website currently lists 29 individual chapters, sometimes organized by geographical location, sometimes by focus on a specific writing area, like poetry or non-fiction. Worthen is a member of a South Jordan-based chapter called The Infinite Monkeys, which focuses on speculative and genre fiction. "I wanted everyone to know, let's not take ourselves too seriously," Worthen says about the choice of the chapter's name. "How can you take yourself too seriously when you call yourself monkeys?"
Every chapter is unique, Worthen emphasizes, not just in its area of focus, but in the way its participants choose to run gatherings. Infinite Monkeys meetings, for example, might include somewhere around 40 attendees, and include a guest speaker to address writing and business tips. Then there's time for people to share pieces that their working on with a small group, and receive feedback. "We're mostly creative," Worthen says. "We will do some marketing stuff, a little symposium on the side. For the most part, though, it's about how to write the best stuff you can. Then, when you're ready to query, we'll talk about that."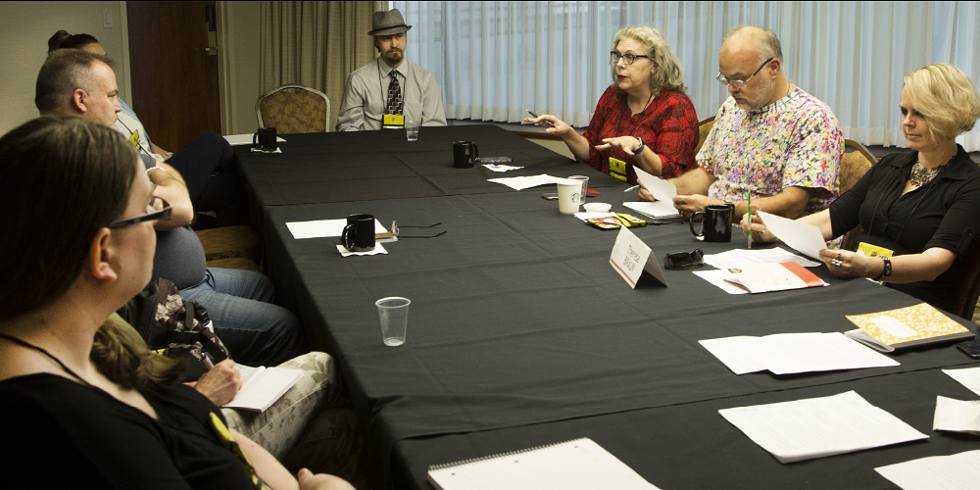 Bob Carey
Johnny Worthen (center right) participates in a live critique for attendees at League of Utah Writers' 2018 Quills Conference
While each chapter approaches that process of critiquing each other's works in a different way, Worthen believes that mutual encouragement is the most important element when dealing with a field that's full of rejection. "We begin every meeting with how to critique work: Positive suggestions," he says. "If you don't have anything nice to say, then shut up. Reality will hit them soon enough."
The Infinite Monkeys engage in other group efforts beyond the regular meetings. Once a year, several members participate in a weekend retreat in Coalville; Worthen describes it as a "30-person writer sleepover." The group even provided a unique publishing opportunity for its members when they spent a year creating a short story anthology titled The Year of the Monkeys, released in August. The process allowed writers to go through the entire process of editing, proofreading, deciding on a cover, pricing and marketing, providing skills that are needed in an era when many writers self-publish.
In addition to his work with his own chapter, Worthen's role as president means helping organize the LUW's Quills Conference, held each year in August. The recently completed 2018 Quills Conference included panels and programming on every aspect of the writing life—creative and commercial—and included among its presenters writers like Tim Dorsey and Maria V. Snyder, as well as editors, publishing house representatives and literary agents. The organization also gives out awards—including a "New Voices" award available exclusively to someone who has never made money previously as a writer—as a way to provide would-be authors with something to put on their résumés.
Collaborative efforts like this are more important now than they've ever been, Worthen suggests, because the business of publishing has changed so radically over the past decade. "There's not a larger industry in the world made up of amateurs, making it up as they go along," he says. "The biggest agent, the smallest editor, they don't know. The big publishers don't know what to do about Amazon. Amazon doesn't know how to do self-publishing. ... If you're trying to make money at this, it's a whole new ballgame."
But while the business is hard, it's the act of creating itself for which groups like the League of Utah Writers offer the most support. It becomes a place where that lonely work of creating becomes a little less lonely, and where creation is viewed as its own achievement, no matter how—or if—it's ever published. "The League is just a place for you to bring your art, because the chance that you have other people looking at your art is slim," Worthen says. "Hopefully, we provide the support and the understanding of what [writers are] going through. Some people think competitively: write, get published. I don't think that way. I want a community. That's my mantra."


Deck the Halls
A small idea turns into a big Urban Arts Festival.
By Scott Renshaw

The annual Urban Arts Festival is a big enough event—drawing approximately 25,000 attendees over two days—that you'd understand if its organizer said it's what he envisioned from the outset. But a much more modest initial concept got this party started.
Derek Dyer—executive director of Utah Arts Alliance, which puts on the Urban Arts Festival—recalls that eight years ago, there was an idea to hold a skate-deck art event, showcasing creative designs on skateboards. "Then it grew into having some food vendors," Dyer says, "then, 'Let's have a stage and a couple of bands can play,' then the name kind of stuck. But it all came from that idea of having that skate-deck show."
Even that original concept, however—which still continues in the annual Skate Deck Art Show—made it clear that Dyer's goal was to find a way to treat the "art" as the kinds of creative endeavors that aren't always respected by the artistic establishment. More than 200 visual artists and craftspeople display their work; funk, rap and urban dance live performances occupy festival stages, including this year's headliner Chali 2Na; and live painting demonstrations celebrate the work of muralists and street artists. "I feel like basically everything about the festival represents art forms that aren't represented in the community in a large way," Dyer says. "A lot of similar events don't represent the type of art we try to represent. We definitely reach out to emerging artists, and people who are producing edgier works."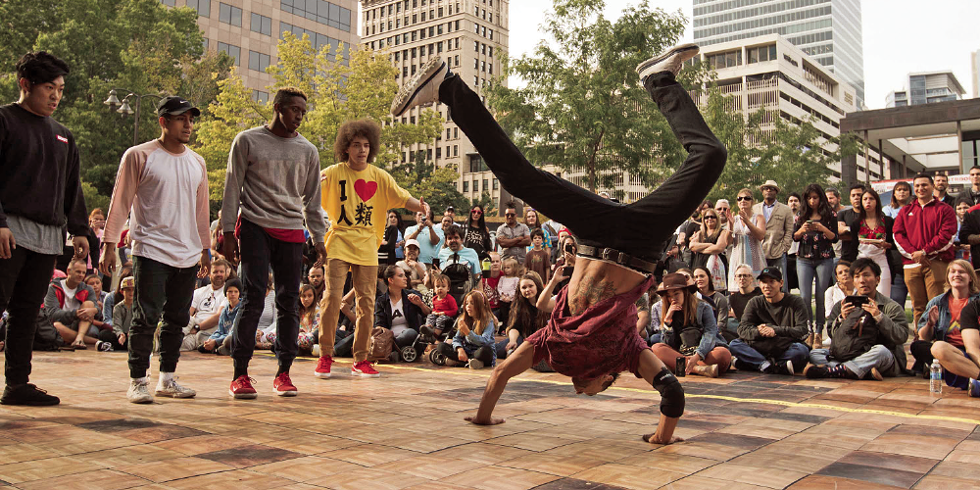 That notion of inclusiveness extends to the attendees, which is one of the reasons the Urban Arts Festival charges no admission. "For some people, even $5 or $10 is too much for them to be able to attend," he says. "It's definitely a big, important part of what we're trying to do, to eliminate any barriers to people participating in and experiencing the arts. It would be easy to charge $5—and it would make our lives a lot easier, not having to chase down sponsorships—but at the end of the day, we're really trying to affect the community, and we feel strongly that the arts are the best way to have positive change."
Inclusiveness can sometimes mean expanding the definition of "art" in ways that aren't always obvious. Two years ago, the Urban Arts Festival added basketball to its roster of events, including a three-on-three tournament and slam-dunk competition. While Dyer says that he believes there is an actual art to basketball, the reasons for adding it include the pragmatic reality of bringing people to the event who might not generally gravitate toward an arts festival, but would be interested in seeing the sport.
Such creative thinking permeates every new idea that comes to the Urban Arts Festival each year. For 2018, Dyer notes that someone reached out to them about including an "urban fashion show" as part of the festival, and it was subsequently added. There's also an "augmented reality" component, which will invite attendees to download the festival app and seek out eight pieces of "digital graffiti" created by the festival's participating artists, creating a kind of virtual scavenger hunt for to-be-determined prizes. "Every year, we try to do something so every year you don't go, that was just like last year," Dyer says. "I want something new to experience."
That's where one small idea to expand the boundaries of art can lead.
Urban Arts Festival
Gallivan Center
239 S. Main
Saturday, Sept. 15, noon-10 p.m.
Sunday, Sept. 16 noon-8 p.m. Free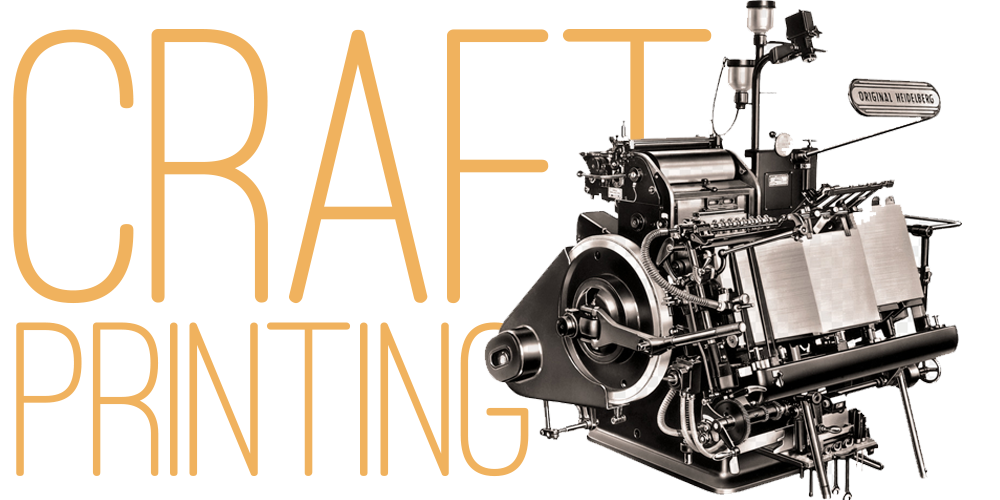 Craft Printing
Old-fashioned printing presses create niche products with a personal touch.


Hidden away in the back of a nondescript brick building sandwiched between two used-car dealerships on Main Street, old-fashioned printing presses are whirring away. Pressman Gabriel Danilchik is a blur of activity as he maintains two 1950s-era Heidelberg presses churning out cards for a local business. Next to him, designer Brady Burrows mixes ink and operates a hand-cranked Vandercook press to create a wedding invitation. Two bulldogs meander through the maze of presses and worktables, sneaking scraps of paper to chew on from the discard bins. These are the daily operations of The Mandate Press (1077 S. Main, 801-359-4868, themandatepress.com), a 10-year-old printing shop practicing modern letterpress techniques to create quality, niche products.
"Everything is done by hand," Studio Manager Alexa Hall says. If a design has multiple colors, "it goes into the machine again," sometimes requiring three or four passes before it's finished. Mandate isn't as old-fashioned as one might assume—they don't use the handset lead type that many think of when imagining letterpress printing. Instead, they create custom polymer plates with their customers' designs raised on the surface, which are pressed into the paper when set in the machine. Most of their presses are German behemoths from the '50s and run smoothly once they get going, according to Danilchik, who says he can simultaneously operate three machines at once. "It's a lot of multitasking," he says, with re-inking the rollers and constantly checking the product for accuracy. "These machines are spot on," he says, explaining that sometimes a card will need to be run through the press twice in order to make the ink darker, and that there is rarely any overlap or inking outside the design borders the second time around.
Mandate mostly prints business cards but also does invitations, artwork, pamphlets—really anything as long as the goal is a custom, unique product. Customers can submit their own designs, or the folks at Mandate can create something from scratch. "Craft and quality is definitely the emphasis," Hall says. "We're the antithesis of larger online chains, and focus on attention to detail and quality."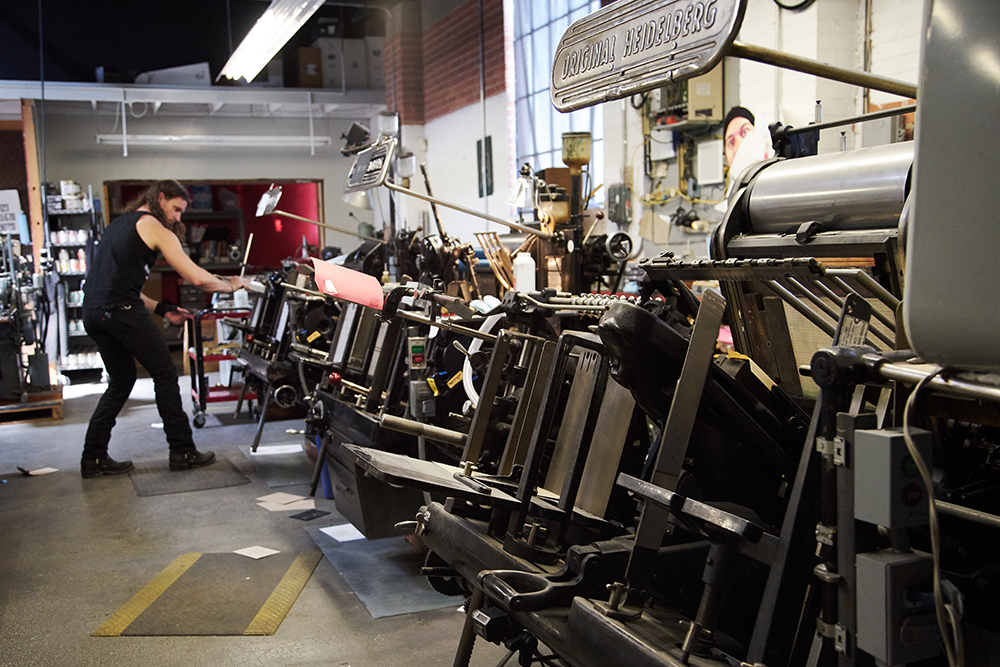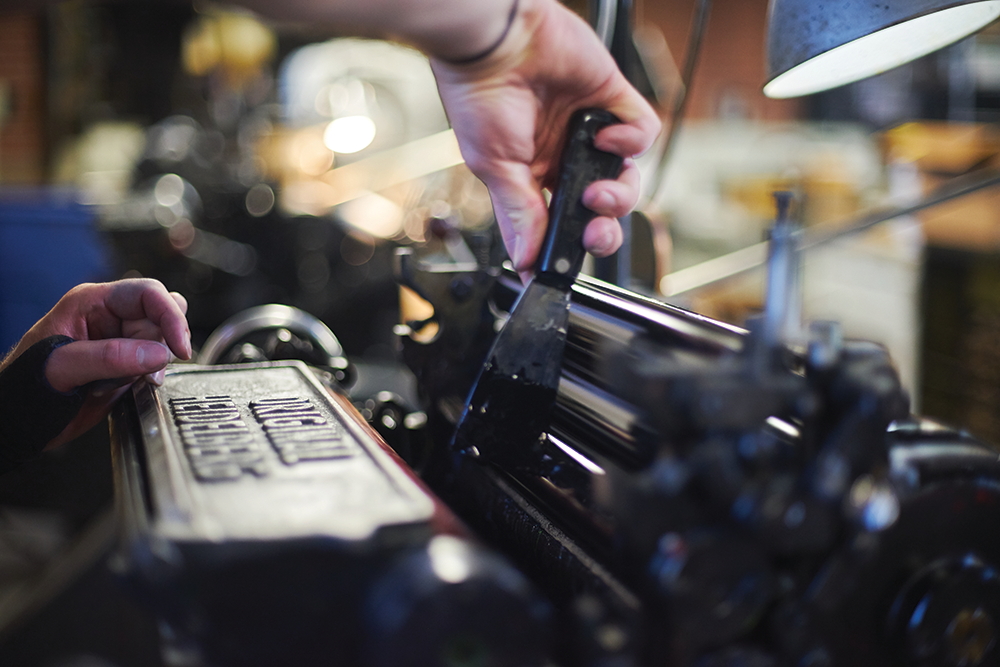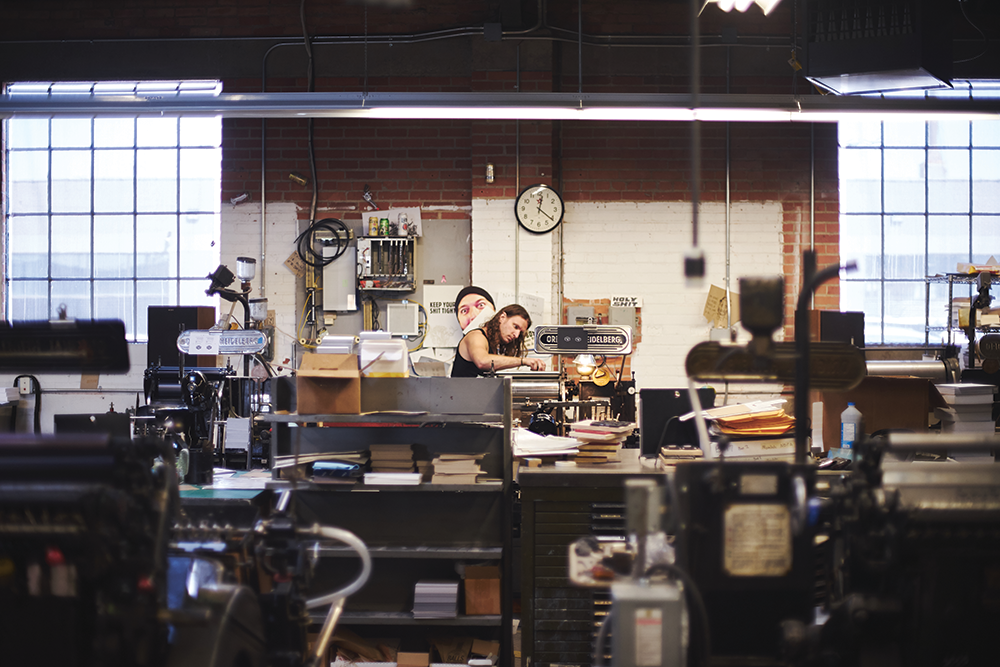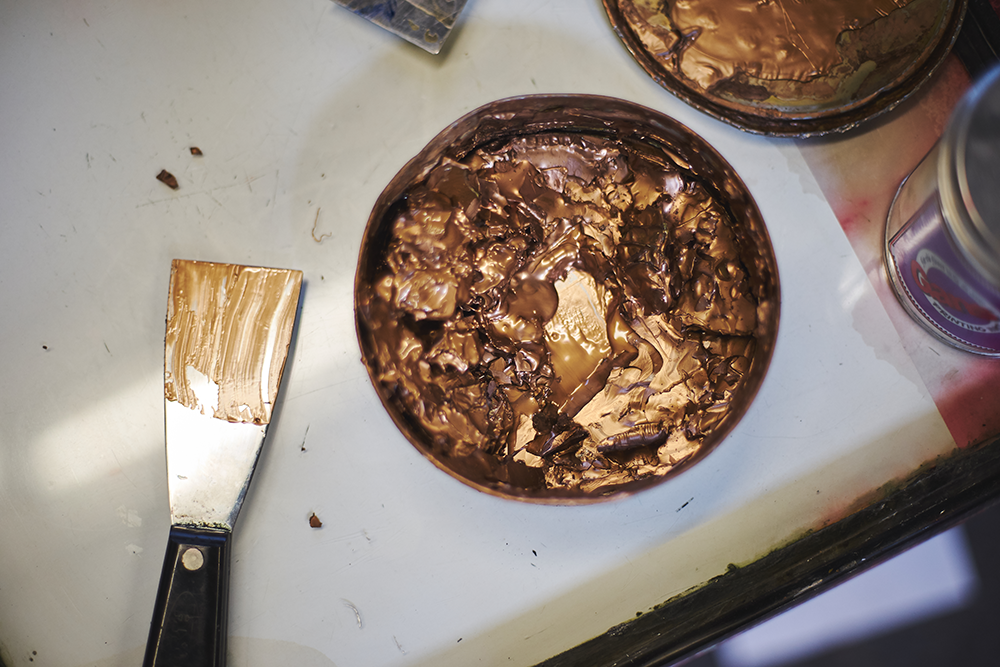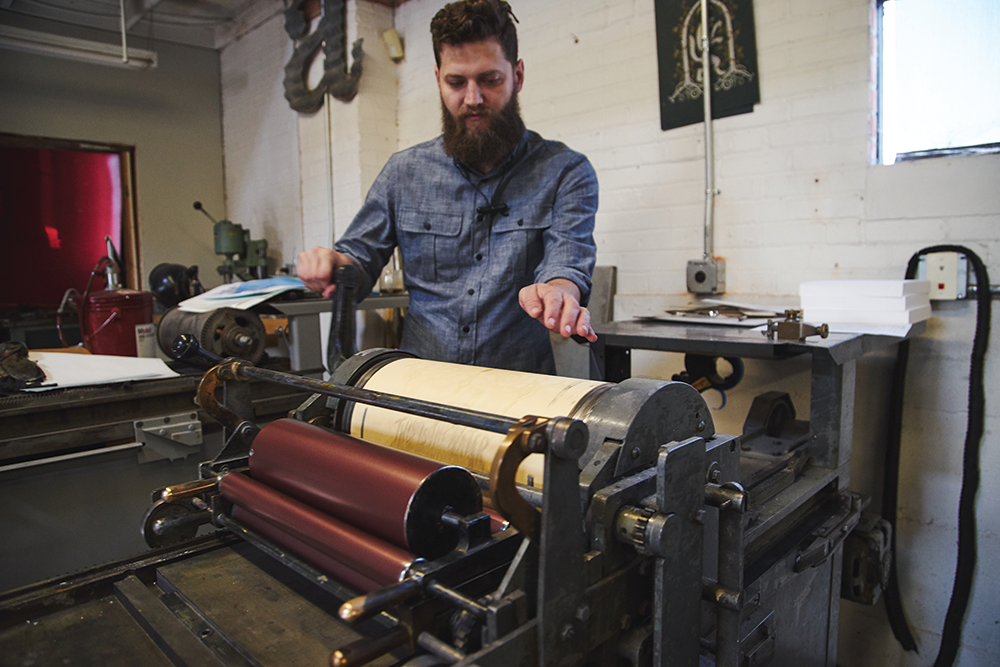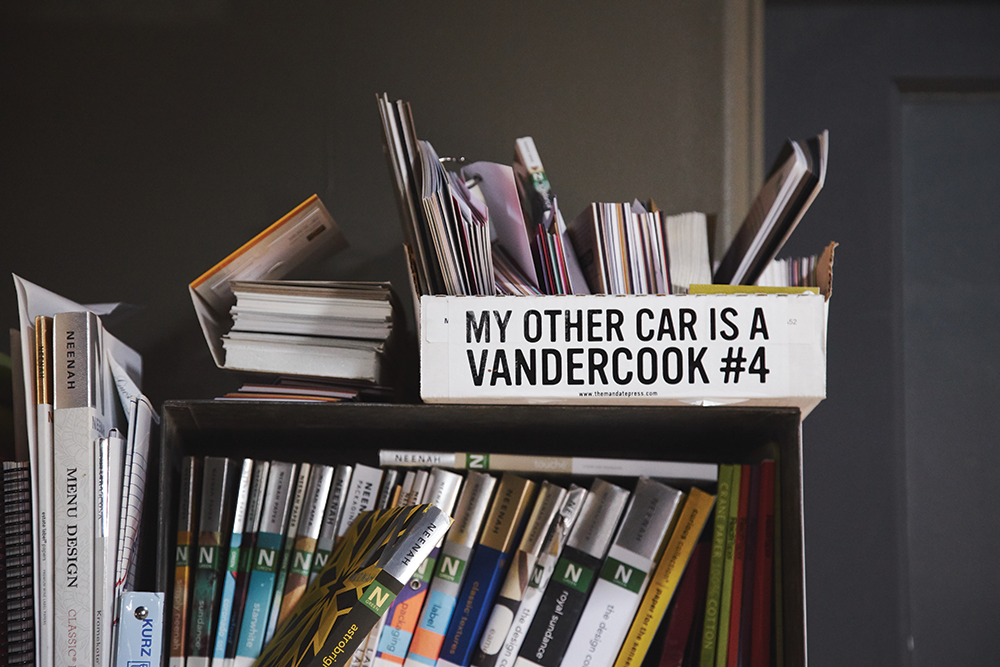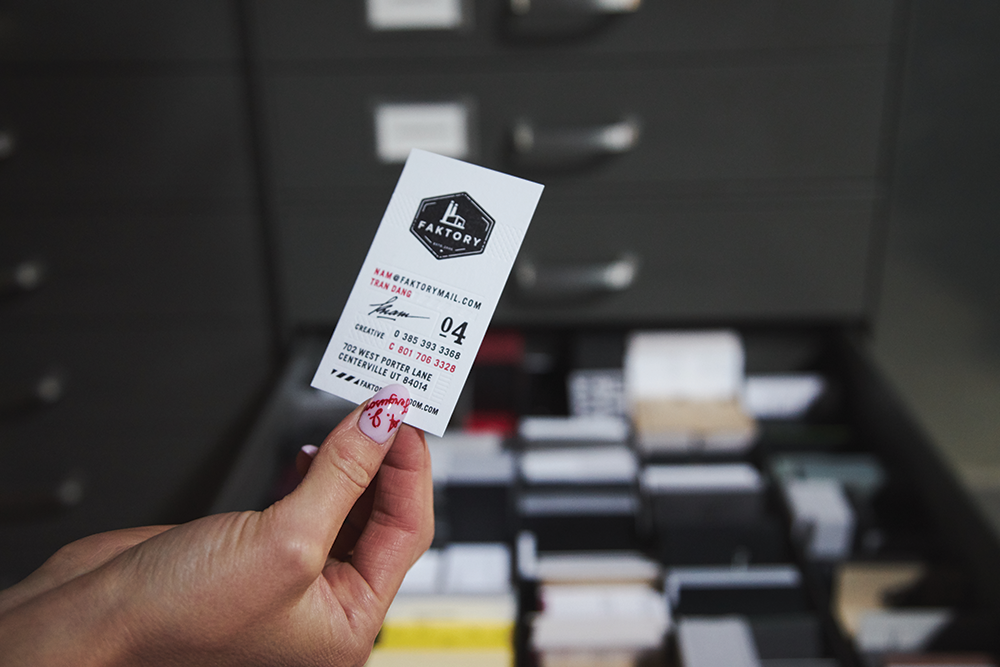 The End.