Page 3 of 7
The Book That Changed My Life
City Weekly staffers muse on the literary works that shaped their view.


I'm going to go the lame route, and say a reference book. A decade ago, during my freelance days in San Diego, I found Martin H. Manser's The Facts on File: Guide to Good Writing inside a dumpster, dusted it off and gave it a read. It opened my eyes to the wonders of style and narrative, and have considered it my bible ever since. Spreading the gospel, I've lent it out to a good number of interns, budding writers and seasoned vets.
Enrique Limón, editor
Harlan Ellison's essay collection An Edge in My Voice was my first glimpse at how someone could engage with and write about popular culture with intelligence, humor and a refusal to accept that "turning off your brain" was an acceptable way to read, or watch movies or television. Ellison was a feisty, sometimes infuriating writer, but I'm probably the kind of critical thinker I am because of his uncompromising mind.
Scott Renshaw, A&E editor
All the Light We Cannot See finally brought writing as an art form to my mind's eye. Every page was so carefully crafted with color, vision, and composition that I could spend my time—as if standing in front of a Bosch—contemplating every aspect of circumstance.
Derek Carlisle, art director
Yann Martel's
Life of Pi
challenged my understanding of the connection between religion and humanity's unending search for meaning. Once I finished the book's open-ended climax, I turned back to the first page and started all over again. By the end of my second read, Martel had changed my takes on spirituality, love, and, oddly enough, zoos.
Kelan Lyons, staff writer
We can talk all we want about great literature, but as a kid, sometimes all you need is a story full of imagination. Where the Wild Things Are has not only stood the test of time, but was my favorite children's book. Max escaping to his room and heading to the fantasy island full of wild beasts he befriends was the perfect tale for an 8-year-old boy. Even today, every time the story is brought up, a rush of nostalgia takes over and instantly takes me back to those imaginative childhood memories.
Ray Howze, editorial assistant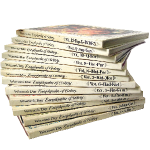 I'm going to cheat a little bit and claim not just one book, but a 12-volume set: the Woman's Day Encyclopedia of Cookery (1966). My mom's original edition of this ivory-spined compendium opened up a world of international food traditions for this culinary curious kiddo in rural mid-America in the 1970s and '80s. Long before Whole Foods and Trader Joe's brought far-flung ingredients to the suburbs of flyover states, I poured through the sauce-splattered pages chronicling foods from all over the world. From learning how to make a classic French allemande sauce (Vol. 1, p. 10), to Lebanese kibbeh (Vol. 8, p. 1214) or zabaglione (Vol. 12, p. 1960), I tested out new flavors, subbing in whatever ingredients I could find on the shelves of the local Winn Dixie market. And it gave me a culinary kick in the ass to go into The Big City and prowl the aisles of Latin, Italian, Middle Eastern and Asian markets, where I'm sure I annoyed the living hell out of people by asking a million questions, all, of course, in English. It jump-started a lifetime of adventurous eating and imbibing at the tables of talented cooks from all over the world, and for that, I'm ever thankful.
Darby Doyle, drinks writer
We all know George Orwell for 1984 and Animal Farm, but his bone-deep reportage in Down and Out in Paris and London shocked and awed me as a college student struggling to find my non-fiction voice. Published in 1933, Orwell's memoir captured the sordid realities of poverty in Europe's two biggest cities, giving context and perspective (and an actual voice!) to individuals generally lumped together as the "unwashed masses." Was it a rebellion against his upper-crust childhood? A first reckoning with the colonial oppression he perpetuated as a policeman in Burma? A rejection of the middle-class mores he found ludicrous in the wake of World War I's brutality? Indeed, but the man born Eric Blair's experiences among the "down and out" also instilled in him a true sense of empathy while bending his eye, ear and pen toward his future dystopian arc. And if Orwell didn't write about doublespeak and doublethink in 1984, would we understand its nefarious influence on the world in which we currently live?
Nick McGregor, music editor