Page 6 of 7
Deck the Halls
A small idea turns into a big Urban Arts Festival.
By Scott Renshaw

The annual Urban Arts Festival is a big enough event—drawing approximately 25,000 attendees over two days—that you'd understand if its organizer said it's what he envisioned from the outset. But a much more modest initial concept got this party started.
Derek Dyer—executive director of Utah Arts Alliance, which puts on the Urban Arts Festival—recalls that eight years ago, there was an idea to hold a skate-deck art event, showcasing creative designs on skateboards. "Then it grew into having some food vendors," Dyer says, "then, 'Let's have a stage and a couple of bands can play,' then the name kind of stuck. But it all came from that idea of having that skate-deck show."
Even that original concept, however—which still continues in the annual Skate Deck Art Show—made it clear that Dyer's goal was to find a way to treat the "art" as the kinds of creative endeavors that aren't always respected by the artistic establishment. More than 200 visual artists and craftspeople display their work; funk, rap and urban dance live performances occupy festival stages, including this year's headliner Chali 2Na; and live painting demonstrations celebrate the work of muralists and street artists. "I feel like basically everything about the festival represents art forms that aren't represented in the community in a large way," Dyer says. "A lot of similar events don't represent the type of art we try to represent. We definitely reach out to emerging artists, and people who are producing edgier works."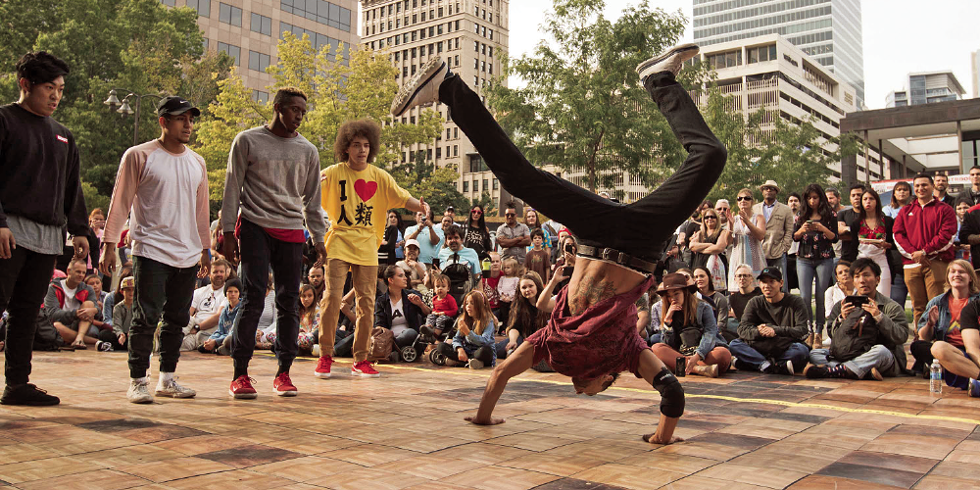 That notion of inclusiveness extends to the attendees, which is one of the reasons the Urban Arts Festival charges no admission. "For some people, even $5 or $10 is too much for them to be able to attend," he says. "It's definitely a big, important part of what we're trying to do, to eliminate any barriers to people participating in and experiencing the arts. It would be easy to charge $5—and it would make our lives a lot easier, not having to chase down sponsorships—but at the end of the day, we're really trying to affect the community, and we feel strongly that the arts are the best way to have positive change."
Inclusiveness can sometimes mean expanding the definition of "art" in ways that aren't always obvious. Two years ago, the Urban Arts Festival added basketball to its roster of events, including a three-on-three tournament and slam-dunk competition. While Dyer says that he believes there is an actual art to basketball, the reasons for adding it include the pragmatic reality of bringing people to the event who might not generally gravitate toward an arts festival, but would be interested in seeing the sport.
Such creative thinking permeates every new idea that comes to the Urban Arts Festival each year. For 2018, Dyer notes that someone reached out to them about including an "urban fashion show" as part of the festival, and it was subsequently added. There's also an "augmented reality" component, which will invite attendees to download the festival app and seek out eight pieces of "digital graffiti" created by the festival's participating artists, creating a kind of virtual scavenger hunt for to-be-determined prizes. "Every year, we try to do something so every year you don't go, that was just like last year," Dyer says. "I want something new to experience."
That's where one small idea to expand the boundaries of art can lead.
Urban Arts Festival
Gallivan Center
239 S. Main
Saturday, Sept. 15, noon-10 p.m.
Sunday, Sept. 16 noon-8 p.m. Free